Customising the Side Key on my Samsung Phone
Last Update date :
Oct 15. 2021
If you can't find the Power button on your Galaxy device, don't panic. There's no longer a separate Power and Bixby button. They have been intergrated into the Side Key button, and includes the Bixby functionality. It can be programmed to perform different tasks, whether you want to turn off your phone, call Bixby, or quick launch other applications installed on your phone. Follow the below guide to learn how to customise your Side Key options on your Galaxy Phone or Tablet.
Please Note: This guide is designed for Australian variant Galaxy devices, if you have an international devie and require further support click here to get in touch with your Samsung subsidiary. Screenshots were captured from a Galaxy Note20 operating on Android OS Version 10.0 (Q), settings and steps may vary depending on your Galaxy device and software version.
1
Launch your Settings > Advanced Features
2
Select Side Key
3
Toggle on or off if you would like to use the Double press function
4
If you have enabled Double press choose a function you would like to action once you double press the side key
5
If you have selected Open app tap on

Settings icon to choose the app you would like to Quick Launch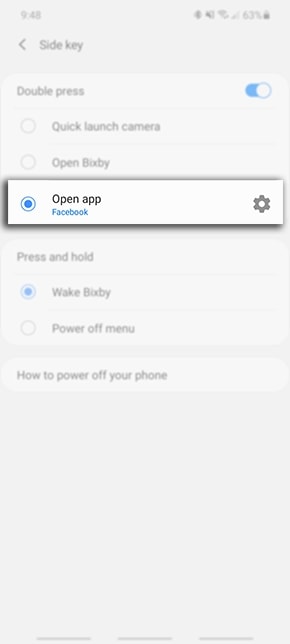 6
Locate and select the application you would like to Open
7
Head back to your Side key settings then choose between Wake Bixby or Power off menu for the Press and hold function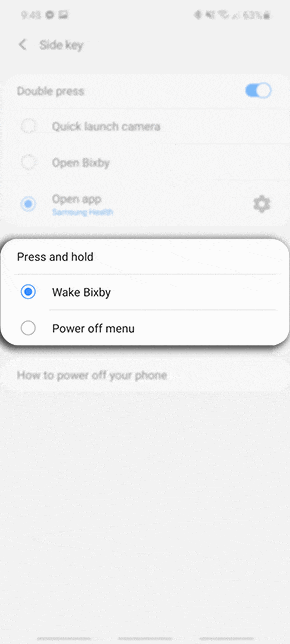 Please answer all questions.