Use QR Code for Mobile Hotspot.
Last modified :
Sep 09. 2019
The QR (Quick Response) scanner app on selected Samsung mobiles can be used for many things from scanning codes on posters and advertisements to sharing information on your phone to share a Wi-Fi profile.
The QR scanner also allows you to quickly and effortlessly set up a Mobile Hotspot link. Below you will find instructions on how this can be done.
1
Turn on your Mobile Hotspot in the quick panel or by following the path: Settings > Connections > Mobile Hotspot and Tethering > Mobile Hotspot .
2
Press on the QR code icon located at the top right-hand corner.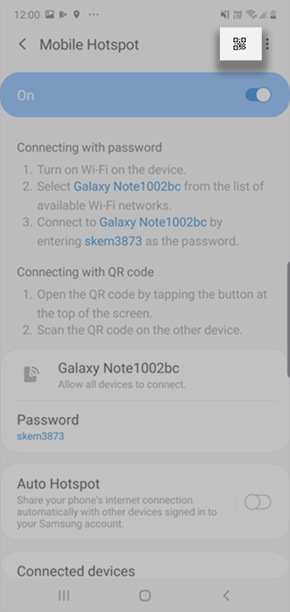 3
Scan the QR code image with your QR scanner or camera.
4
You will then be able to connect another device to the Mobile Hotspot without having to enter the password.
Please Note: Only devices using Pie(9.0) OS, S10/Note10, S9/Note9, S8/Note8 and models released later the Note10 support this function.
Did not find what you're looking for? We're here to help.
Call
With the global spread of COVID-19 impacting most communities, Samsung is adapting its practices to protect the health and wellbeing of our people and customers.

As such, our call centre is operating with extremely limited resources and we are unable to take in-coming calls.

Please find below, alternative ways that you can contact our Customer Care Team. Please understand that due to the volume of enquiries we are receiving, we are likely to take longer than usual to respond to you. However, we do endeavour to get back to you as quickly as possible.

We apologise for any inconvenience this may cause.


For general enquires and technical support relating to all Samsung products : CLICK HERE
For all Printer related inquiries, please
click here
or visit
https://www.support.hp.com
Please
click here
to view the latest news regarding the Samsung sale of Printer business to HP.
Contact Us