Using Safe Mode on a Samsung Phone
Last Update date :
Oct 18. 2021
Using Safe Mode on a Samsung phone or tablet allows you to force the device to run the essential operating system, and disable most 3rd party applications. It's designed as a diagnostic tool to help solve issues with connectivity, battery life, and more. You might use Safe Mode to test whether or not a 3rd party application is causing ads to appear on your device, or maybe something is interfering with incoming and outgoing calls. A rogue app can even use up an unusually large amount of mobile data - Safe Mode will restrict mobile data access to 3rd party apps completely. You can still make and recieve phone calls and messages in Safe Mode; other apps are dependant on the specific device.
Please Note: This guide is designed for Australian variant Galaxy phones. If you have an international device and require further support click here to get in touch with your Samsung Subsidiary.
Boot a Samsung device into Safe Mode:
1
Turn the device off by holding the Power button until the option to Power Off appears on the screen. Tap Power off.
2
Press and Hold the Power and the Volume Down buttons at the same time, to turn the device on.
The Power key is on the right hand side of most Samsung phones, and the Volume Down will usually be on the left hand side.
When you see the Samsung logo appear on the screen, you can let go of the Power button while the device boots up. Make sure to keep holding the Volume Down button.
3
You will now be able to see Safe Mode down the near the bottom left of the screen.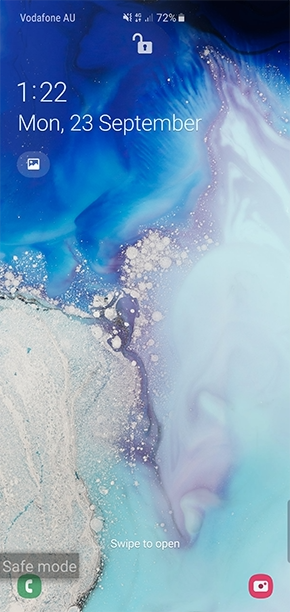 Within Safe Mode you'll be able to test for lots of different issues, navigate around the device to see if you run into any problems. You can use Safe Mode to keep an eye on your battery life or mobile data usage for as long as you'd like; however there will be apps that won't be available inside Safe Mode.
There are 3 different ways to exit Safe Mode - all of them require the device to restart completely.
1
Hold Volume Down and Power for at least 5 seconds to force the device to restart.
2
Hold the Power button on the right hand side and select Restart on the screen.
3
Swipe down from the top of the screen to access the Notification panel. Select the notification Safe Mode is on and tap Turn Off on the prompt to restart the device.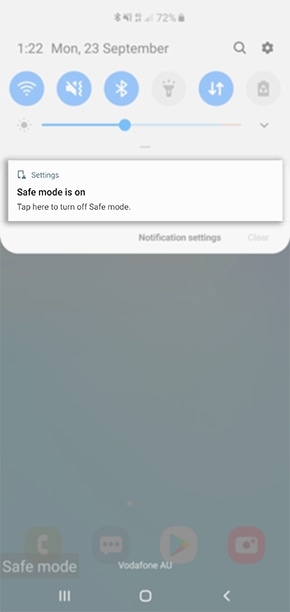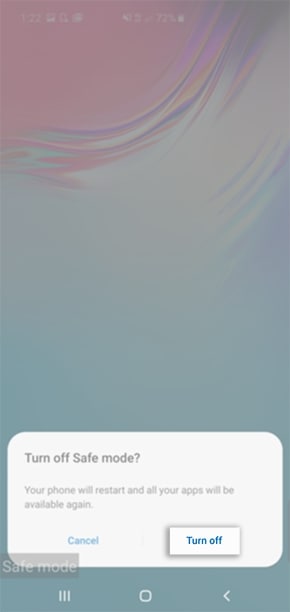 We would love to know your feedback to help us improve. Please click submit to tell us what you think.
Please answer all questions.