INTRODUCING THE FUTURE OF YOUR KITCHEN
Presenting the Chef Collection - inspired by secrets from Michelin-rated chefs
and created with Samsung's world-renowned spirit of innovation,
to provide you precision never before held in the hands of the home chef.
EXPLORE THE CHEF COLLECTION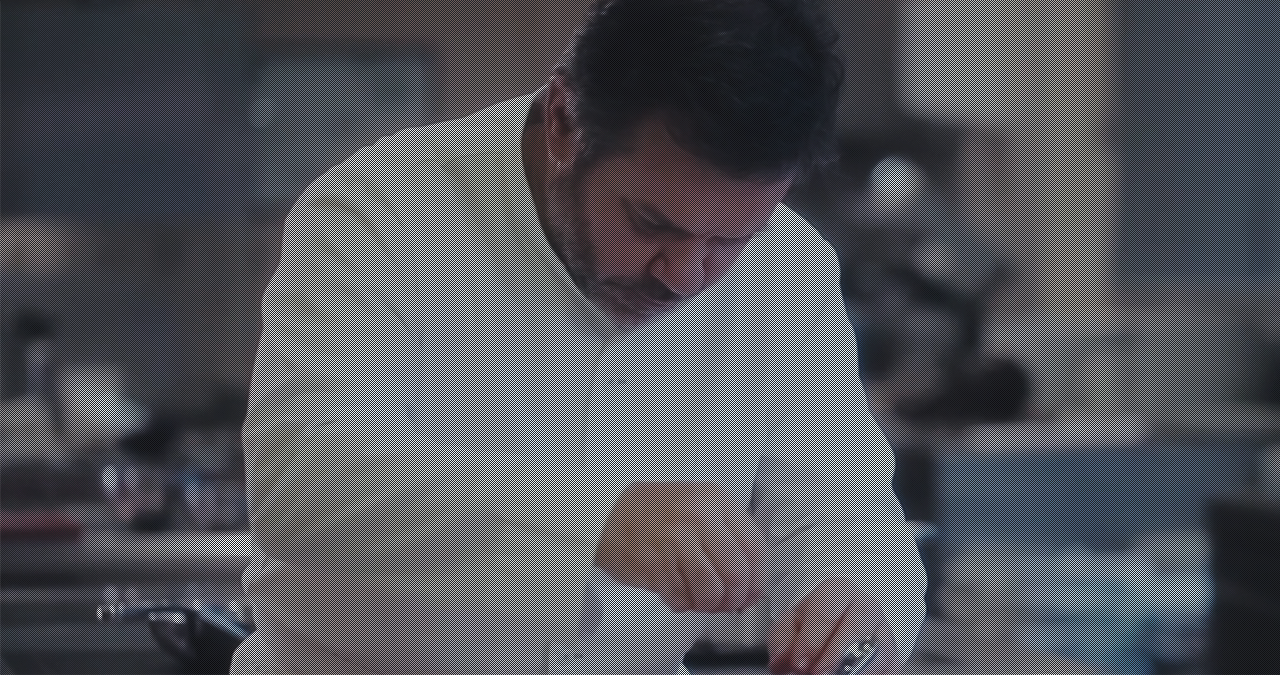 HOME
Precise Chef Cooling™
Chef Zone™
Twin Cooling Plus™
SpaceMax Technology™
HOME
REFRIGERATOR
Great dishes start from fresh ingredients, which mean preserving food perfectly. The Samsung Chef Collection Refrigerator is designed with insights from world-class chefs. Its Precise Chef Cooling™ and Chef Mode™ enable you to preserve food at its freshest, retaining original flavor and texture.
Precise Chef Cooling™
PRECISION COOL
FOR ULTIMATE FRESHNESS
Chefs say that precise and stable temperature control is the key to
keeping food at its freshest. Precise Chef Cooling™ minimises
temperature fluctuation, so all your ingredients retain their original
textures and flavors.
Chef Zone™
KEEP MEAT &
FISH MARKET FRESH
The Chef Zone™ is the perfect place to store meat & fish, as it
preserves food at the optimal temperature which chefs
consider ideal for maintaining the best flavour and texture.
Your surf n' turf will stay fresh until it's ready to be grilled.
Twin Cooling Plus™
OPTIMAL HUMIDITY
Twin Cooling Plus™ technology cools the fridge and freezer
compartments separately. Independent evaporators and
cooling systems ensure optimal cooling and humidity,
so food stays fresher for longer and odours don't mix.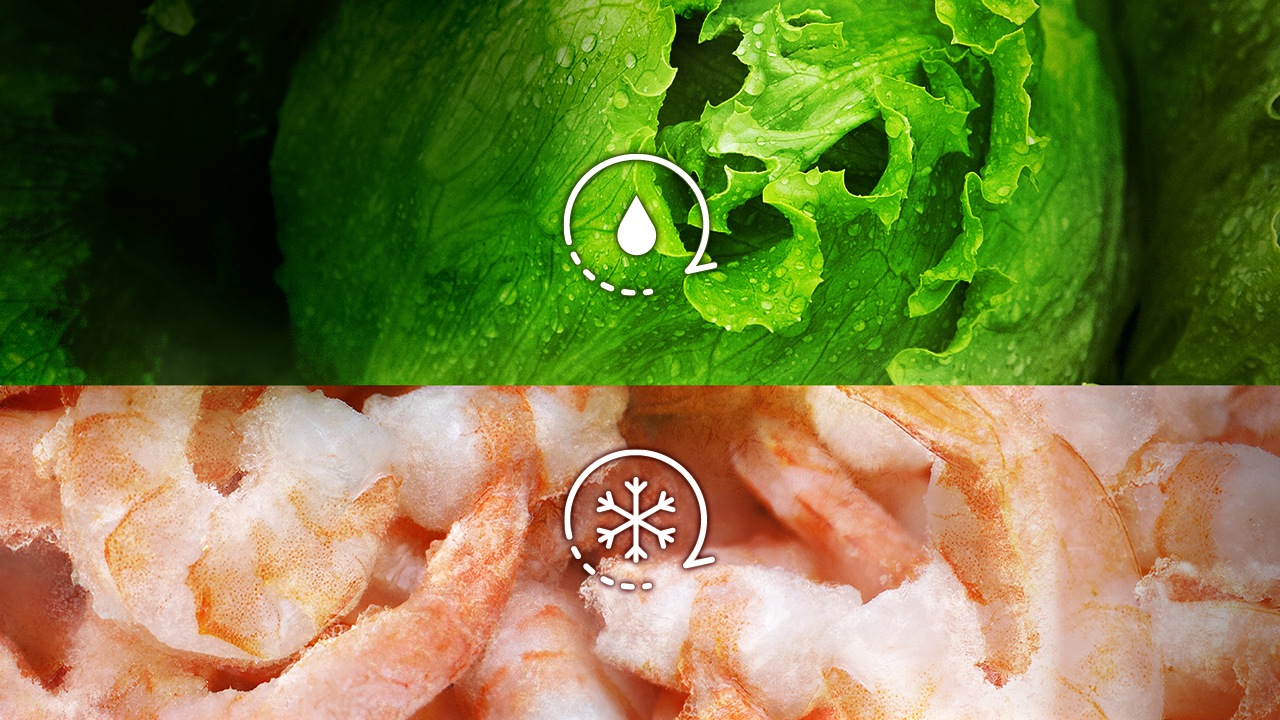 SpaceMax Technology™
MORE INSIDE, SAME OUTSIDE
The Samsung Chef Collection Refrigerator offers
up to 30% more storage space*, thanks to SpaceMax
Technology™ that creates extra internal capacity
without increasing external dimensions.

* In comparison with Samsung RL55VTEBG1/RL50RGEMG1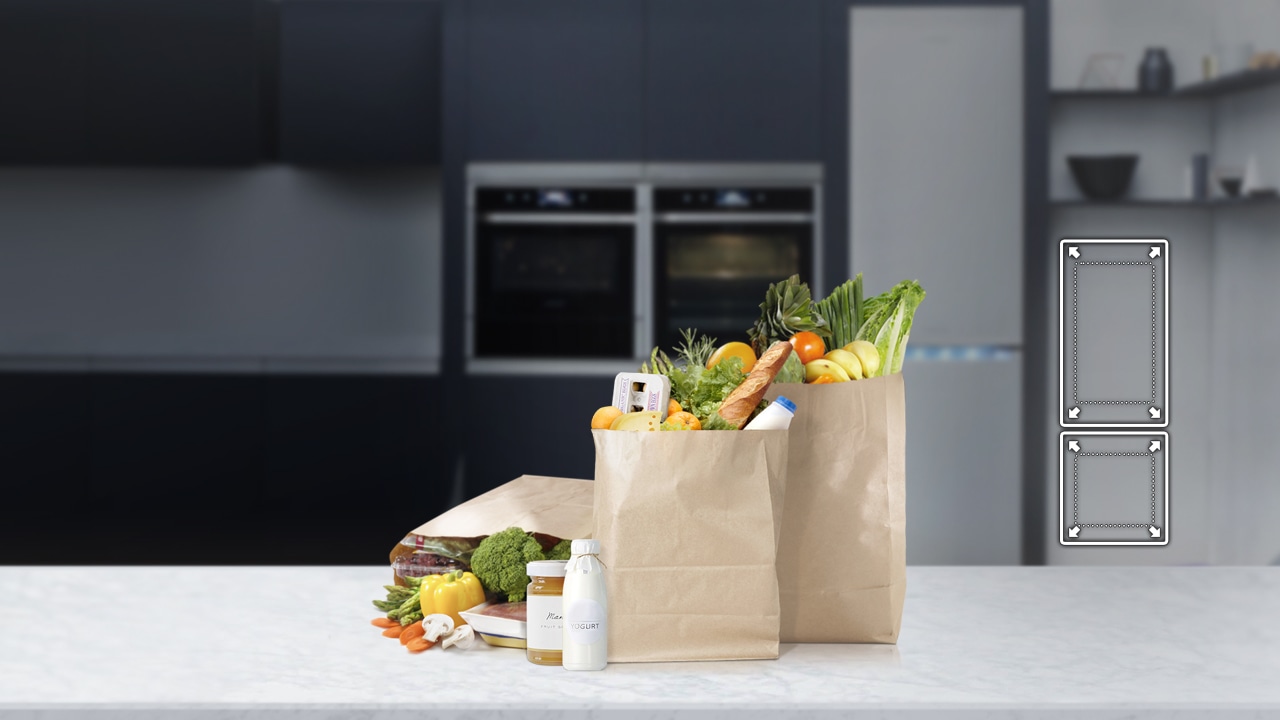 Home
Gourmet Vapour Technology™
Touch TFT-LCD
Wi-Fi Connection
Soft Closing Door
Home
OVENS
With Gourmet Vapour Technology™ and simpler control and management, the Samsung Built-in Oven enables professional quality cooking. It cooks using super-heated vapour to create dishes with the perfect balance of taste and texture.
Gourmet Vapour Technology™
PROFESSIONAL TASTE AND TEXTURE
Gourmet Vapour Technology™ optimises the taste and texture of your food by surrounding
it with vapour that quickly and evenly transfers heat and moisture, resulting in food that's
deliciously crispy outside, but soft and juicy inside.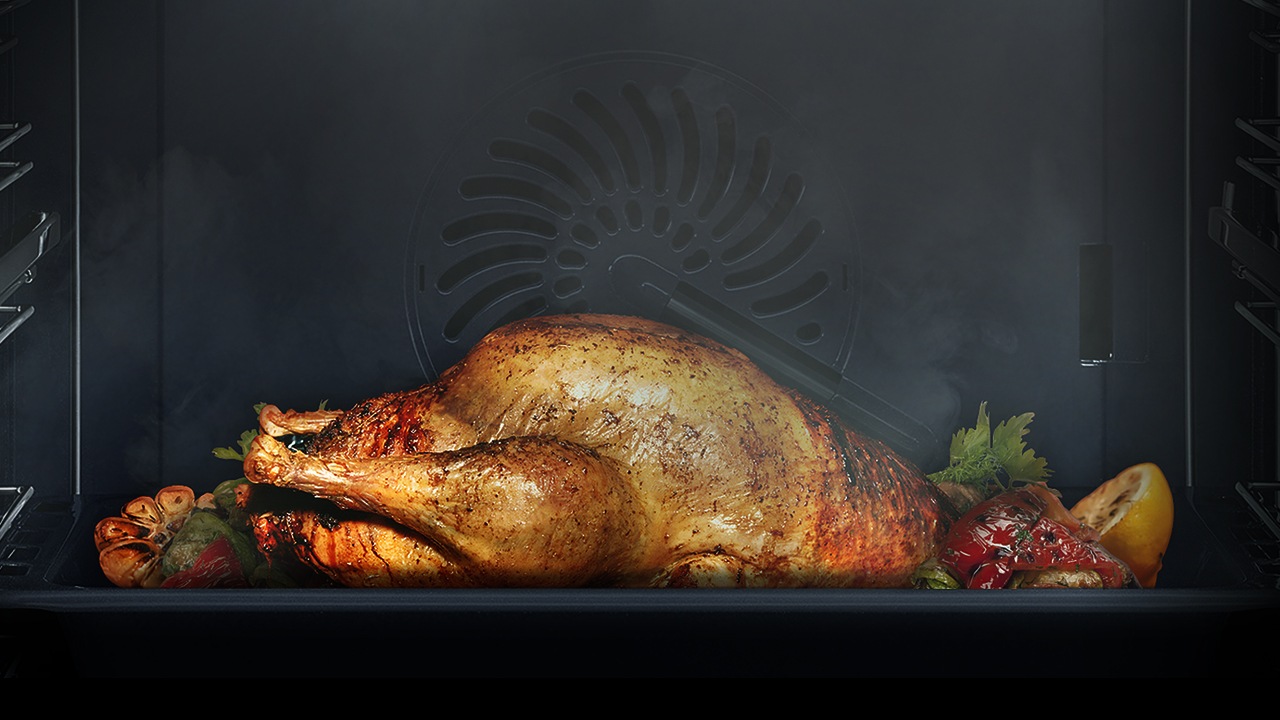 Touch TFT-LCD
FULL TOUCH CONTROLS
A 4.6" Full touch TFT-LCD control panel makes cooking much
simpler and easier. You can intuitively select and control functions
and settings-such as the cooking mode, temperature and
time - with a simple touch of your finger.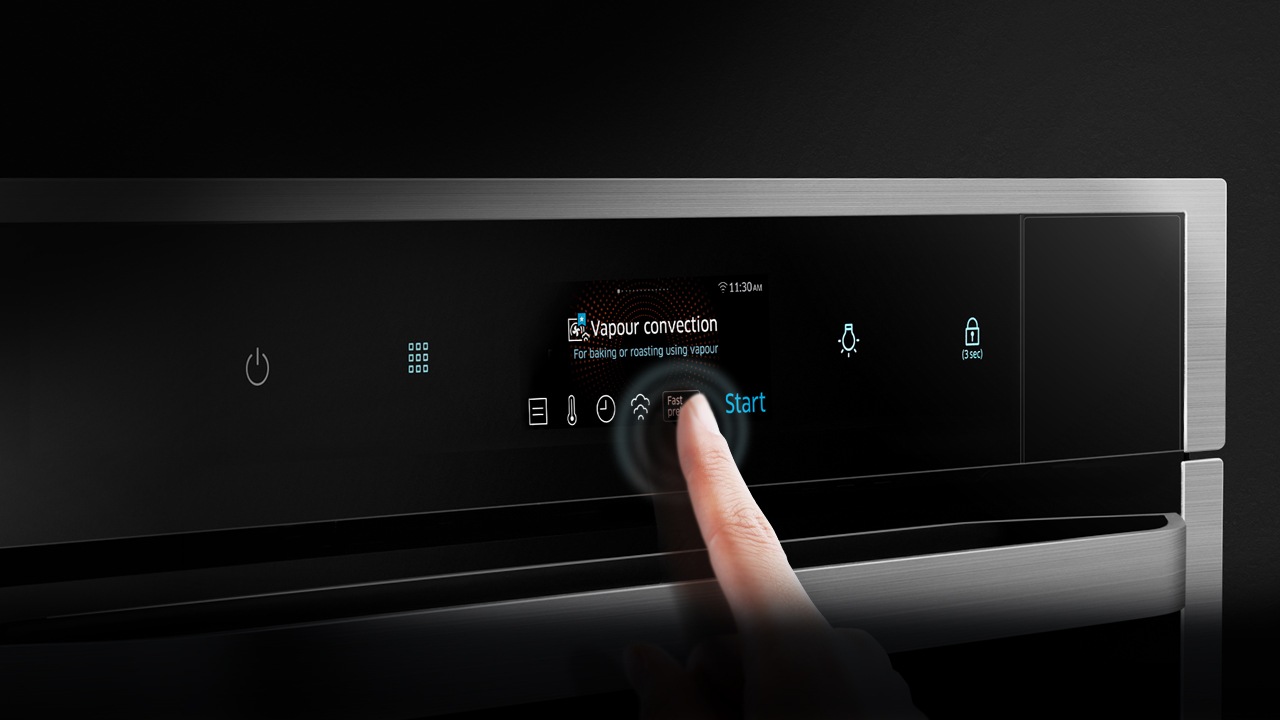 Wi-Fi Connection
Wi-Fi COOKING CONTROL
Built-in Wi-Fi capabilities let you remotely monitor and control
your oven using just an app*. Easily adjust settings,
receive notifications and download recipes by chefs with
Michelin 3-star restaurants - all from your smartphone.

* Available on iPhones and Android devices.
A network connection is required.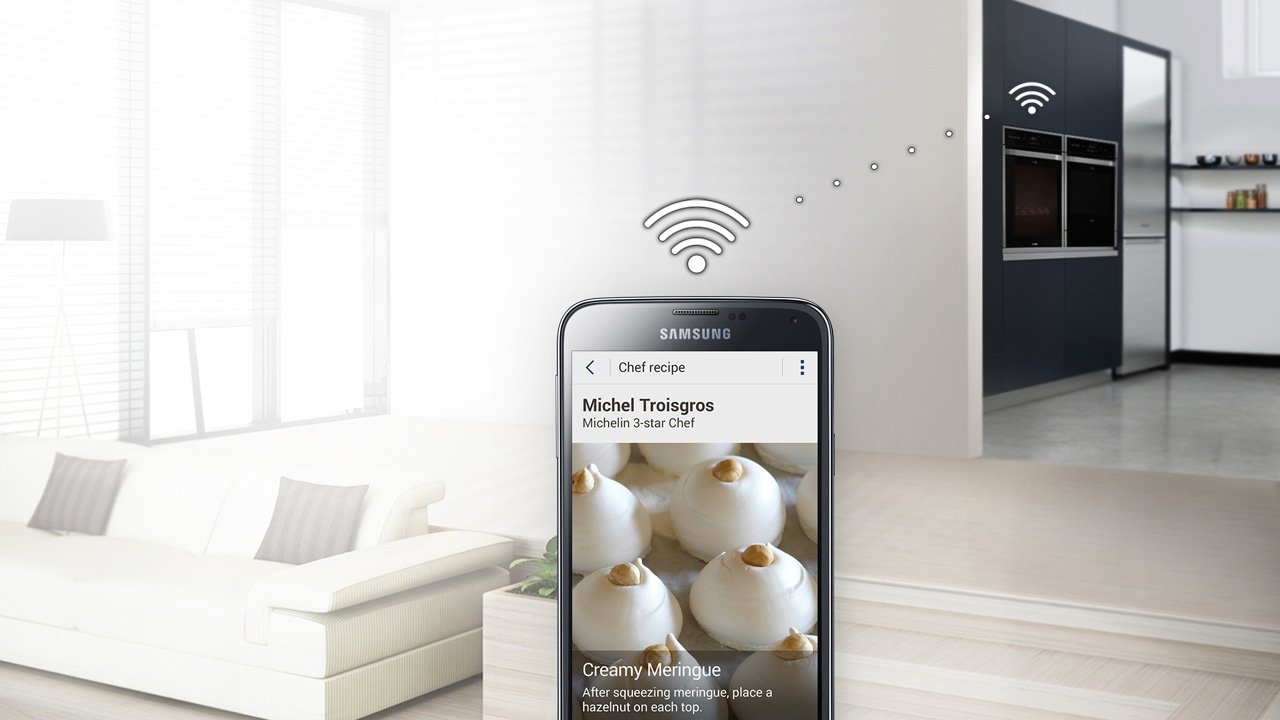 Soft Closing Door
SILENT SOFT
CLOSING DOOR
The Soft Closing Door smoothly and gently
opens and closes with minimal noise. The door's
hinge helps it to slowly come to a stop safely,
giving you complete peace of mind.
Home
Virtual Flame Technology™
Magnetic Knob
Wide Flex Zone
Keep Warm
Home
COOKTOPS
The Samsung Induction Cooktop combines precise visual control with the art of induction. Innovative Virtual Flame Technology™ glows to instantly show how hot the rings are so you can cook much more precisely.
Virtual Flame Technology™
PRECISE VISUAL
INDUCTION COOKING
Samsung's innovative Virtual Flame Technology™ visually
tells you how hot each ring with LED lighting that glows in
accordance with the temperature of each cooking zone.
Enjoy a more precise way to cook.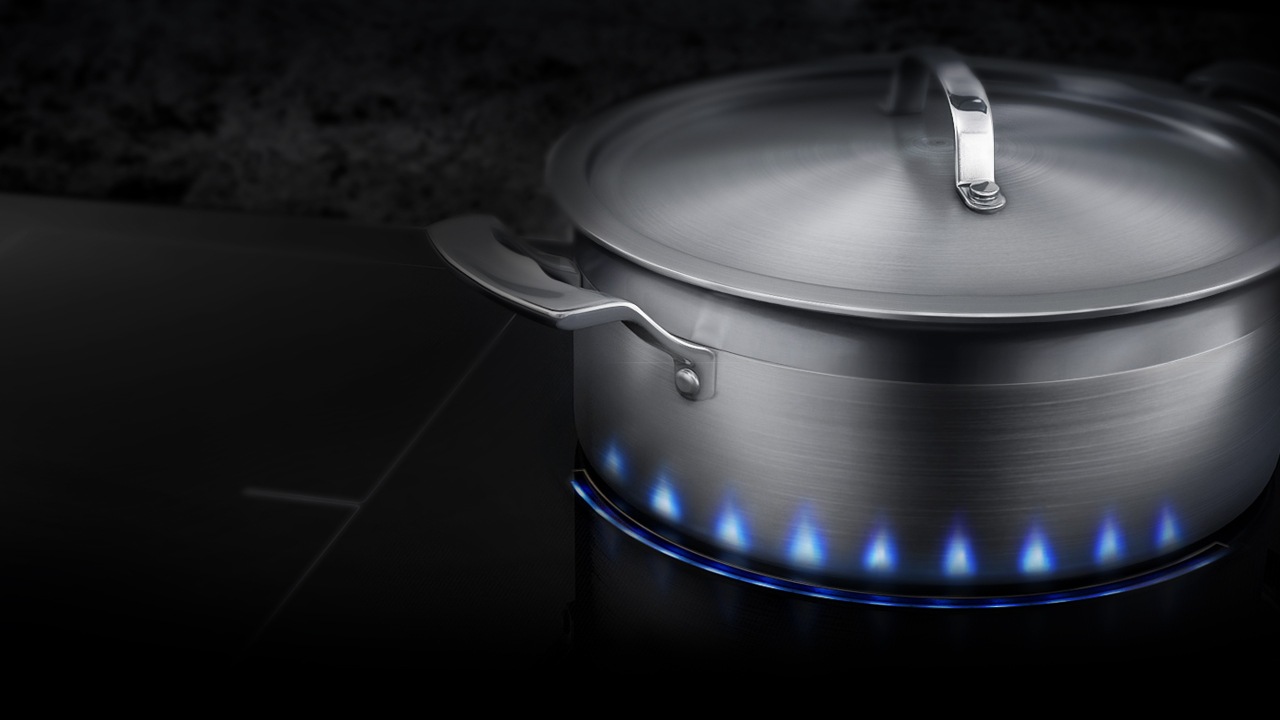 Magnetic Knob
PRECISE DETACHABLE KNOB
A movable Magnetic Knob lets you control the temperature
settings of the Samsung Chef Collection Cooktop with
precision. And because it can be completely detached, it
also makes it easier to clean the entire surface.
Wide Flex Zone
FITS ALL SHAPES
AND SIZES
The Samsung Chef Collection Cooktop features a large open
area called the Wide Flex Zone, designed for cooking multiple
dishes at once. It's wide and spacious enough to fit pots and
pans of varying shapes and sizes, including large cookware.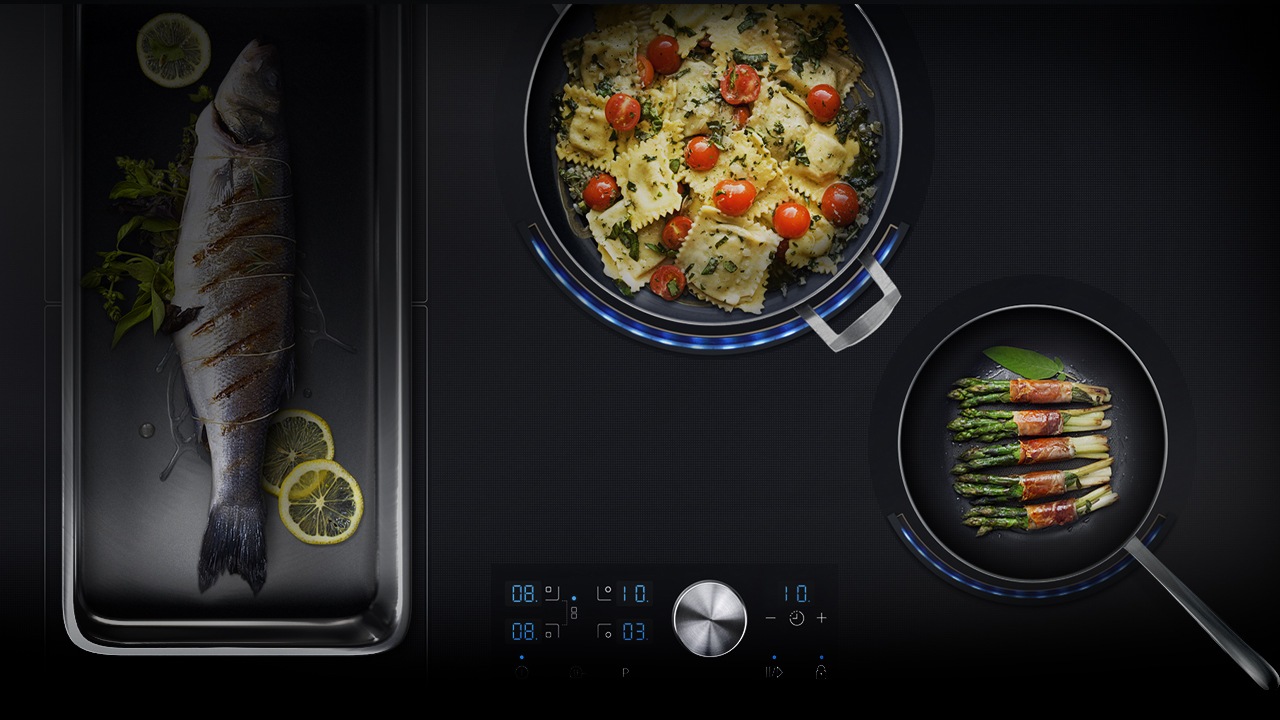 Keep Warm
KEEP FOOD WARM
& READY
The Keep Warm button is handy for when you're preparing
several dishes, as it lets you keep your food at the perfect
temperature without over-cooking. Your food will taste
freshly prepared-no matter when you serve it.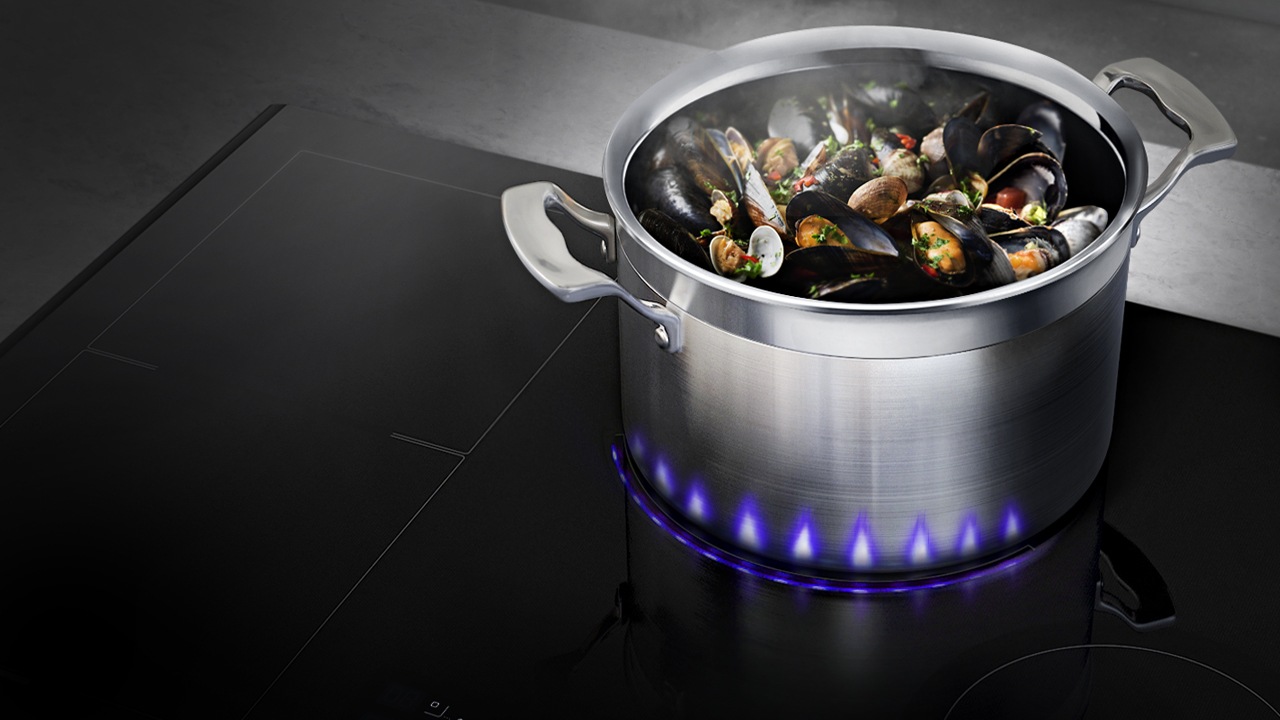 Home
WaterWall™ Technology
Zone Booster™
FlexTray™
flexible rack
Home
DISHWASHERS
For serious home cooks, presentation is as important as preparation. Inspired by the demands of chefs, the Samsung Chef Collection dishwasher with WaterWall™ technology promises sparkling clean dishes every time so that your plates look as great as your food tastes.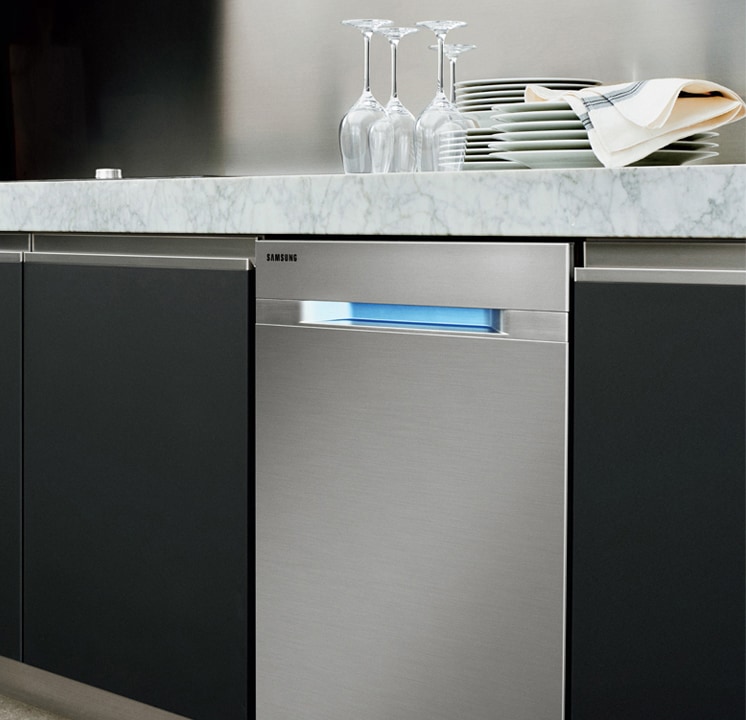 WaterWall™ Technology
REVOLUTIONARY CLEANING
WaterWall™ Technology revolutionizes cleaning with a spray bar that harnesses the power
of high pressure water. It glides back and forth, creating a sweeping wall of water that
covers even the hard to reach places of the bottom rack.
Zone Booster™
TARGETED
WASHING ZONES
Zone Booster™ lets you wash heavily soiled pots and lightly
soiled dishes at the same time with two targeted washing
zones on the lower rack. Simply select a zone to automatically
increase the water pressure and temperature.
FlexTray™
UNLOAD CUTLERY EASIER
Samsung designed the bonus FlexTray™ with convenience in mind. Housed on the third rack,
this versatile, flexible and transportable tray can be filled with cutlery of various shapes
and sizes, making unloading easier than ever.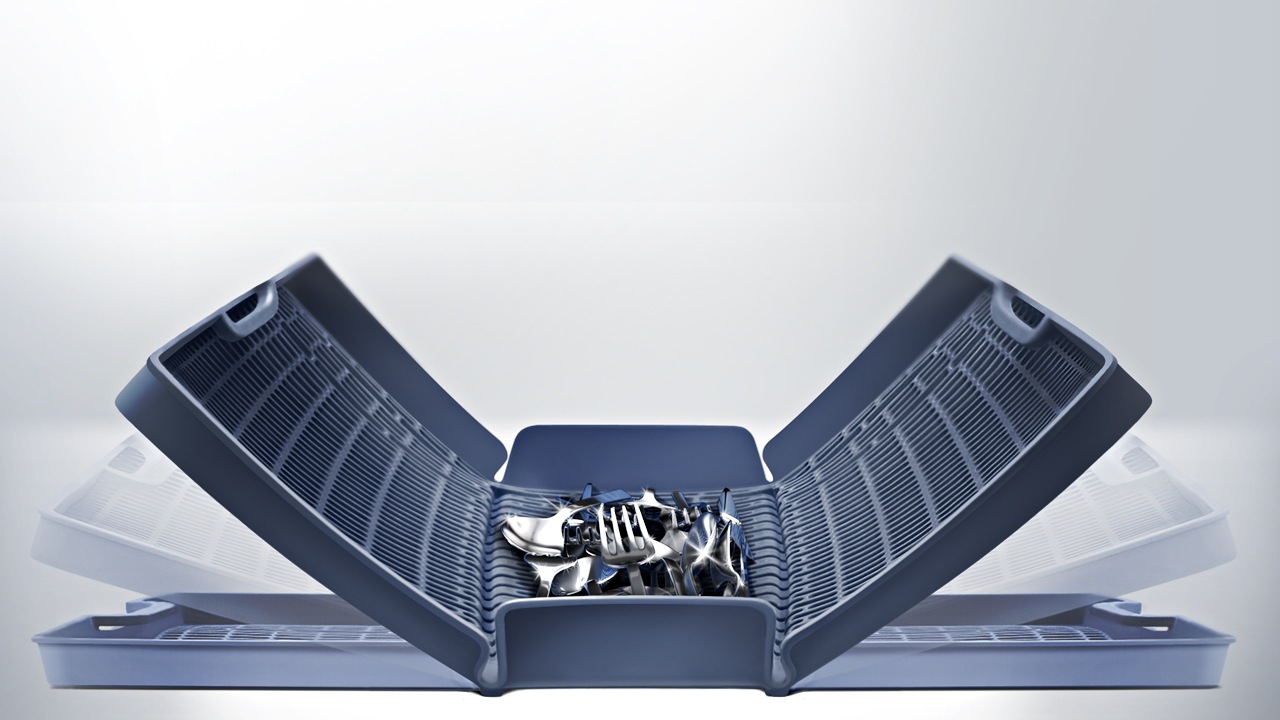 flexible rack
FIT VARIOUS SHAPES
AND SIZES
Fit items of various shapes and sizes with flexible racks
that feature fold-down tines. Adjust the tines on the upper
rack to fit cups and glasses, and the tines on the lower rack
to make space for larger items like pots and pans.