Control Panel of your AirDresser
Last Update date :
Oct 14. 2021
Please Note: The information on this page is for Australian products only. Models, sequences, error codes or settings will vary depending on location and/or where the product had been purchased. To be redirected to your local support page please click here.
The AirDresser is a very simple appliance to use, but if you don't understand what all of those buttons do or mean on the control panel, then chances are you may run into some problems. Also having a good understanding of the control panel, allows you to use the AirDresser to its full potential and apply certain safety features.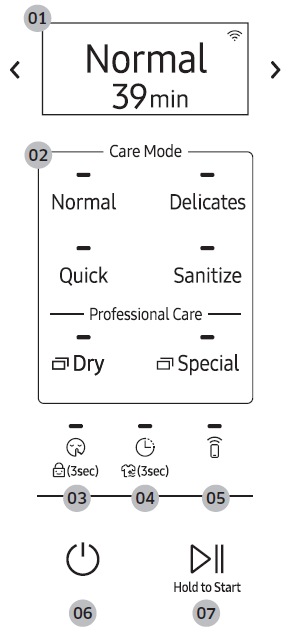 AirDresser Display Panel

| Number | Meaning |
| --- | --- |
| 1 | Display - Displays the selected cycle and estimated time remaining, notifications, and Wi-Fi connectivity. |
| 2 | Care Modes - Click on link for more information. |
| 3 | Silent/Child Lock |
| 4 | Delay End/Keep Fresh |
| 5 | Smart Control - Click on link for more information. |
| 6 | Power - Tap to turn the power on or off. |
| 7 | Start/Pause - Tap and hold to start the cycle. Tap to pause the current cycle. |