Cleaning a Samsung Microwave.
Last modified :
Nov 11. 2019
In some households, the microwave is used more than other kitchen appliances. After prolonged use or food not being covered when heating, your microwave might be in need of a good clean.
Some microwaves have a Steam Clean feature that makes cleaning a breeze. Check your microwave user manual if you are unsure that this feature is available.
Please Note: Use normal water only and not distilled water. Use the clean water bowl that is provided with your microwave.
1
Open the door of your microwave.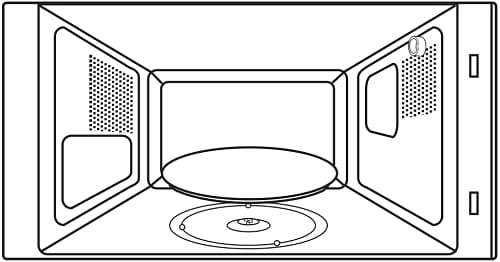 2
Fill the bowl with water to the marked line. (The water line is about 50 ml)
3
Insert the water bowl on the inside right wall of your microwave. Close the door once it is in place.
4
Press the Steam Clean button.

5
When you are satisfied with the steaming, clean the cavity of the microwave with a dry tea towel or paper towel. Remove the turntable and wipe under the rack with a paper towel.

Clean the Exterior of your Microwave.
Your microwave may look spotless at first glance, but even with the best of care, your microwave can pick up grime over time. Just a quick wipe with a soft damp cloth and warm, soapy water about once a week should do the trick.
Below are some tips on what you can use.
White vinegar and a damp soft cloth.
A soft cloth with a dab of olive oil or baby oil.
A soft cloth with lemon juice.
Mild soap, water and a damp cloth.
Please note:
After cleaning, always rinse all residual cleaner off the surface and dry it thoroughly.
Do not spray water or cleaner directly on the surface; instead apply a small amount of cleaner on the rag and then clean the surface.
Always clean up spills and stains as quickly as possible using the simplest method to get the job done. Start by wiping with a damp cloth in the direction of the polish lines and follow up by drying the area to prevent water spots. If that does not work, try a weak solution of dish washing liquid, household ammonia, or a glass cleaner on a soft cleaning cloth. Again, rinse and dry thoroughly. Do not, however, mix any of those cleaning agents together.
Never use steel wool or bleach, or any product containing chlorine, which can damage the protective layer and the metal finish.
Rinse and dry the surface thoroughly to remove all traces of the cleaning agent and prevent spotting from trace minerals in the water.
Glass cleaner can leave streaks on the stainless steel finish.
Harsher chemicals (benzene, thinner, bleach, alcohol, acetone, ammonia) can erode the protective coating that is applied to the surface and could cause an electric shock.
Did not find what you're looking for? We're here to help.
Call
1300 362 603
8am-8pm / Monday to Friday
For general enquires and technical support relating to all Samsung products : CLICK HERE
For all Printer related inquiries, please
click here
or visit
https://www.support.hp.com
Please
click here
to view the latest news regarding the Samsung sale of Printer business to HP.
Contact Us