Locate & Clean the Clean Station Filters
Last Update date :
Oct 11. 2021
 Please Note: The information on this page is for Australian products only. Models, sequences, error codes or settings will vary depending on location and/or where the product had been purchased. To be redirected to your local support page please click here.
The Samsung Clean Station™ is designed to remove all dust from your compatible Jet Stick dustbin while also greatly reducing the exposure of dust particles to you compared to when using conventional methods of emptying a dustbin.
For the Clean Station™ to continue working effectively, there are 2 filters that will need to be cleaned over time: (1) the Premotor Filter; and (2) the Ultra Fine Dust Filter.
Follow the guide below for steps on locating and cleaning these 2 filters of your Samsung Clean Station™.
Cleaning the Premotor Filter:
1
The first step in cleaning the Premotor Filter is to remove the dust bag from the Clean Station™ so that you can locate the filter. If you require details on how to remove the dust bag, please have a look at our page, "Replacing the Clean Station™ Dust Bag."
2
Once you have removed the dust bag, you will be able to see a square grille at the bottom. This is the Premotor Filter. Lift up the front edge and then pull the filter out.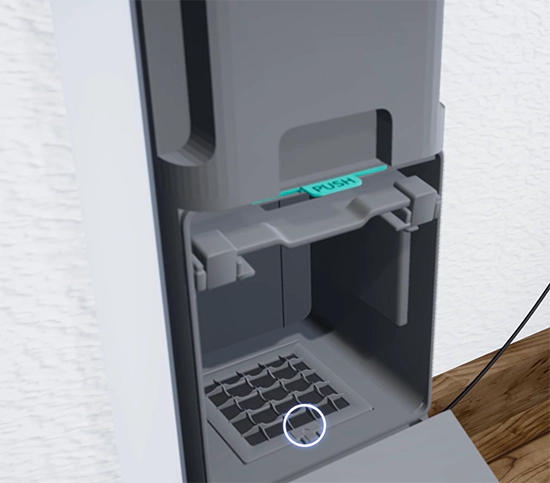 3
Take the Premotor Filter and separate the nonwoven fabric from the filter. Remove the dust on the nonwoven fabric by shaking it and then reassemble the Premotor Filter.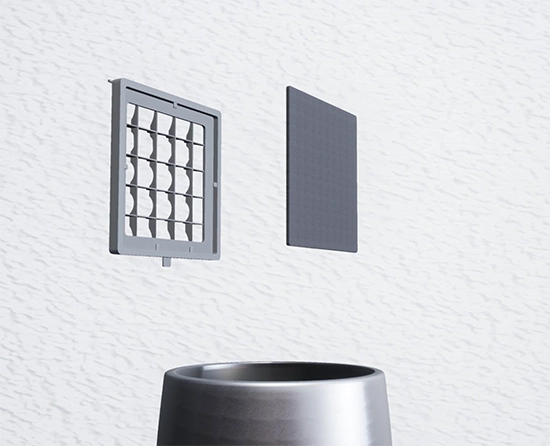 4
Place the back edge of the Premotor Filter into the slots and then place the front edge into place.
Cleaning the Ultra Fine Dust Filter:
1
Go to the rear of the Clean Station™ and at the bottom is a square grille. This is the Ultra Fine Dust Filter. Press down on the top, pull forward and lift out.
2
Remove the filter from its casing and shake off the dust and then reassemble the filter. To maintain the best performance of the Ultra Fine Dust Filter, replace the filter once a year.
3
Place the bottom edge of the Ultra Fine Dust Filter into the slots and then push the filter back into place.