Cleaning your Jet™ Stick Dustbin and Filters
Last Update date :
Oct 11. 2023
Please Note: The information on this page is for Australian products only. Models, sequences, error codes or settings will vary depending on location and/or where the product had been purchased. To be redirected to your local support page please click here.
During the process of using your Samsung Jet™ Stick vacuum to clean your home, the Jet™ Stick may begin to have a build-up of all the dust, dirt, and anything else it picks. This build-up can decrease the performance of your Jet™ Stick.
Follow the guide below for cleaning your Jet™ Stick dustbin and filters.
Note: 
If you have foreign matter clogged in the wheels of your Jet™ Stick, you will need to contact an authorised service centre for further support.
If you need to purchase a new Vacuum Filter for your Jet™ Stick, click here.
Cleaning the Dustbin
1
While the Jet™ Stick vacuum is turned off, press the dustbin release button (1), and then pull the dustbin down (2) as shown in the picture below.
2
Pull the washable micro filter out by holding the filter handles located inside the filter.
3
While pressing the button (1), turn the dustbin cover (2) and remove it from the dustbin (3).
4
Remove the dust from the metal mesh grille filter by using the combination tool.


Note: Do NOT pull the rubber attached to the metal mesh grille filter.
5
After emptying the dustbin, clean the dustbin and filter under running water and leave it to dry in the shade out of direct sunlight.


Tip: With the dustbin upright and a bag over the top, tip the dustbin so the contents fall into the bag to reduce dust clouds.
6
Reassemble the dustbin cover by aligning the dustbin release button with the groove on the dustbin. The dustbin and filter must be completely dry before reassembling the vacuum.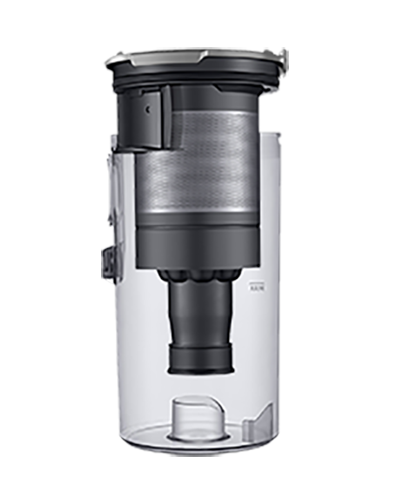 7
Put the washable micro filter in the dustbin cover by fitting the groove on the filter first as shown in the picture below.
8
Assemble the dustbin to the vacuum until you hear a click by following the order shown in the picture below.
Cleaning the Filters
1
Remove the micro washable filter.
2
Remove any dust and clean with water after removal. It is recommended to clean it about once a month. Be sure to dry your washable micro filter completely in the shade* for 24 hours or more before reassembling for use.

*when heat is applied, product malfunction can occur.
1
Detach the ultra fine dust filter (1) by turning it clockwise, and remove any or foreign matter (2). Then, twist the filter back on (3).

*When assembling, turn the filter until the line below the lock image is not visible.
Please answer all questions.