Why is my washing not dry when the drying cycle has ended?
Last modified :
Jun 20. 2018
Following are some of the possibilities your clothes may remain wet even after the completion of a wash cycle: 
●     If water has not drained completely use High or Extra High spin speed.
●     Adding less laundry items than that it is requied for a wash cycle causes the drum to go out of balance. Having the right amount of clothes produces enough weight to keep the drum balanced and drain excess amount of water. Please refer to your user manual for the optimal range.
●     Within the drum enough space is requied for clothes to roll and splash away excess water. Overloading the drum has less effect on the laundry items and as a result the clothes remain unclean and wet.
●     Every wash cycle is engineered to draw correct amount of water for soaking, washing, rinsing and finally draining so that the clothes come out clean and dry. Interrupting or manually stopping a running wash cycle before completion results in clothes being wet. Always allow a wash cycle to complete to notice results.
●     Sometimes error codes come up in the middle of a wash cycle and as a result water has not been drained. Please refer to your user manual to fix this error or book in an appointment for a repair.
●     Use high efficiency HE detergent to reduce over sudsing.
●     The washer is not level. If the washer is not levelled properly, it attempts to spin up to a high speed, but it senses a severe unbalance condition and stops. The washer will rotate back and forth a few times to try and reposition the load, and then it attempts to spin up again. If the washer cannot detect a balanced load, it will attempt to reposition the load 3 times. After the 3rd time, it will add water and attempt to spin again. If the washer still cannot detect a balanced load, the washer will stop and the clothes will be wet.
●    While the washer is attempting to spin, try moving the levelling legs to minimize the unbalanced condition.
Please note:
●      Washing machines have a system to automatically detect the amount of water needed for a wash cycle to operate with in the range. However, the total weight of clothes outside this range does not drain water effectively.
●      Below information is just an example for one of the washing machine models. For information related to your model please follow the instructions to download a copy of user manual from Manuals and Software downloads.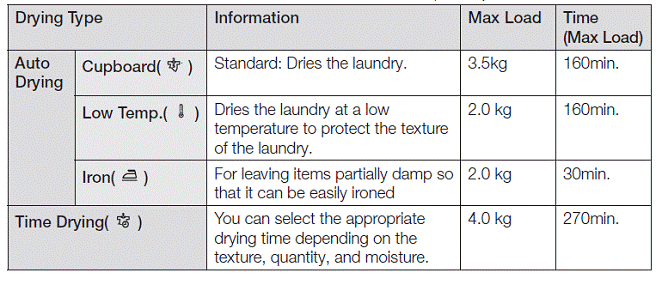 If you require assistance or need to book your washing machine for a repair, please contact Samsung Customer Care using one of the options below. 
Did not find what you're looking for? We're here to help.
Online
Chat with us
Live Chat Support with a Samsung product expert.

We'll respond within 24 hours of your request.

Face-to-Face Support

In-Store Support
Create a booking to see one of our friendly Samsung staff members at one of our Samsung Retail Stores.
Contact Us