What should I do if the microwave turntable does not work?
Last Update date :
Jan 20. 2022
 Please Note: The information on this page is for Australian products only. Models, sequences, error codes or settings will vary depending on location and/or where the product had been purchased. To be redirected to your local support page please click here.
If the microwave spinner does not rotate, the food can heat unevenly. This could be caused by a dirty track or roller ring. Please see below for some steps you can try before deciding to contact a technician for further support.
Note: Do NOT operate the microwave oven without the roller ring and turntable.
1
Check that the turntable is positioned correctly.
Verify the centre of the turntable has a coupler that connects to the motor. If this is not positioned correctly the turntable will not spin, and can make a lot of noise.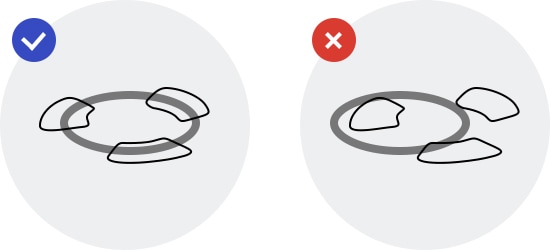 2
Make sure there is no food residue stuck.
Food particles or other materials that are on the rollers or on the bottom of the microwave can also result in an unbalanced and noisy turntable. Clean the turntable and roller wheel with warm, soapy water. Also ensure to clean the bottom of the microwave and roller track.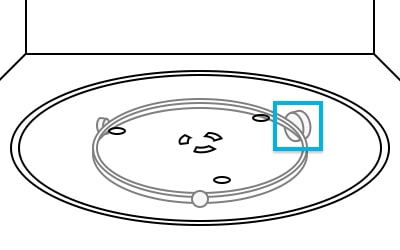 4
Inspect the roller ring.
Make sure that there is a roller ring and that it is positioned properly. Install the roller ring, and try again.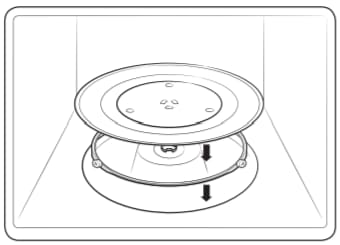 5
Check the size of your container.
If there is too much food or if your container is too big and touches the walls of the microwave, the turntable can stop spinning. Make sure to adjust the amount of food and use a container that is not too big.
6
Check that the Turntable Off function is disabled (applicable models* only)
On selected models*, there is a Turntable Off function that allows you to stop the turntable from spinning. Check that it is disabled if the function is applicable to your microwave model.

*This function is currently available on MS30T5018A* models.
7
Request service.
If problems persist, contact an authorised service centre or Samsung on 1300 362 603 (Toll Free in Australia) to request service.
We would love to know your feedback to help us improve. Please click submit to tell us what you think.
Please answer all questions.