Using the Blue Light Filter on my Samsung Phone
Last Update date :
Oct 13. 2020
The Blue light filter decreases the amount of blue light displayed on the screen of the device. Blue light can suppress the production of melatonin (sleep-inducing hormone), so filtering it out can help you sleep better. It will also reduce digital eye strain, so your eyes won't feel so tired by the end of the day. 

Tap on of the drop down menus to follow the step-by-step instructions.
Please Note: This guide is designed for Australian variant Galaxy devices, if you have an international device and require further support click here to get in touch with your Samsung subsidary. Screenshots were captured from a Galaxy Z Flip operating on Android OS version 10.0 (Q), settings and steps may vary depending on your Galaxy device and software version.
Note: While you're watching HDR videos from HDR-exclusive video services (such as Amazon video) the blue light filter will not be applied.
Using Quick Panel
1
Swipe down on your screen to access your Quick Panel and tap on
Blue Light Filter to enable or disable setting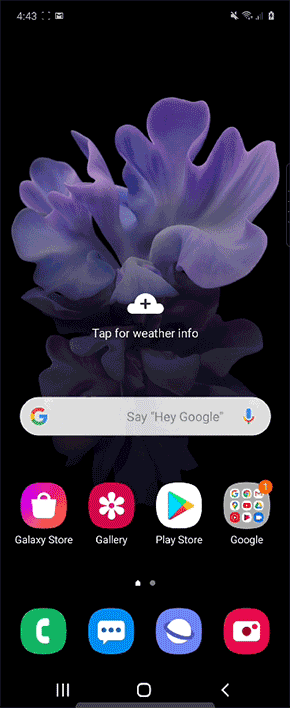 2
Tap on the word Blue Light Filter to adjust the opacity levels. Once complete tap on Done
Using Settings
1
Swipe down from the top of the screen with two fingers to toggle the Blue light filter on/off quickly
2
Toggle on Blue Light Filter to activate setting or tap on the word to adjust settings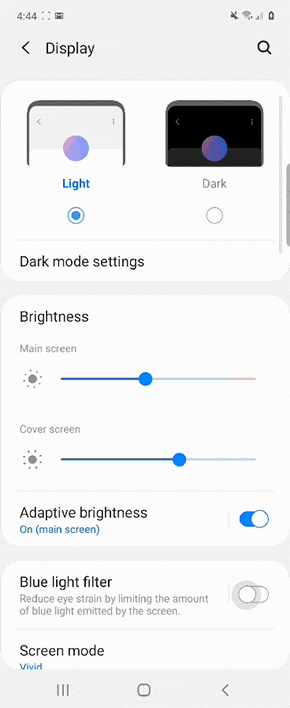 3
You wil then be able to adjust the Opacity level, turn on now or turn on as scheduled.