About the Blue Light Filter
Last modified :
Apr 05. 2019
The Blue light filter decreases the amount of blue light displayed on the screen of the device. Blue light can suppress the production of melatonin (sleep-inducing hormone), so filtering it out can help you sleep better. It will also reduce digital eye strain, so your eyes won't feel so tired by the end of the day. 

Tap on of the drop down menus to follow the step-by-step instructions.
Note: While you're watching HDR videos from HDR-exclusive video services (such as Amazon video) the blue light filter will not be applied.
Enabling and Disabling the Blue Light Filter via your Settings
1
Open the Settings app and select Display
2
Toggle the switch next to the Blue Light filter option or select the text area for more options
3
Adjust the Opacity or toggle on Turn on as Scheduled to enable during a certain time throughout the day.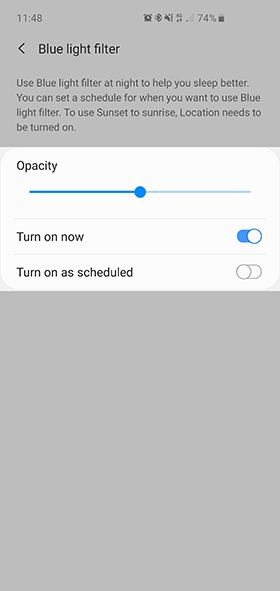 Turning on and off via your Quick Settings Panel
1
Swipe down from the top of the screen with two fingers to toggle the Blue light filter on/off quickly
2
Tapping on the word Blue Light Filter will allow you to adjust the Opacity.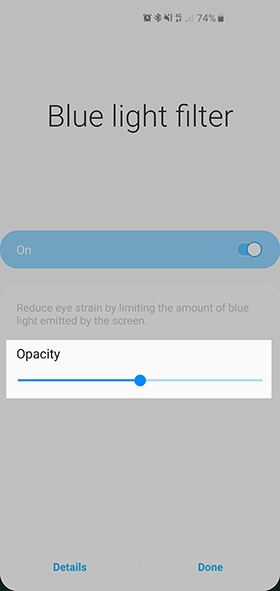 Did not find what you're looking for? We're here to help.
Call
For all Mobile device enquiries
1300 425 299
1300 GALAXY

24 hours / 7 days a week
Toll Free in Australia
For all other product enquiries
1300 362 603

24 hours / 7 days a week
Toll Free in Australia
From overseas
+612 8293 5712

24 hours / 7 days a week
Face-to-Face Support

In-Store Support
Create a booking to see one of our friendly Samsung staff members at one of our Samsung Retail Stores.
Contact Us