How do I add a Screen Lock Type on my Tab S5e?
Last modified :
Apr 26. 2019
Set a lock screen type on your new Galaxy Tab S5e to prevent others from accessing important information saved on your device. On the Galaxy Tab S5e you have a range of security types to ensure only you can unlock your device. This page runs through creating different types of screen lock types as well as removing them from your Tab S5e.
1
Launch your Settings > Lock screen
2
Tap on Screen lock type
3
Select your preferred Screen lock type and enter your passcode. Once complete, tap Confirm.
Please Note: If you would use the biometrics on your Tab S5e you will first need to create a Pin, Pattern or Password lock type then proceed to create your fingerprint or facial recognition security lock.
4
You will be required to re-enter the passcode to ensure it was entered correctly. Once complete, tap on Continue.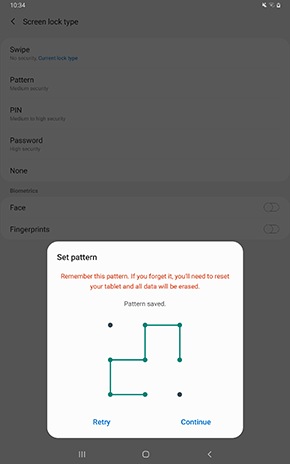 5
You will then be prompted to customise your lock screen notifications. Once complete tap on Done.
Adding the Biometrics
Once you have created your primary Lock Screen type - either PIN, Pattern or Password, you will be able to create fingerprint ID's and a Facial recognition. You can access your Biometrics via your Settings > Lock Screen or Biometrics and security to create your ID's. If you select either Face ID or fingerprint, you will need to re-enter your primary lock screen type to begin this process.
Creating a Face ID
1
Toggle on Face and enter your primary lock screen type passcode.
2
Tap on the Continue button to start creating your Face ID.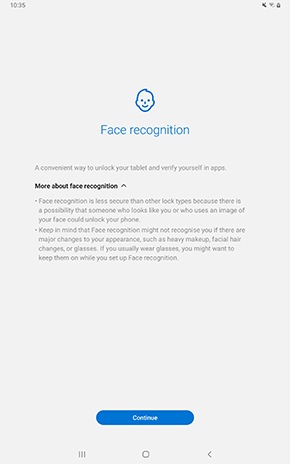 3
Select Yes or No if you are wearing glasses then tap Continue.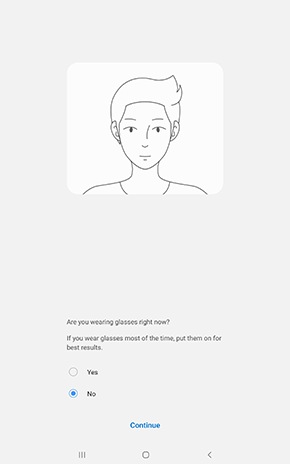 4
Position your whole face in the box shown on the screen to complete the registration. If your face is too close or too far from the camera your Face ID may not be recognised.
Ensure there is a sufficient amount of light in the environment and there is nothing obstructing the camera's view to successfully register your Face ID. If you are experiencing issues registering your Face ID try cleaning the camera lens with a soft cloth and repeat the above steps.
5
Once your face has been successfully registered, toggle on or off your preferred Useful Features and tap OK.
Creating a Fingerprint ID
1
Toggle on Fingerprint and enter your primary lock screen type passcode.
2
Place your finger on the fingerprint sensor, then lift it off again. The sensor is on the Power button on the right hand side of the Tab S5e.
3
Continue to place your finger on the fingerprint sensor, then lift it off again until the sensor has reached 100%.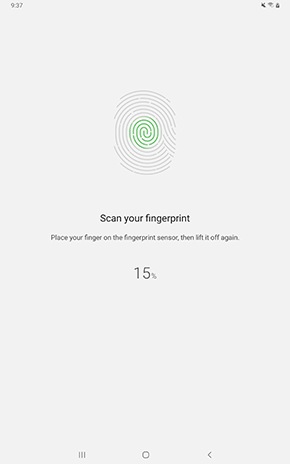 4
Once your fingerprint has been added, you can choose to add another one by selecting Add or you can select Done to finalise the setup.
Removing the Biometrics
If in the future you decide you no longer want to use the Face ID or fingerprint scanner, you can either turn these biometrics off in Settings > Lock Screen > Lock Screen Type > Toggle off Face / Fingerprint. If you choose to completely remove this data from your Tab S5e, you will need to head into your Biometrics and Security settings and remove these security types individually. Please follow the below guide for step-by-step instructions.
1
Head into your Settings > Biometrics and security
2
Select Face recognition
3
Tap on Remove face data and re-enter your primary lock screen type to complete Face ID removal.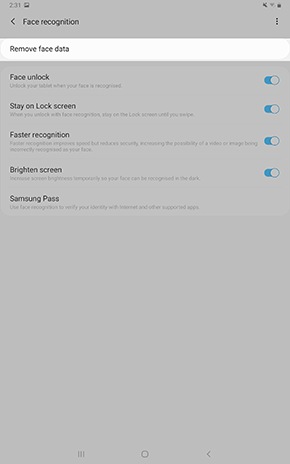 4
To remove your saved fingerprints simply select Fingerprints
5
Touch on the fingerprint you would like to delete.
6
Select Remove
7
A pop-up will appear at the bottom of the screen advising you that your fingerprint will be turned off. If you agree to this, tap Remove.
Did not find what you're looking for? We're here to help.
Face-to-Face Support

In-Store Support
Create a booking to see one of our friendly Samsung staff members at one of our Samsung Retail Stores.
Contact Us