Enable Location on my Samsung Device
Last Update date :
Oct 18. 2021
Whether you're using maps to navigate through the city, ordering dinner online or using Find my Mobile to track your lost phone you will need to enable the location services to get the best experience out of your apps. Follow the below guide to learn how to enable Location services on your Galaxy device. If you need help calibrating your compass or improving your Location accuracy, please referto our guide Improving the location accuracy on my Samsung Phone.
Please Note: This guide is designed for Australian variant Galaxy devices, if you have an international device and require further support click here to get in touch with your Samsung subsidiary. Screenshots were captured from a Galaxy S10 operating on OS Version 10.0 (Q), settings and steps may vary depending on your Android OS Version.
Enabling via Quick Settings
1
Swipe down your screen to access your Quick Settings and tap on Location to enable or disable this service.
Enabling via Biometrics and Security
1
Launch your Settings and select Location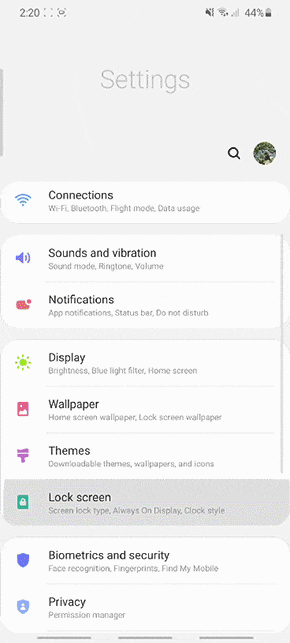 Note: 
For Samsung devices operating on Android OS Version 9.0 (Pie) head into Settings > Biometrics & Security > Location.
For Galaxy devices operating on Android OS Version7.0 (Nougat) & 8.0 (Oreo) head into your Settings > Connections > Toggle on Location.
2
Toggle on Location
Please answer all questions.