Find my Phone using my Samsung Watch
Last Update date :
Mar 12. 2021
Misplaced your Galaxy phone and need help relocating it again? If you have a Samsung Watch paired to your smartphone you can easily use the pre-installed Find my Phone application. Follow the below guide to learn ring your lost phone. Prior to following the below guide ensure you have paired your Galaxy phone to your Samsung Watch - check out Pair a device with the Galaxy Wearable app for more information. 
Please Note: This guide is designed for Australian variant Galaxy devices, if you have an international device and require further support click here to get in touch with your Samsung subsidiary. Screenshots were captured from a Galaxy Watch3 and Galaxy Note20 operating on Android OS Version 10.0 (Q), settings and steps may vary depending on your Galaxy device and software version.
If your Galaxy phone and Samsung Watch are connected via Bluetooth, you will need to be within Bluetooth range in order to locate or ring the phone. If you are connected via LTE or connected remotely ensure both your watch and phone are connected to a strong internet connection.
1
Head into you Apps tray and select
Find my Phone
2
Tap on

to start ringing your connected phone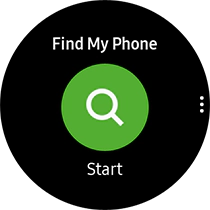 3
Your connected Galaxy phone will start ringing on the loudest volume. Once you have located your phone, swipe on the Dismiss button to stop ringing.