Use the Galaxy S10 Super Night Shot Mode
Last modified :
Mar 07. 2019
Maximising your night time photography is a breeze with the Galaxy S10 and S10+. Both devices have 3 rear cameras and the best in AI camera software to get the most out of low light shots. 
The Galaxy S10 and S10+ camera app has a built in Scene Optimiser that will automatically enhance up to 30 different types of photos. Super Night Shot is a function of the
 Night Scene mode that shoots, saves, and combines up to 17 shots in one. 
When you're out and about using one of the many cameras of the S10 at night, the device will recognise the low light levels in the scene and shoot 7 photos in 2-3 seconds to compress into one single photo - and if the device recognises it's stabilised by a tripod it will shoot up to 17 shots between 30 and 40 seconds to combine into a single Super Night Shot. 
Combining 7 to 17 shots into one single photo will allow you to capture far more detail than the low light aperture of the rear cameras will normally allow.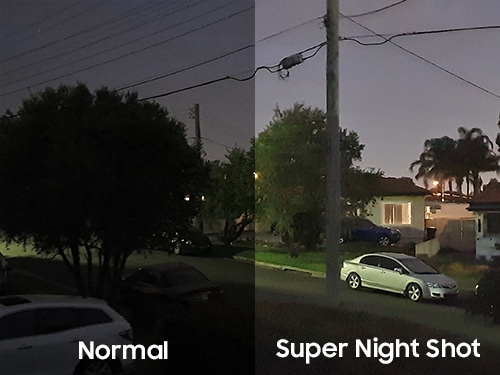 2
Tap the Scene Optimiser icon to turn in on (blue)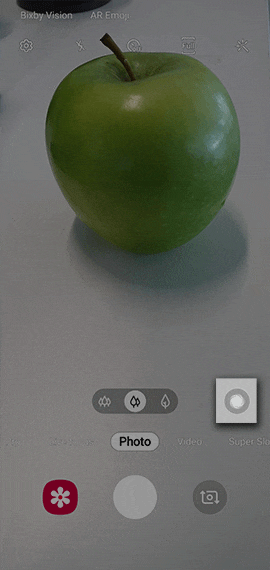 Once Scene Optimiser is active, and when the Galaxy S10 recognises a lack of light, it will switch to
Night Scene. From there, you'll see a pop up on the display asking to keep the device a steady as possible. The image will freeze for 2 to 3 seconds while the camera takes 7 photos and compresses them to a single Super Night Shot.
Did not find what you're looking for? We're here to help.
Call
With the global spread of COVID-19 impacting most communities, Samsung is adapting its practices to protect the health and wellbeing of our people and customers.

As such, our call centre is operating with extremely limited resources and we are unable to take in-coming calls.

Please find below, alternative ways that you can contact our Customer Care Team. Please understand that due to the volume of enquiries we are receiving, we are likely to take longer than usual to respond to you. However, we do endeavour to get back to you as quickly as possible.

We apologise for any inconvenience this may cause.


For general enquires and technical support relating to all Samsung products : CLICK HERE
For all Printer related inquiries, please
click here
or visit
https://www.support.hp.com
Please
click here
to view the latest news regarding the Samsung sale of Printer business to HP.
Contact Us