How to send messages on a Wearable
Last modified :
Oct 19. 2018
View and reply to messages using the Galaxy Watch, Gear Sport and the Gear S3. 
Please Note: You need to use the Samsung Messages app on your connected mobile device to send and receive Messages
The ability to send and receive messages depends on the connected mobile device. Apple iPhones do not currently support the Messages function.
1
Tap

Messages on the Apps screen.
Or, swipe to the right on the Watch screen or rotate the bezel anti-clockwise when you receive a new message notification.
2
Scroll through the message list, and then select a contact to view your conversations.
To view a message on your mobile device, tap
 rotate the bezel and tap Show on phone. 
To reply a message, select an input mode and enter your message.
1
Tap

Messages on the Apps screen.
2
Tap the Messages icon or choose a recipient by selecting the Contacts icon.
3
Add a recipient and tap NEXT.
4
Enter your message using one of available methods and tap SEND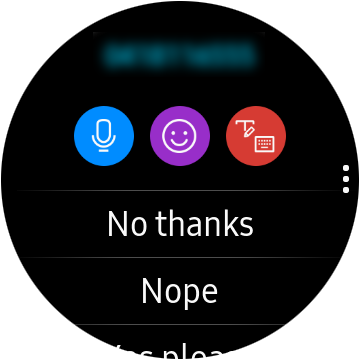 Speaker: Speak into to your watch and then touch SEND. Your watch will translate your speech into text.
 Text: Type into the watch to send a message.

 Emoji: Select an emoji as your response. The emoji sends automatically to your recipient.
Quick Response: Scroll down to view the quick responses available. Tap "No thanks" or another of the quick responses to send. The quick responses send automatically to your recipient.
Did not find what you're looking for? We're here to help.
Face-to-Face Support

In-Store Support
Create a booking to see one of our friendly Samsung staff members at one of our Samsung Retail Stores.
Contact Us