The Always On Watch face feature
Last modified :
Apr 12. 2019
With the Always On Watch feature, there's no need to press a button or turn the bezel on a Galaxy Watch or some Gear watches to show the time. Set the display to show at all times, letting you see the time whether it's day or night. An active second hand has also been added to some watch faces for a further the sense of realism. Using the Always-On feature will increase battery consumption significantly.
1
To enable or disable the Always On watch feature, open the Settings on your watch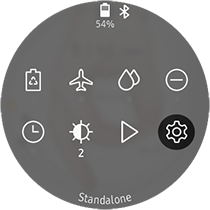 2
Scroll to Watch Faces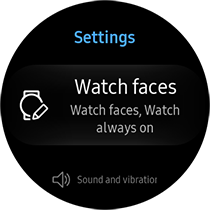 3
Select the Watch Always On option to turn it on or off.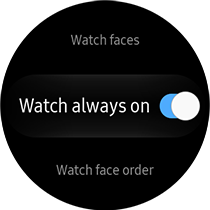 Note: Devices will have pre-loaded watch face options but you can also download additional watch faces via Samsung Galaxy Wearable app or Samsung Galaxy Watch app on iOS.
Did not find what you're looking for? We're here to help.
Call
With the global spread of COVID-19 impacting most communities, Samsung is adapting its practices to protect the health and wellbeing of our people and customers.

As such, our call centre is operating with extremely limited resources and we are unable to take in-coming calls.

Please find below, alternative ways that you can contact our Customer Care Team. Please understand that due to the volume of enquiries we are receiving, we are likely to take longer than usual to respond to you. However, we do endeavour to get back to you as quickly as possible.

We apologise for any inconvenience this may cause.


For general enquires and technical support relating to all Samsung products : CLICK HERE
For all Printer related inquiries, please
click here
or visit
https://www.support.hp.com
Please
click here
to view the latest news regarding the Samsung sale of Printer business to HP.
Contact Us