Enable Scene Optimiser on my Samsung Phone
Last Update date :
Oct 01. 2020
Scene Optimizer is a feature first introduced on Galaxy S9's intelligent camera that automatically detects what's in frame and adjusts accordingly to help you get beautiful photos. It adjusts exposure, contrast, white balance, and more, choosing from 32 modes. Check out the below guide to learn how to activate and use Scene Optimiser on your Galaxy phone.
Please Note: This guide is designed for Australian variant Galaxy devices, if you have an International device and require further support click here to get in touch with your Samsung subsidiary. Screenshots were captured from a Galaxy S20+ operating on Android OS Version 10.0 (Q), settings and steps may vary depending on your Galaxy device.
1
Launch the
Camera
2
Tap on
Camera Settings
3
Toggle on Scene Optimiser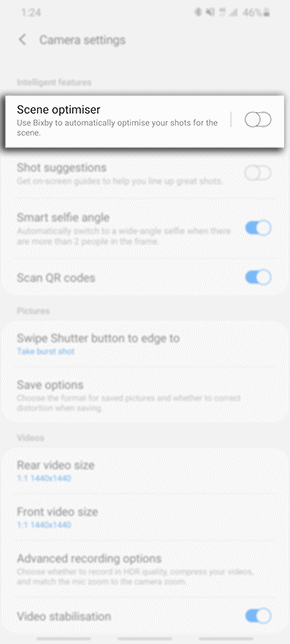 4
Tap on

to activate Scene Optimiser
5
Once Scene Optimiser has been actiavted your device will recognise the scene and adust setting accordingly. It will also suggest optimal zoom settings to help capture the best shot. When you are ready to take the photo simply tap on the capture button.