Call settings on Samsung Phones
Last modified :
Mar 04. 2019
To Answer a phone call on a Samsung phone, you'll need to touch the Green Call Icon and drag your finger outside of the circle. To decline the phone call, touch the Red phone icon and drag away from the circle.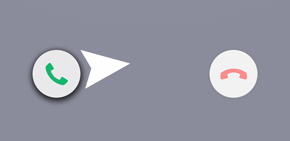 There are several ways you can option to answer and end calls apart from swiping the screen when receiving a phone call, or hanging up a call.
Depending on your device and Android version you may be able to:
Answer calls by pressing a button
Answer calls by voice command (on Operating systems 4.2 to 6)
Set automatic answering of calls when a headset is connected
End calls by pressing the power key (without turning off the screen) 
See the steps below to find what options are available. If you're not sure what operating system your device is running you can check what version of Android is my device running?
Steps on Jelly Bean (Android Version 4.2)
1
Open the Settings application and select the Call option under the My Device tab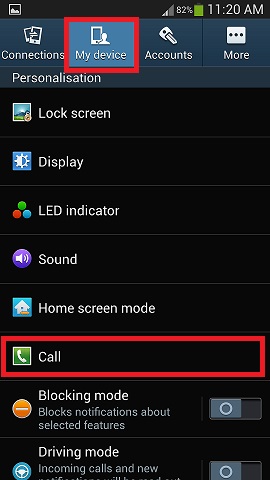 2
Select the Answering/ending calls option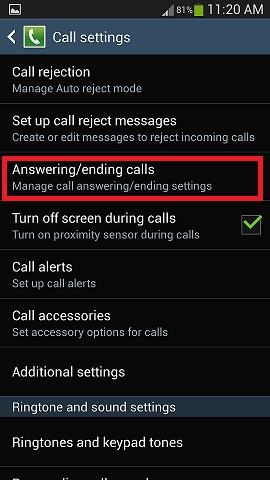 3
You'll be able to select what options you would prefer by ticking the checkbox on the right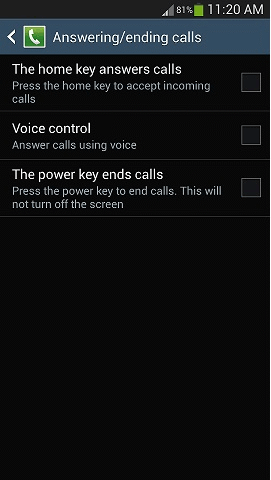 4
If you want to enable Voice control you may be direct to the voice control settings. Tap on the slider to turn it on.
Turning Voice control on will allow you to use voice commands for the following:
Incoming calls
Alarm
Camera
Music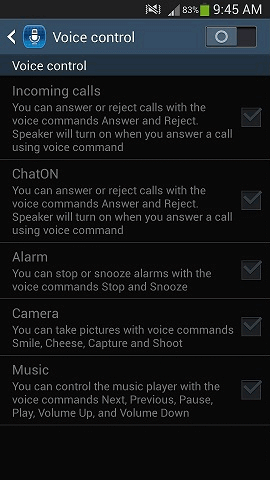 Steps on Marshmallow (Android Version 6.0)
2
Select the 3 dot menu button and then Settings
3
Select Call
4
Select Answering/Ending Calls
5
You'll see the options for answering and ending calls and check the box on the right to select
Steps on Nougat and Oreo (Android Versions 7.0 and 8.0)
2
Select the 3 dot menu button, and then Settings
3
Select the Answering and ending calls option
4
You can turn on whichever option you would like by toggling the switch on the right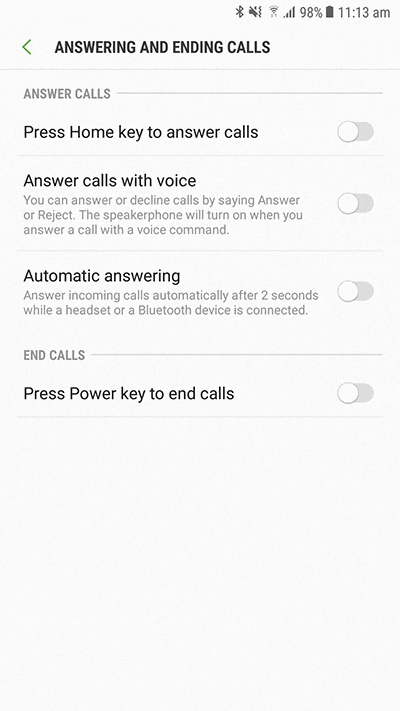 Please Note: Devices without a physical home button will show Volume Up to answer instead.
Devices with the Bixby Voice feature won't show the option for Voice Control as it is a function of Bixby. 
Adjusting the Ring Time of your Mobile Device:
Most telco providers in Australia limit the ring time of your phone to 15 seconds before the call will go to voicemail. The ring time can be set in 5 second increments between 5 and 30 seconds. There is no way to extend the ring time of any mobile phone beyond 30 seconds. 
To extend the ring time of your Samsung device, open the Phone app on your phone and enter the following code into the keypad:
Telstra SIMs: **61*101**30#
Optus SIMs: **61*321**30#
Vodafone SIMs: **61*121**11*30#
Press the call icon, and after a couple of seconds you should see a pop up with something like "Registration was successful". If not, please get in touch with our Samsung Care experts at Live Chat Australia or call 1300 425 299 (Toll Free in Australia) for further assistance.
If you're overseas, please contact your service provider for more information - the codes above will only work for SIMs registered on the applicable Australian network.
Did not find what you're looking for? We're here to help.
Call
For all Mobile device enquiries
1300 425 299
1300 GALAXY

24 hours / 7 days a week
Toll Free in Australia
For all other product enquiries
1300 362 603

24 hours / 7 days a week
Toll Free in Australia
From overseas
+612 8293 5712

24 hours / 7 days a week
Face-to-Face Support

In-Store Support
Create a booking to see one of our friendly Samsung staff members at one of our Samsung Retail Stores.
Contact Us