Delete files from SD card in a Samsung Phone
Last Update date :
Oct 18. 2021
Please Note: This guide is designed for Australian variant Galaxy devices, if you have an international device and require further support click here to reach out to your Samsung Subsidiary.
If you're looking to free up some space on a microSD card that's in a Samsung phone or tablet, the following steps will help you to delete individual files or whole folders from the external memory. 
Delete folders or files on a microSD card:
1
Open the My Files app.
Note: On newer devices, the My Files app will be inside a folder named Samsung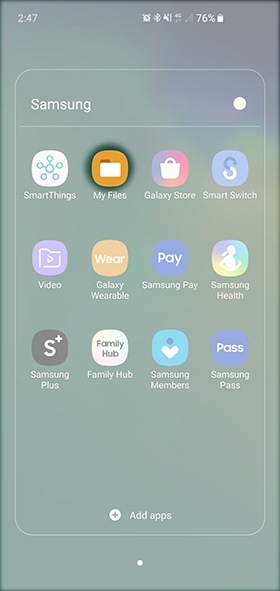 2
Select the SD Card option
Note: On older devices you'll need to first select All Files and then select the SD Card option.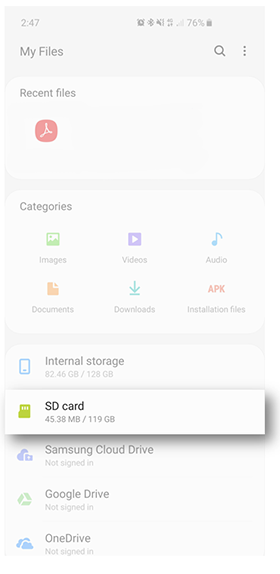 3
The files and folders on the SD card will be displayed
Note: 
To delete files or folders, long press on the item you wish to remove, and select the Delete option in the top right of the screen.
Older devices will have checkboxes next to the items already, simply select them and select the Delete (the trashcan icon) option at the top right of the screen.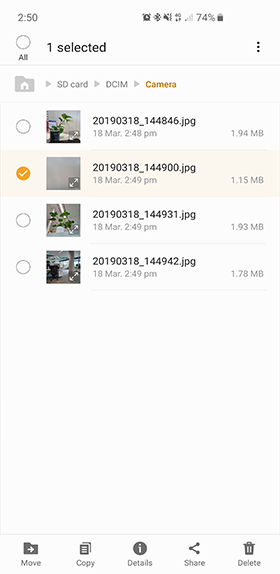 4
Press Delete on the pop up to confirm the action
5
The selected files will be removed
Note: If you find that the files are not being deleted from the microSD card:
Make sure the SD card is not encrypted. See the steps on How to decrypt a microSD card.
Files will reappear if they are being saved by an application on your device that uses the microSD card for memory. 
It's possible that the SD Card is damaged or formatted incorrectly. The only way to be sure is to test the SD card in another device.

For stubborn files you can try to take the SD card out of the device, reboot the phone, and reinsert the SD card.
Error messages around "Delete Failed" are likely the result of a faulty SD card 
Please answer all questions.