How to use new widgets for Galaxy Buds Pro
Last Update date :
Oct 18. 2021
Widgets are very useful for viewing app information or controlling certain functions. You can add widgets for your Galaxy Buds Pro and control your earbuds easily.
Please Note: This guide is designed for Australian variant devices, if you have an international device and require further support click here to reach out to your Samsung Subsidiary.
Before you try out below recommendations as to your solutions, be sure to check if your device's software and related apps are updated with latest version. Please check how to update your mobile device's software in following order.  
Step 1. Go to Settings > Software update.
Step 2. Tap on Download and install.
Step 3. Follow the on-screen instructions.
Please be advised that the Galaxy Buds Pro is not compatible with the iOS Buds app, and can only be connected via Bluetooth settings.
Easy, instant access to Galaxy Buds Pro controls
Note: Device screenshots and menu may vary depending on the device model and software version.
The widgets on your home screen help you keep track of certain things while you're wearing the Galaxy Buds Pro. You can see your earbuds' battery status at a glance and switch Active noise cancelling, Ambient sound, or Off right from the widget.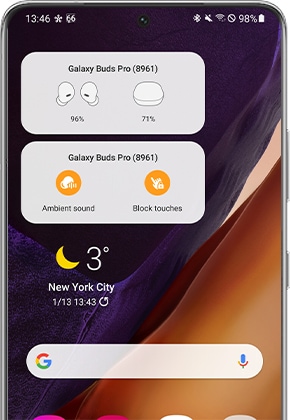 How to add Galaxy Buds Pro widgets
Prior to following the below guide, ensure that you have paired your Galaxy Buds Pro to your compatible smartphone and the Galaxy Wearable app is latest version.
Step 1. Press and hold an empty spot on a Home screen, and then tap Widgets.
Step 2. Find the Galaxy Buds Pro widgets, and then tap them. There are two widgets to choose from:
Step 3. Touch and hold the widget you'd like to add, and then move it around your Home screen. You can drop the widget on the screen by releasing it.
Note: If you are unable to add the widget or remove from Home is greyed out, you may have enabled Lock Home screen layout. To disable this setting head into your Settings > Home screen > toggle off Lock Home screen layout. 
Step 4. To change some of the widget's settings, touch and hold it. A pop-up menu will appear. Tap Widget settings to choose the widget's background color and transparency. If you have Dark mode enabled, you can match the widget's color by tapping the switch. 
Step 5. You will then be able to switch Noise controls mode, switch Block Touches, or check the Battery Levels of the case and earbuds.
Please answer all questions.