Measuring my Blood Pressure from my Galaxy Watch Active
Last modified :
Jun 05. 2019
The Galaxy Watch Active goes a step further than other smart watches with its blood pressure-checking capability using My BP Lab 2.0*. You can now monitor your blood pressure any time, anywhere and track your history straight from your watch.**My BP Lab 2.0 leverages the Watch Active's innovative optical sensor to provide you with richer, more accurate information about your health. This optical sensor is built into the device and allows you to directly measure your blood pressure using your watch.
 *My BP Lab is a research program designed by UCSF. You must download My BP Lab 2.0 from the Google Play store for the phone app and from the Galaxy Store for the Watch app and agree to terms of use. ** It requires a one-time calibration when using the app for the first time.

Please Note: My BP Lab 2.0 is not a medical, therapeutic or diagnostic device. Fitness and health functions (including blood pressure monitoring, stress management, sleep quality and cognitive performance) and insights are for informational purposes only. Data charges may apply. Use of My BP Lab is subject to the app's Terms of Use and Privacy Policy. Visit the My BP Lab's website for further information.
Currently, My BP Lab 2.0 is available to Australians on the new Galaxy S10, S10+, S9, S9+, Note9 and Galaxy Watch Active devices. 
1
Download and open My BP Lab 2.0 to your compatible smartphone.
2
On your compatible Galaxy phone join or sign into your My BP Lap 2.0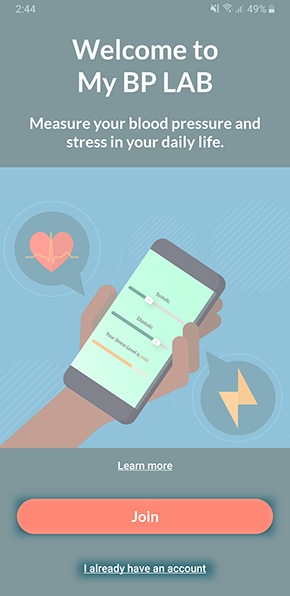 3
Tap Set up your watch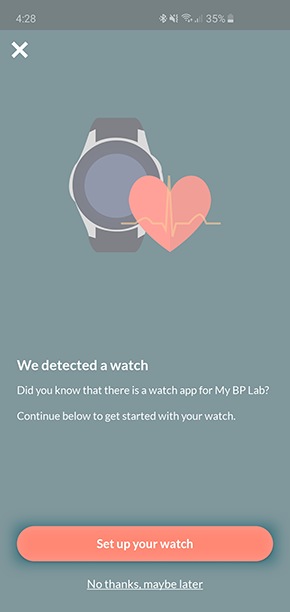 4
You will then be directed to install My BP Lab 2.0 to your Galaxy Watch Active.
5
Once the download is complete, launch the app and agree to the pop up permissions on your Galaxy Watch Active.
6
You will then need to calibrate your blood pressure on your Galaxy Watch Active. Once complete tap Done
Ensure that your Galaxy Watch Active is fasten securely around your wrist and you are sitting still while calibrating. If the watch is unable to correctly capture your blood pressure you will need to retry until successful.
7
When you complete the calibration on your Galaxy Watch Active, you will need to complete the baseline BP measurement to continue Galaxy smartphone. Follow the in app instructions to successfully complete the setup.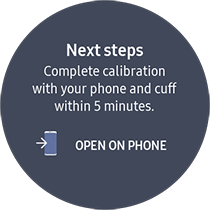 Please Note: You will need to obtain blood pressure values a one-time initial calibration, this entails readings obtained from a blood pressure monitor that uses an upper arm cuff (brachial readings) or blood pressure responses obtained from a health center visit. If a calibration value is not available, users can still see trends in their blood pressure and track when their blood pressure is higher or lower than their typical levels.
8
Once complete, you will be directed to the homepage where you can view your history, capture your BP and check review your insights.
9
To measure your BP, launch the app on your Galaxy Watch Active Tap to Measure > Allow the watch to capture your BP > touch the arrow button once complete.

Did not find what you're looking for? We're here to help.
Call
1300 362 603
8am-8pm / Monday to Friday
For general enquires and technical support relating to all Samsung products : CLICK HERE
For all Printer related inquiries, please
click here
or visit
https://www.support.hp.com
Please
click here
to view the latest news regarding the Samsung sale of Printer business to HP.
Contact Us