Setup Secure Folder on my Galaxy device
Last Update date :
Oct 12. 2022
Secure Folder protects your private content, such as photos, notes and apps, from being accessed by others. It houses your private information in a separate secure area, even when your device is unlocked. You can also use multiple accounts on a single device by creating a copy of the app to be housed in Secure Folder. If you have forgotten your Secure Folder login details, please refer to our guide Resetting my Secure Folder Passcode for more information.
Please Note: This guide is designed for Australian variant Galaxy devices, if you have an international device and require further support click here to get in touch with your Samsung subsidiary.
The data and apps in Secure Folder cannot be transferred to another device. Attempting to customise the operating system or modifying the software will cause Secure Folder to be automatically locked and inaccessible. Before saving any data in Secure Folder, make sure to back up a copy of the data in another location if you wish to.
Important Notice regarding Secure Folder
Secure Folder is an independent, secured space isolated from any other form of access. Users may not access, copy or transmit data stored in the Secure Folder, including through USB and Wi-Fi Direct, except by using authorised methods such as 'Move out of Secure Folder. 
If rooting or a custom ROM is detected, the secure folder will be automatically locked to prevent unauthorised access and you may no longer access or use the applications and data inside the 'Secure Folder'.  This helps to protect the copy of the data on the mobile device against unauthorised access but could be inconvenient if it is your only copy.  Therefore, please back up important data on other storage media, such as your personal computer before you proceed with moving files into Secure Folder.
Please also note, Secure Folder is only available on devices running on the Android Nougat 7.0 operating system and above. 
1
Swipe down to access your Quick Settings and tap on Secure Folder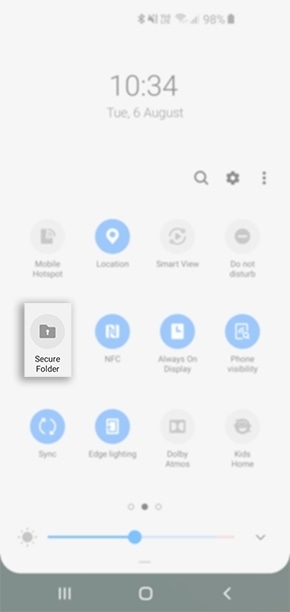 If you are unable to access or locate Secure Folder via your Quick Settings, try heading into your Settings > Biometrics and security > Secure Folder.
2
Tap Agree
3
Enter in your Samsung Account credentials then tap on Sign in
4
Select whether you would like to setup your Biometrics through Samsung Pass. Once complete, allow your device to successfully setup your Secure Folder.
5
You will then be redirected to the Secure Folder lock type where you can choose from multiple primary and secondary lock types. These lock types can range from Patterns, PIN, Password, Fingerprints and Iris.
Please Note: Available Biometric lock types will vary depending on your Galaxy device and the Android OS Version.
6
Enter and re-confirm your selected lock type.
We would love to know your feedback to help us improve. Please click submit to tell us what you think.
Please answer all questions.