Connect Bluetooth Audio Devices to Samsung TVs
Last modified :
Nov 26. 2019
Most QLED, 4K, UHD, and SUHD TV models can connect lots of different Bluetooth devices - like Bluetooth headphones, speakers and Soundbars, as well as keyboards and gaming controllers. You can follow the steps below on how to pair Bluetooth audio devices, or check out the Connection Guide right on your TV at Settings > Source > Connection Guide.
Please Note: If your TV Model number ends with a 3 (ie. UA55MU6103WXXY), you may not be able to connect Bluetooth devices. Check the specifications online for your specific TV to make sure.
Pair Bluetooth Sound Devices
1
Press the

Home button on your remote control and then select

Setting . On the left hand side, choose the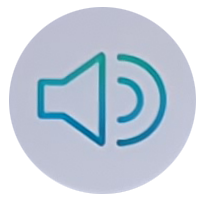 Sound menu, which is second from the top and then select Sound Output from the centre menu. The menu paths below are common to most Samsung TVs manufactured after 2016:
Settings > Sound > Sound Output > Speaker List / Bluetooth Audio
Settings > Sound > Expert Settings > Wireless Speaker Manager > Bluetooth Audio Devices
2
Select the Speaker List that you would like to connect to your TV. It's important to make sure your Bluetooth device is on and in pairing mode.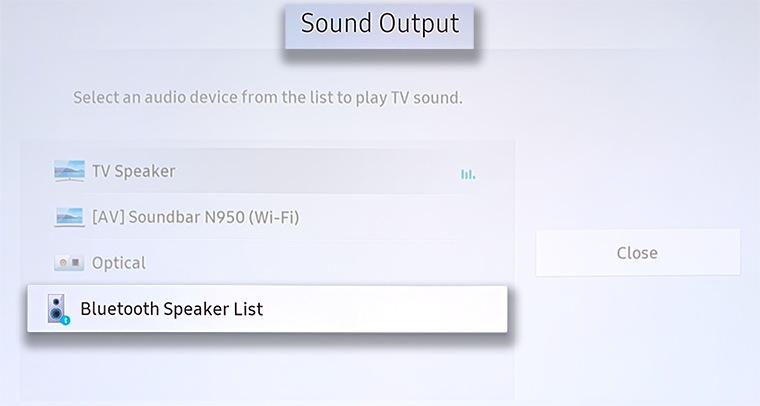 3
Select Pair and connect, and wait for your device to connect.
If you're having trouble pairing your device, try the following:
Make sure the Bluetooth device is charged, and not currently paired with any other device
Bring the Bluetooth device within a metre or two from the TV
Check the user manual for your Bluetooth device to ensure it is going into pairing mode 
Power cycle both the TV and Bluetooth device 
4
When the devices are done pairing, select OK.
If you are experiencing problems after going through the above steps, try going through some of the tips below:
Bring the device closer and press refresh.
To connect a Samsung audio device that supports TV SoundConnect to the TV, change the mode on the Samsung audio device to TV SoundConnect.
You are unable to use Bluetooth devices and the Surround feature simultaneously.
Only one Bluetooth device can be connected at a time.
If you require more information about your TV, you can download the manual from our Manuals & Downloads page. Otherwise, please get in contact with our Samsung Care experts on 1300 362 603 (Toll Free in Australia) or contact our Live Chat Australia team.
     This product should be mounted to a wall or other suitable surface to avoid serious injury. Find out more here.
Did not find what you're looking for? We're here to help.
Call
For all Mobile device enquiries
1300 425 299
1300 GALAXY

24 hours / 7 days a week
Toll Free in Australia
For all other product enquiries
1300 362 603

24 hours / 7 days a week
Toll Free in Australia
From overseas
+612 8293 5712

24 hours / 7 days a week
Face-to-Face Support

In-Store Support
Create a booking to see one of our friendly Samsung staff members at one of our Samsung Retail Stores.
Contact Us