Connect SoundShare devices to a Samsung TV
Last modified :
Jun 25. 2019
Samsung TVs manufactured between 2012 and 2014 are able to connect via Bluetooth with other SoundShare devices. SoundShare is a form of Bluetooth sharing available on selected Samsung TVs, Wireless Portable Speakers, Sound Bars, and Wireless Audio Docks. When you connect a SoundShare compatible audio device to a Samsung TV, the TV audio will output through your Wireless Audio device for a richer, clearer sound. 
Samsung TVs with SoundShare:
2012 E/EH/ES Model TVs
2013 F Model TVs
2014 H/HU/F Model TVs
Please Note: Availability depends on the specific model. SoundShare options are only available for Samsung audio devices that support SoundShare.
Connecting SoundShare devices:
1
Turn both the TV and Audio device on . Using the TV remote, press Menu and locate the SoundShare settings using the menu path below
2014 H/HU/F Model TVs: Menu > Sound > Speaker Settings > SoundShare Settings > Add New Device > On
2013 F Model TVs: Menu > Sound > Speaker Settings > SoundShare Settings > Add New Device > On

2012 E/EH/ES Model TVs: Menu > System > Device Manager > SoundShare > Add New Device > On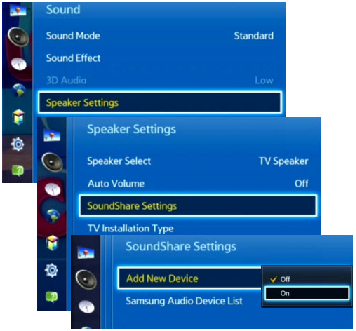 2
Press the f function button on the front panel of the audio device to change the mode to tv. A message asking whether to proceed with Bluetooth pairing appears. The tv icon will blink on Standby Mode. Select your audio device on the TV screen.
3
The Wireless Audio Portable will pair with the TV and the tv indicator will blink for a few seconds. The pairing is now complete.
4
To cancel an existing pairing and pair the Wireless Audio Portable to another TV, press the f function button for 3 seconds with the unit in tv mode.
Please note: 
●      Optimal operation distance up to 5 meters, Optimal pairing distance is 1 meter or less.
●      Some of the non-Samsung accessories may not connect with your TV, please check your user manual for supported audio devices.

If you require more information, please consult the user manual from our Manuals & Downloads page. Otherwise, please get in touch with our Samsung Care Australia experts on 1300 362 603 (Toll Free in Australia) or contact our Live Chat Australia team.
     This product should be mounted to a wall or other suitable surface to avoid serious injury. Find out more here.
Did not find what you're looking for? We're here to help.
Face-to-Face Support

In-Store Support
Create a booking to see one of our friendly Samsung staff members at one of our Samsung Retail Stores.
Contact Us