Blu-ray player not detected on Samsung TV
Last Update date :
Sep 30. 2020

 Please Note: The information on this page is for Australian products only. Models, sequences or settings will vary depending on location and/or where the product had been purchased. To be redirected to your local support page please click here.
If you're experiencing problems with your Samsung blu-ray player connecting to your TV, you may want to try updating the firmware on your TV. Another thing to check would be the connection between the TV and HDMI jack of the production. Also, check if your TV supports the 576p/480p. 720p, 1080p or 2160p HDMI input resolution. To view video in the HDMI 720p, 1080p or 2160p output mode, you must use a high speed (category 2) HDMI cable
Follow the instructions below for your Blu-ray player to work normally on your TV.
For steps on connecting your Blu-ray player to a TV, please click here.
Problems may occur if the selected HDMI Colour Format is not set to Auto. In order to view the display you will need to set your Samsung TV HDMI Colour Format to Auto.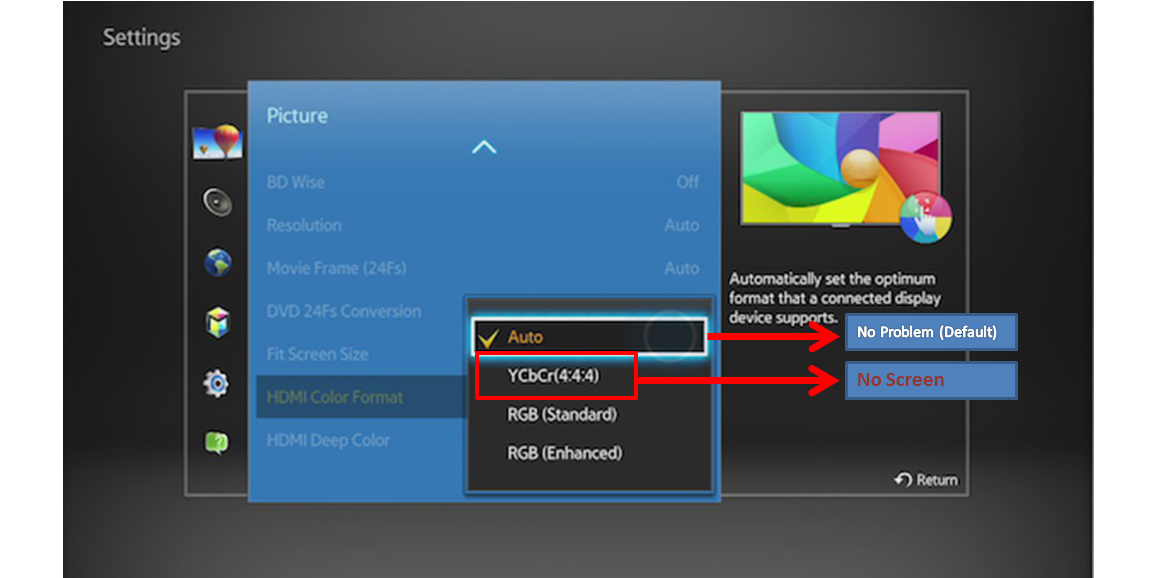 Follow the instructions below to change the HDMI colour format to Auto:
1
From your remote control press Home button and select Setting and press OK.
2
Select Picture > 3D Settings.

3
Select HDMI Color Format > Auto.

How to setup a wireless connection on my Blu-ray player?
You can set up a wireless connection in one of the following ways:
Wireless Automatic
Wireless Manual -  Use this method when the wireless automatic does not work or when you have a static IP.
WPS (PBS)
WPS (PIN)
Please note: During wireless network configuration, any wired or wireless connection established will be disconnected.
Select one of the preferred methods to connect your Blu-ray device to a wireless network connection:
Please note:
For instructions on how to access the route's set up screen or refer to the router user manual.
For a WPS connection, set your wireless router security encryption method to AES. WPS connections does not support WEP security encryption.
If you require more information, please consult the user manual from our Manuals & Downloads page. Otherwise, please get in touch with our Samsung Care Australia experts on 1300 362 603 (Toll Free in Australia) or contact our Chat Support team