Sound
innovation
redefined
QLED 2020's audio experience delivers the finest in sound quality and
technology. With breakthrough innovations such as Object Tracking
Sound, Adaptive Voice Amplifier, and Q-Symphony, Samsung takes
TV audio to new heights.
Dynamic Sound that tracks what's on the screen
Object Tracking Sound (OTS and OTS+)
With OTS, sound moves more dynamically than ever as it follows an
object's movement on screen for a completely lifelike, three-dimensional
sound experience.
Clear dialogue in any condition
Active Voice Amplifier (AVA)
Active Voice Amplifier analyzes potentially distracting noises around you, boosting the volume and adding clarity to dialogue so you never miss a word.
Real-time sound adjustments
Adaptive Sound+
QLED analyzes each scene in real-time to identify and optimize sound settings. Key components like speech, music and ambient sound are instantly optimized to best suit what you're watching.
Audio Spatial Intelligence
QLED uses Audio Spatial Intelligence to analyze room and
installation locations for the best quality audio, no matter
where you're watching.
TV and Soundbar in perfect harmony
Q-Symphony
The revolutionary Q-Symphony technology synchronizes QLED TVs and Q-Series soundbars to create a breathtaking home theater soundscape.¹
Perfectly paired with
Q series Soundbar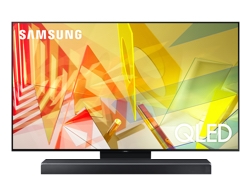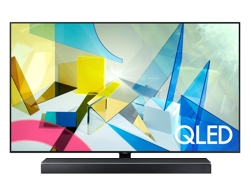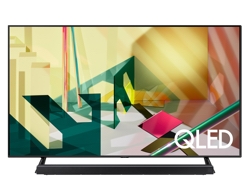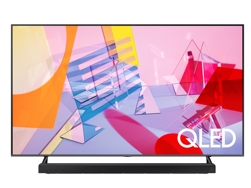 Soundbar Q90R
Pairs well with QLED Q90T TV
Soundbar Q80R
Pairs well with QLED Q80T TV
Soundbar Q70R
Pairs well with QLED Q70T TV
Soundbar Q60R
Pairs well with QLED Q60T TV
¹ This feature requires a Q-Symphony compatible Samsung Soundbar.
² Upscales to 8K resolution (7,680H x 4,320W/33.2 megapixels). Native 8K content based on current 8K streaming, connectivity and decoding standards. Future and certain third-party standards not guaranteed or may require additional device/adapter purchase.
³ Quantum HDR 12X on 55" model.
⁴ Quantum HDR 8X on 49" model.
* Feature availability varies by model.
* Images are simulated and for illustration purposes only. The appearance and design specifications which are not affecting product performance are subject to change without notice.
* Please refer to the product detail page for each model.