Create a Laundry Recipe
Last Update date :
Jul 08. 2021
 Please Note: The information on this page is for Australian products only. Models, sequences or settings will vary depending on location and/or where the product had been purchased. To be redirected to your local support page please click here.
Not too sure which washing cycle you should use in a mix full load of washing, or not sure what types of clothes should be washed together? With your smart washing machine you can easily come up with an easy Laundry Recipe for any type of clothing no matter how dirty the load. Using the SmartThings app, you can create the perfect cycle for your washing and start it from anywhere.
Before creating your own Laundry Recipe, ensure you have connected SmartThings to your washing machine, activated Smart Control, and that both your washing machine and smartphone are connected to the internet.
Note: To check which washing machine models are compatible with the SmartThings app, please refer to the "compatible devices" section of the SmartThings page.
1
Head into the SmartThings app
2
Select your connected washing machine
Note: You may be prompted to download an add-on to use all the features of your washing machine. This may take some time depending on your internet connection. Once the add-on is downloaded, you will need to re-select your washing machine.
3
Select Laundry Recipe
4
Select the types of clothing you would like to wash, then tap on Next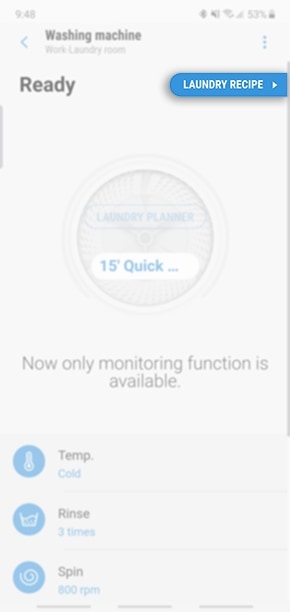 Note: As you continue to select certain clothing, you will notice that other clothing options will be greyed out - this helps minimise clothes being damaged while washed.
5
Select the Colour and Soil of your washing, then tap on GET RECIPE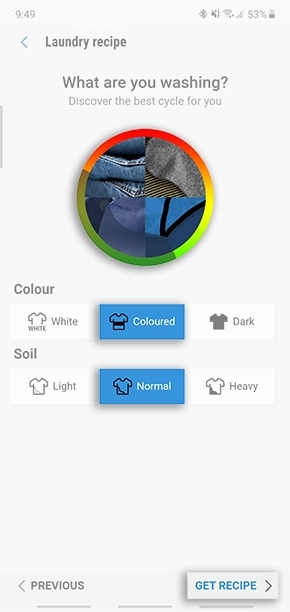 6
Based on the information you have provided, you will be given the best cycle for your washing. You will then be able to review the temperature, amount of rinses and spin for that particular load, and be able to start the cycle directly from your smartphone.
If you require further assistance, please consult the user manual from our Manuals & Downloads page or contact our Samsung Care Australia experts on 1300 362 603 (Toll Free in Australia). Otherwise, you can also contact our Chat Support team.