The Water Temperature in the Dispenser is not Cool Enough
Last Update date :
Oct 20. 2020
If the cold water from the water dispenser is no longer cold, you may have used all the water in the refrigerator water tank. In order to get cold water again, you have to wait until the water in the entire tank has been cooled. Please allow time for the refrigerator to chill the water.
Normally, the water tank contains about 2 litres of water and it is located at the back of the lower drawer of the fridge. The cold water temperature must be the same as the fridge compartment.
Note: The refrigerator water tank capacity is different for each product, so please refer to your product manual for more details.
When the water dispenser has not been used for a long time
If the dispenser has not been used recently the first glass of water may not be as cool. (The residual water in the water pipe may become hot.) Dispensers may need approximately 2 to 3 hours to chill the water.
Therefore, please drain the water until cool water comes out from the water tank again. Discard the first glass of water and dispense enough water (at least 6 glasses) until the fresh and chilled water comes out.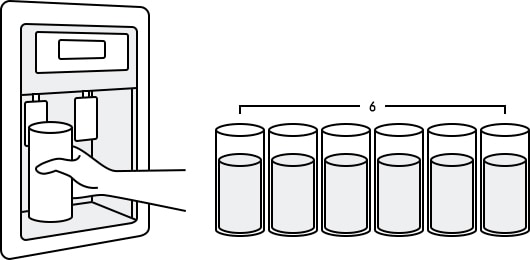 Leave the refrigerator for 12 hours after the installation
After installation, let the new refrigerator sit for 12 hours. The water in the water dispenser will be chilled when the refrigerator has cool down sufficiently. If necessary, set the temperature lower than 4 °C. Then, the water in the water tank will cool much faster.