Charging your Galaxy Fit
Last modified :
Jul 10. 2019
It is recommended to charge your battery before using it for the first time or when it has been unused for extended periods with only Samsung approved chargers and cables. Using unapproved chargers or cables can damage your Galaxy Fit.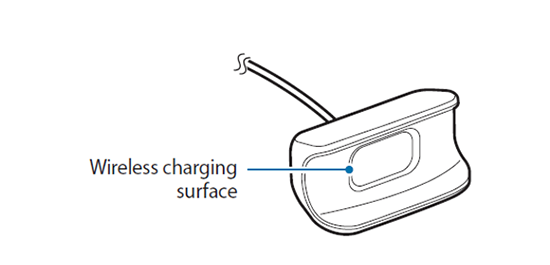 1
Connect the wireless charger to the charger and plug the charger into an electric socket
2
Place the Galaxy Fit into the wireless charger aligning the center of your Galaxy Fit with the center of the wireless charger.
3
After fully charging your Galaxy Fit, disconnect it from the charger and unplug the charger from the electric socket.
Please Note: 
If there is sweat or liquid on the charging terminals, corrosion may occur on the terminals. Clean the terminals before charging the battery.
Connecting the charger improperly may cause serious damage to the device. Any damage caused by misuse is not covered by the warranty.
Use the supplied charger. The Galaxy Fit cannot be properly charged with a third-party charger dock.
If there are obstructions between the Galaxy Fit and the wireless charger, the Galaxy Fit may not charge properly. Prevent the Galaxy Fit and the wireless charger from coming into contact with sweat, liquids, or dust.
Using a power source other than the charger, such as a computer, may result in a slower charging speed due to a lower electric current.
It is recommended to avoid using a bent or damaged charging cable.
Do not expose the charger to water because the charger does not have same water-resistance certification as your Galaxy Fit.
Did not find what you're looking for? We're here to help.
Face-to-Face Support

In-Store Support
Create a booking to see one of our friendly Samsung staff members at one of our Samsung Retail Stores.
Contact Us