Detect Song Titles using Bixby
Last Update date :
Oct 20. 2020
Not too sure what song is currently playing on the radio, pub or shopping centre? You can easily find out using Bixby Voice, follow the below guide to learn how to identify song info using Bixby Voice on your Galaxy phone.
Please Note: This guide is designed for Australian variant Galaxy devices, if you have an international device and require further support click here to get in touch with your Samsung subsidiary. Currently available languages that support this feature are English (UK), English (US), French, German, Italian, Korean and Spanish.
1
Activate Bixby Voice by holding down the Side Key or by saying "Hi, Bixby..."
2
While the song is playing, ask Bixby "What's the name of this song?"
You can also try asking Bixby "What track is playing?" or "Who is this singer?".
3
Allow Music Search to listen and identify the song
4
Once the song has been identified, you will be able to view the Song title, Artist and Album cover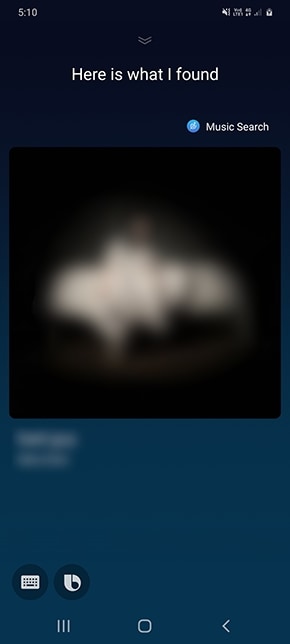 DOES BIXBY VOICE ACCESS OR COLLECT INFORMATION ABOUT MY LOCATION?
When you ask a question or issue a request, Bixby Voice accesses location information obtained from your device if 'Location' is turned on in your device settings, and will use that location information as necessary to answer a question you ask or respond to a request you make (e.g. if you ask "How's the weather today?", Bixby Voice will use your location data to figure out the correct weather information to provide to you). However, Bixby Voice will not be able to access your location data if you have turned 'Location' off in your device settings.