How to transfer content from iOS
Last Update date :
Apr 08. 2021
There are few different ways to transfer your content from an iOS™ device to a new Samsung phone:
Transfer via cable; with the pre-loaded Smartswitch app, an OTG connector and a genuine data lightning cable
Download content saved to iCloud™; with the Smartswitch app, you just need your iCloud credentials and an active network connection
Backup your iOS™ device to iTunes and use Smartswitch PC or Smartswitch for Mac to download onto your Samsung device
See the steps below for guides on each of these options:

Please Note: This guide is designed for Australian variant Galaxy devices, if you have an international device and require further support click here to reach out to your Samsung Subsidiary.
Transfer content by cable
Connecting the two devices by cable to transfer information is the fastest way to get going with your new Samsung device; however you will need an OTG connector (that comes in the box with Galaxy S and Note devices) and a lightning cable from the iOS device that you know is capable of transferring data. Some USB cables are only designed for charging, so it's best to use the cable that came with the device.

1
Plug the OTG adaptor into the Samsung device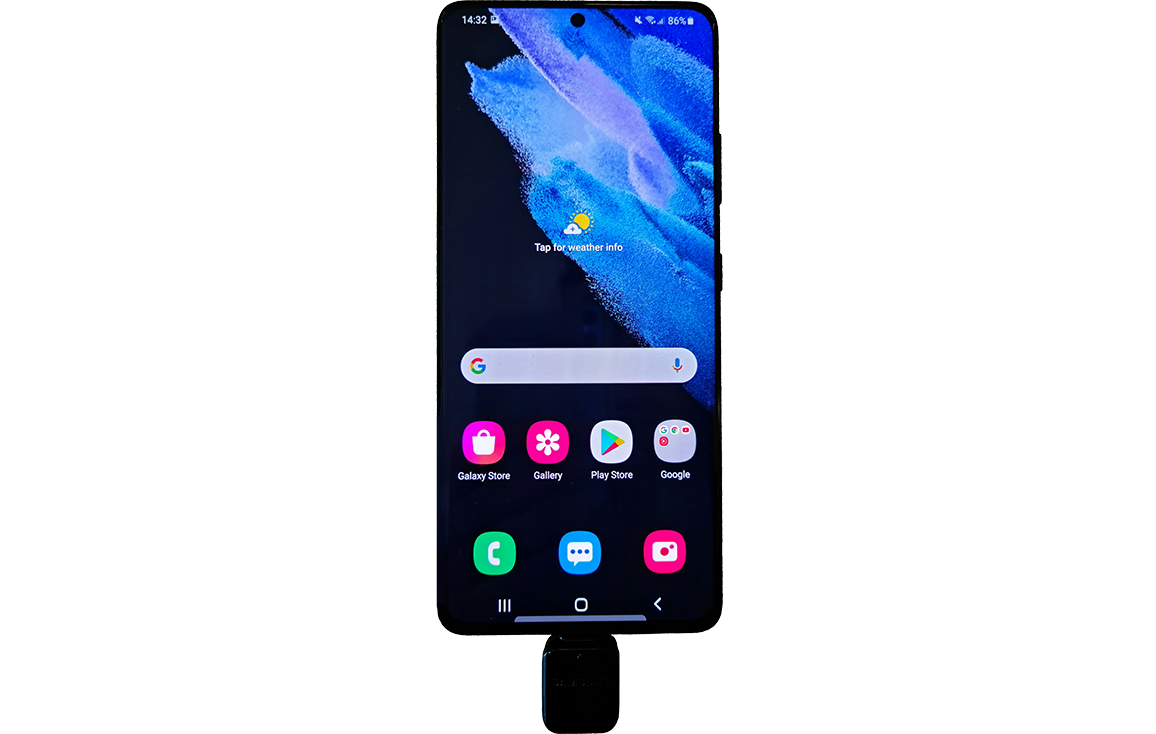 2
Open the Smartswitch app on your Samsung device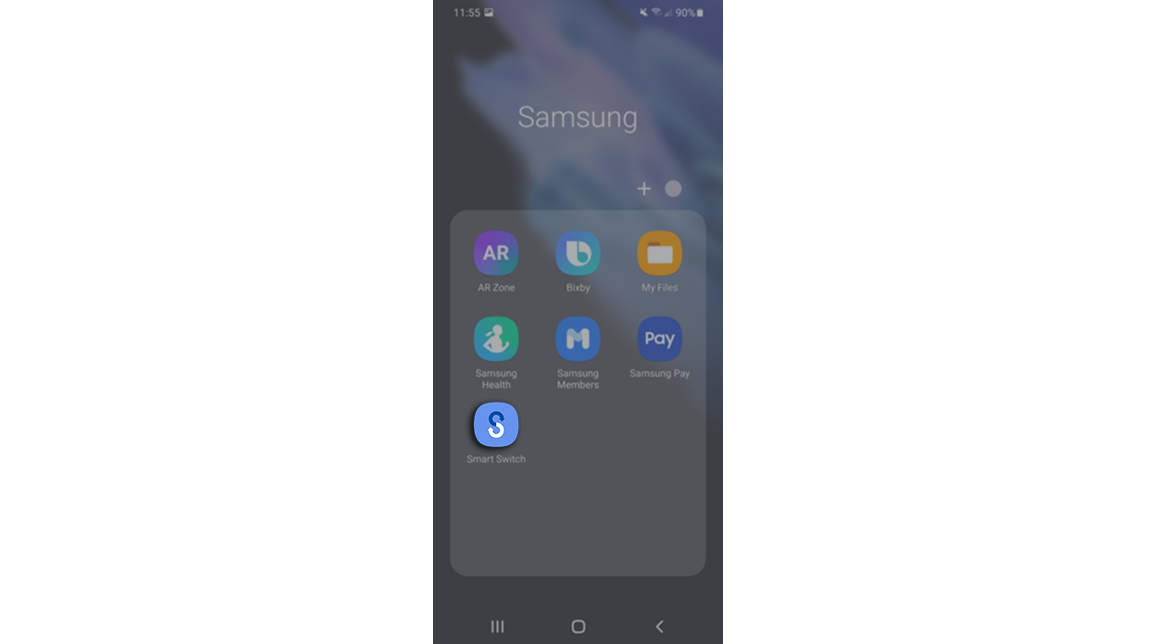 The Smartswitch app comes preloaded onto Samsung devices - but if you can't find it (normally in a Samsung folder) you can download it from the Google Play Store or Galaxy Apps

3
Connect the two phones with a lightning cable. You may need to unplug and reconnect the iOS device a couple of times for it to recognise the connection.
4
When the iOS™ device recognises the USB connection, there will be a prompt on the screen asking permission to let the other device read it's contents. It's important to select TRUST on the iPhone™ to get started.
5
Once the app finishes searching your iOS device, you'll be presented with different categories to select what content to copy. Select the content to transfer and select TRANSFER at the bottom to start the process.
Use the radio buttons (the blue circles) on the left to select what content to transfer. If your content is larger than a couple of GB - it is sometimes more effective to break it up and transfer a single category at a time.
Please Note: The battery percentage on your iOS device will effect the completion of the transfer.
If you have over 15GB to transfer - your iPhone needs at least 40% battery
If you have over 30GB to transfer - your iPhone needs at least 60% battery
If you have over 45GB to transfer - your iPhone needs at least 80% battery

6
You will then be able to choose which compatible apps you can download to your Galaxy device. Tap on the Applications to select then tap on Install
7
If you would like to continue using your Galaxy device whilst your data is being transferred over tap on Go to the Home screen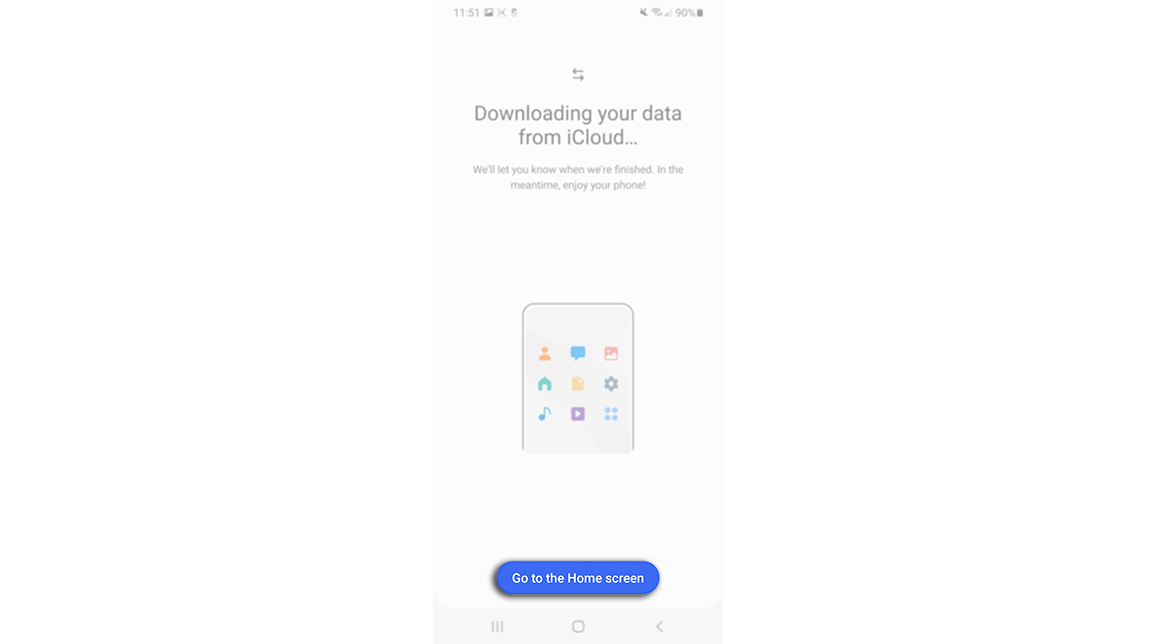 8
Once the download is complete tap on the Smart Switch notification located in your Notification Panel
9
Tap on Next
10
Select Done
Once the transfer has started you are free to use the Samsung device as normal; it will run in the background unless you close the app. The app will save all of the content as a single file on the iPhone, and then transfer it over.
If you do not have enough storage space on the iPhone to complete a transfer of all the content you wish to move, it will halt the transfer but throw no error - if you run into an issue where the transfer stops at 99% for example, cancel it and try to copy one category at a time. If that doesn't work and you can't delete anything from the iPhone to make room for the transfer, you'll need to try again by transferring the content wirelessly (with an iCloud login) or by Smartswitch PC/Mac.

Download from iCloud™
This process assumes you are already registered on iCloud and are using it to back up your iOS phone. If you are not familiar with using iCloud, visit the iCloud setup site. You may also need to create an app-specific password because the iCloud server will recognise Smartswitch as a third-party app.

1
Launch the
Smart Switch app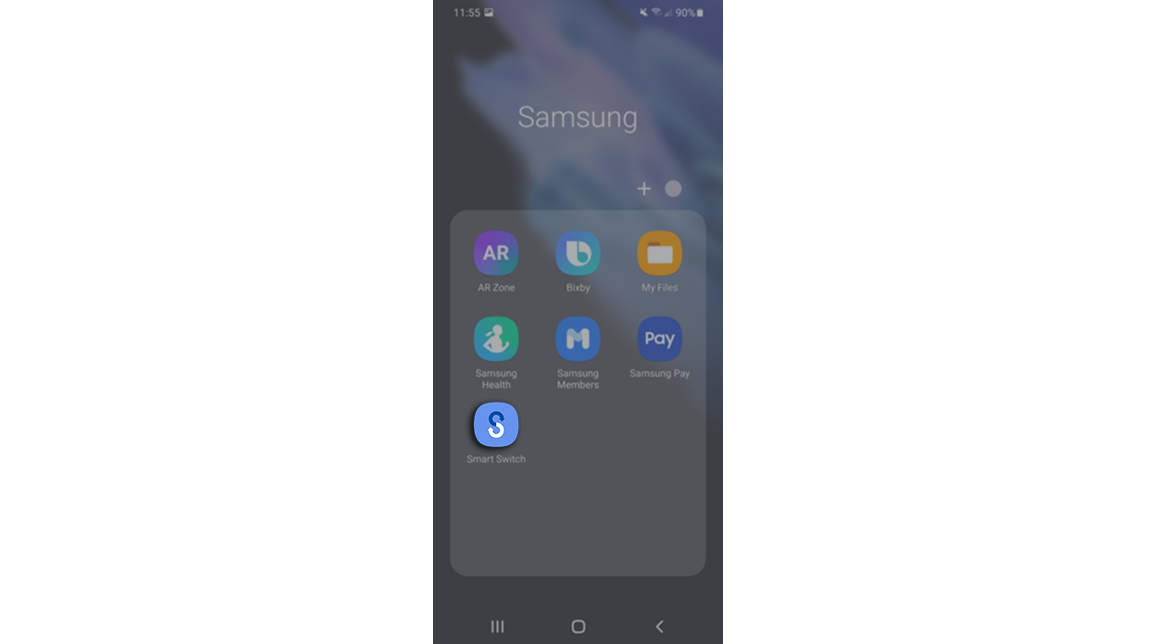 2
Tap on Receive data
3
Select iPhone/iPad
4
Tap on Get data from iCloud instead
5
Sign into your iCloud account. If your normal iCloud password doesn't work, you'll need to create an app specific password.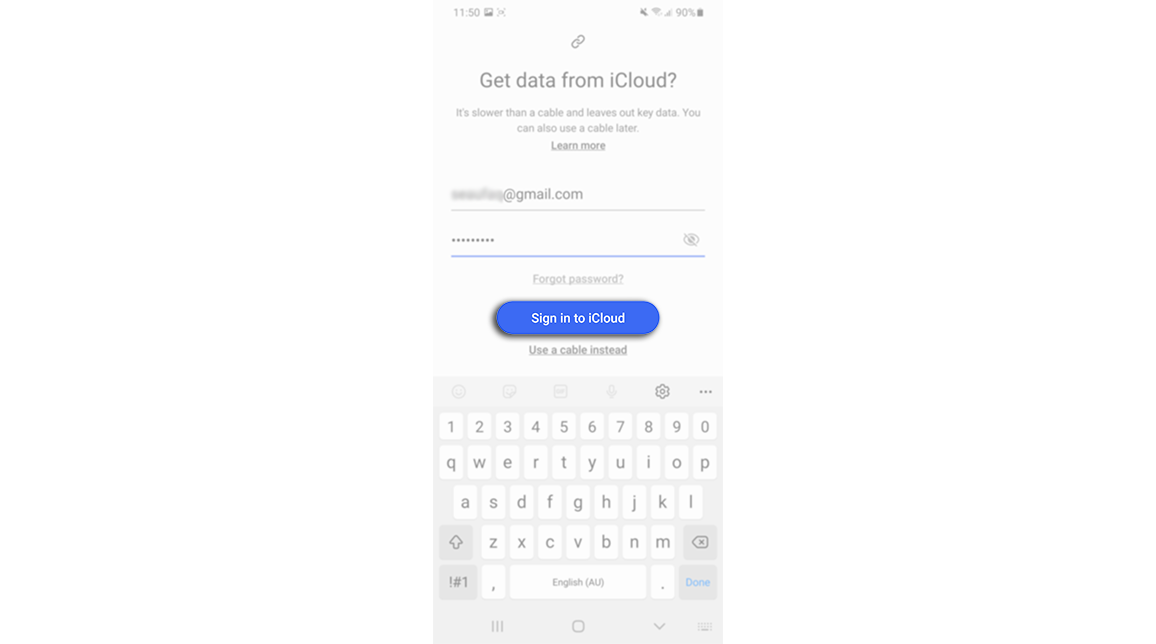 6
On your iOS device a two step verification code will appear on the screen. Input that code into your Galaxy device then tap on OK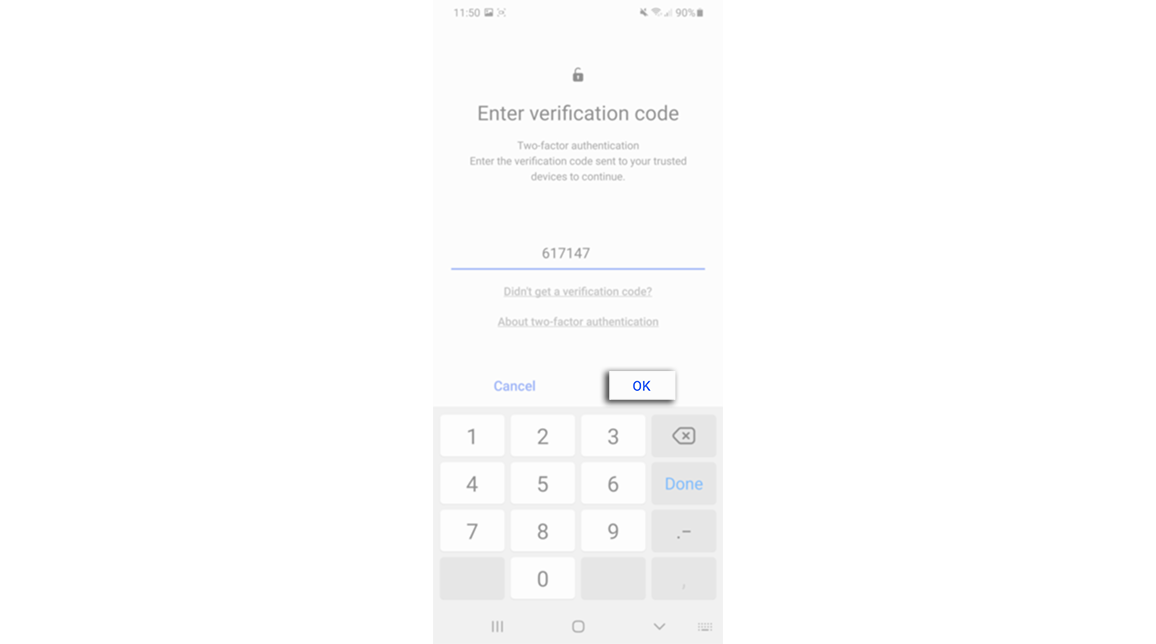 7
Select the data you would like to transfer over then tap on Transfer
8
If you would like to continue using your Galaxy device whilst your data is being transferred over tap on Go to the Home screen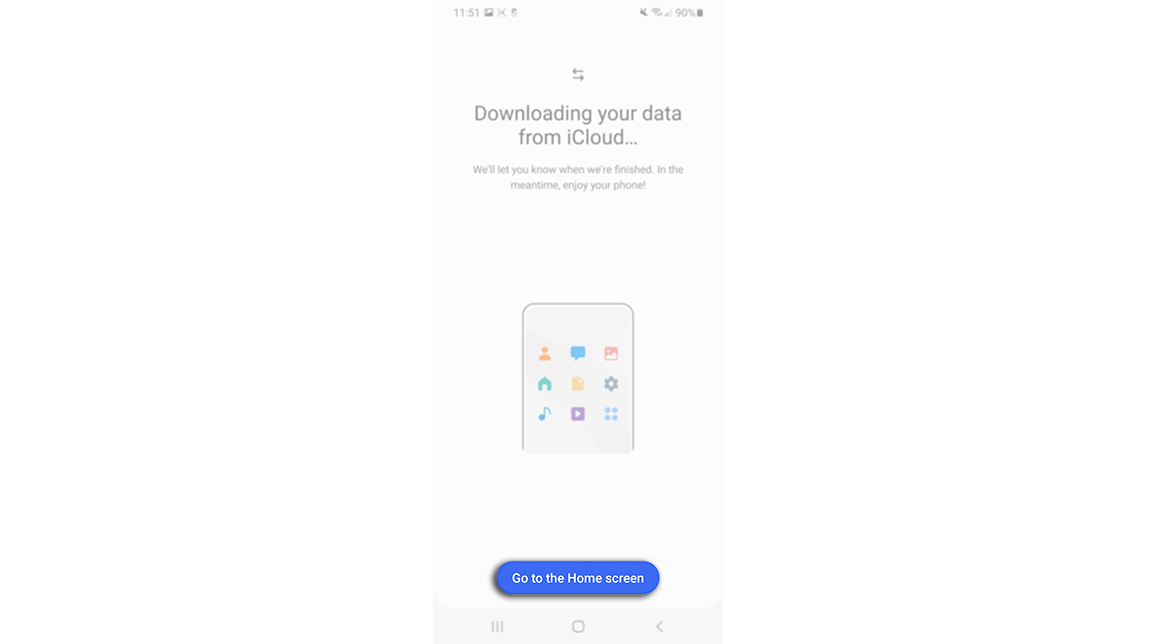 9
Once the download is complete tap on the Smart Switch notification located in your Notification Panel
10
Tap on Next
11
Select Done