Measuring my Heart Rate on my Samsung Watch
Last Update date :
Oct 18. 2021
Heart rate is measured in beats per minute. To measure your heart rate, position your watch on the top or underside of your wrist (not on your wrist bone). For more accurate measurement, try to keep still and quiet.

Your resting heart rate is the number of times your heart beats during 1 minute of rest. Sit and relax for 5 minutes before measuring your resting heart rate. Typically, your resting heart rate decreases over time with consistent aerobic exercise. Your resting heart rate will only be measured while you're not moving an Auto HR is set to measure continuously.
Keep in mind that heart rate monitoring is for fitness and wellness only, not for the diagnosis or treatment of any medical condition. If you're concerned about your heart, be sure to see a medical professional.
Please Note: This guide is designed for Australian variant Galaxy devices, if you have an international device and require further support click here to reach out to your Samsung subsidiary. Screenshots were captured from a Galaxy Watch3 operating on One UI 2.0, settings and steps available may vary depending on your Galaxy device and software version.
1
Press the Home button on your Samsung Watch to access your apps tray and select
Samsung Health
2
Scroll down the screen and select
Heart Rate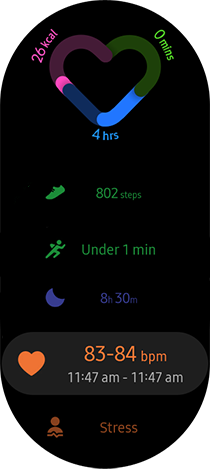 3
You should be able to view Today's HR, your weekly summary and

Settings where you can adjust the HR and Stress management.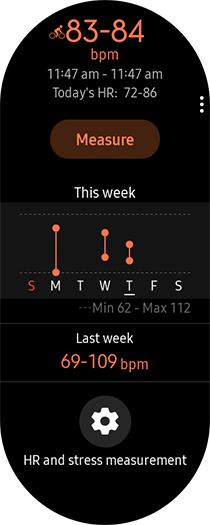 1
To manually track your heart rate tap on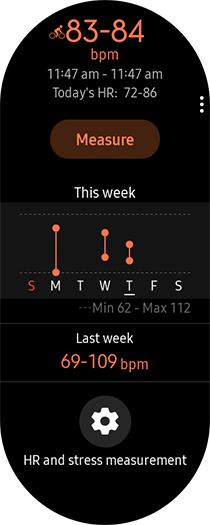 2
Try to relax and stay still while the watch measures your heart rate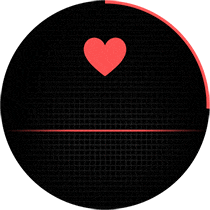 2
Try to relax and stay still while the watch measures your heart rate
Please answer all questions.