Samsung phone can't find a Wi-Fi network
Last modified :
Jun 04. 2020
If your Samsung phone or tablet is not able to find any Wi-Fi networks, we've got a couple of quick troubleshooting steps to try to resolve the problem. If your device can see your Wi-Fi network, but can't connect to the network, please see the page on My device won't connect to Wi-Fi - the troubleshooting for this is a little different and they're two separate issues. 
If your device is constantly searching for Wi-Fi networks, follow the steps below to find out what is causing the Wi-Fi discovery problem.
To Search for available Wi-Fi Networks on your phone or tablet:
Open Settings > Tap Connections > Tap Wi-Fi
Make sure Wi-Fi is on. You can also pull down in the middle of the screen to refresh and try searching again.

First things first! Let's make sure there's a Wi-Fi network to be found. Please make sure your router is on, and showing that it's connected to the internet. We're also going to need the Network Name (SSID) and Password for your network connection. It's best to find out how many device connections your router will allow - sometimes the Wi-Fi won't appear if there are too many devices already connected to the network. 
If you're having trouble with your router, or don't know your Wi-Fi network name & password; please contact your Internet Service Provider.
You can try a simple isolation test with your Wi-Fi network by removing all other devices from the network, and trying to add your mobile device in first, before adding back in the rest of the devices normally connected.
Check the Device Settings
There are lots of different things that could be interfering with your device finding Wi-Fi networks, and it can depend on your specific device. The next steps may or may not apply to your phone or tablet, and you might have already checked some or all of them - we just want to make sure it's not something hidden in the Settings that is causing the Wi-Fi issue. You can go back and see if the Wi-Fi is able to find the available networks after each of these steps, or wait until you've tried all of them.
1
Reset Network Settings
Resetting the network settings will clear out anything potentially interfering with the network connectivity. It will reset:
Wi-Fi information
Mobile data information (which will be read from your SIM card and re-saved to the device automatically)
Bluetooth connections
Steps for Android 7 (Nougat), Android 8 (Oreo) and  Android 9 (Pie)
Settings > General Management > Reset > Reset Network Settings
Steps for Android 6 (Marshmallow)

Settings > Backup & Reset > Reset Network Settings
2
Toggle Airplane Mode
You may not have been on a flight recently, but it's easy to accidentally enable Airplane or Flight Mode on Samsung devices, so making sure it's off (and not interfering with Wi-Fi) is a good thing to double check!
Check Flight Mode by swiping down from the top of the screen on your device with two fingers to access all of the Quick Settings. Find the Airplane/Flight mode option and turn it off - or toggle it on and off again to be sure.
3
Turn off Power Saving Mode
Let's take Power Saving Mode out of the equation to reduce any chances of the device settings interfering with Wi-Fi network visibility.
Steps for  Android 9 (Pie)
Settings > Device Care > Battery > Power Mode > Optimised
Steps for Android 7 (Nougat) & Android 8 (Oreo)
Settings > Device Maintenance > Battery > Power Saving > Off
Steps for Android 6 (Marshmallow) 

Settings > Battery > Power Saving > Off
Steps for Android 4.4 (Jelly Bean) & Android 5.0 (Lollipop)

Settings > My Device > Power Saving > Off
If all of the Settings on your phone or tablet are 100% correct, but you're still not able to find any Wi-Fi networks, the next thing to try is searching for Wi-Fi networks while the device is in Safe Mode.
Safe mode will restrict any 3rd party applications that could be interfering with your device being able to see Wi-Fi networks. If you can see and connect to Wi-Fi networks while the device is in Safe Mode; you'll need to uninstall whichever app is causing the issue. Finding the app that is causing the problem is a task onto itself; it's best to start with apps most recently downloaded and work backwards. You can always re-install apps that were mistakenly uninstalled.
Put your phone or tablet into Safe Mode:
Turn your device Off
Hold the Volume Down and Power buttons at the same time to turn the device on.
Let go of the Power button when the Samsung logo appears on the screen
When the device turns on, you should see "Safe Mode" at the bottom left corner. To get out of Safe Mode, restart your device.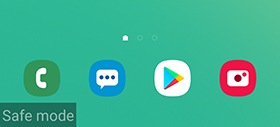 A more technical option is to enter Android Recovery Mode on your device and Wipe the Cache Partition. The Cache Partition is a section of the device that saves temporary files, logs and data from various apps and the Operating System of the device. It can also save files from previous Software versions, so clearing the Cache Partition will resolve issues on devices that have recently had a Software Update. This option is also good for devices that are brand new and will not move past the Setup of the device.
WARNING: Follow these steps carefully. A wrong move in Android Recovery Mode could potentially damage the Operating System of the device and render it unusable.
1
Power off the phone or tablet
2
Press the Volume UP, Power and Home/Bixby buttons all the same time and continue to hold them until the device boots up.
3
Depending on the device, you might see a screen with an Android Icon. Wait for a black screen with Android Recovery Mode at the top to appear.
4
Use the Volume buttons to move the blue highlight to the option Wipe Cache Partition
5
Press the Power button to confirm the selection
6
When the screen returns to the main menu, highlight the Reboot System Now option and press Power to turn reboot the device normally
Back Up and Factory Reset
The last step in trying to determine whether the Wi-Fi discovery issue is software or hardware related is to Back up the information on your phone or tablet and perform a Factory Data Reset . This will wipe all information from the device and completely refresh the Operating System of your phone or tablet. Please make sure you back everything up before proceeding with a Factory Reset - there's a handy video on Backing up to a computer which is the best way to save all of your data.
If a Factory Data reset fails to resolve the Wi-FI discovery issue on your phone or tablet - it is likely that the cause of the problem is a hardware fault. If you're in Australia you can come into a store, give us a call on 1300 425 299, or contact Chat Support Australia for assistance in getting your device repaired. 
Did not find what you're looking for? We're here to help.
Call
1300 362 603
8am-8pm / 7 days a week
For general enquires and technical support relating to all Samsung products : CLICK HERE
For all Printer related inquiries, please
click here
or visit
https://www.support.hp.com
Please
click here
to view the latest news regarding the Samsung sale of Printer business to HP.
Contact Us