Pinning an Off-Screen Memo to my Always on Display
Last Update date :
Oct 15. 2021
Want to view your latest Off screen memo without having to unlock your device? Simply Pin it to your Always on Display to access whenever you need it. Follow the below guide to learn how to Pin your Off-Screen memos to your Always-on Display. Before following the below guide, ensure that you have enabled your Always on Display.
Please Note: This guide is designed for Australian variant Galaxy devices, if you have an international device and require further support click here to get in touch with your Samsung subsidiary. Screenshots were captured from a Galaxy Note20 operating on Android OS Version 10.0 (Q), settings and steps may vary depending on your Galaxy device and software version.
1
Detach the S Pen from your Galaxy Note device - ensuring the device screen isn't on
2
Once Off-screen memo has been activated, start writing on the screen with your S Pen
3
When you have finished writing up your Note tap on
to Pin to your Always on Display
4
Select Pin to Always on Display
5
Once your Always on Display has been activated, you will be able to view and access your Pinned Note. To continue writing double tap the Note with your S Pen. To close the Pinned Note from your AOD please tap on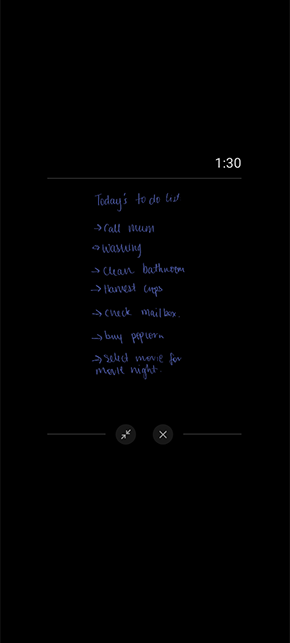 6
You can then continue writing on your Note with your S Pen. Once complete, tap on Save to apply changes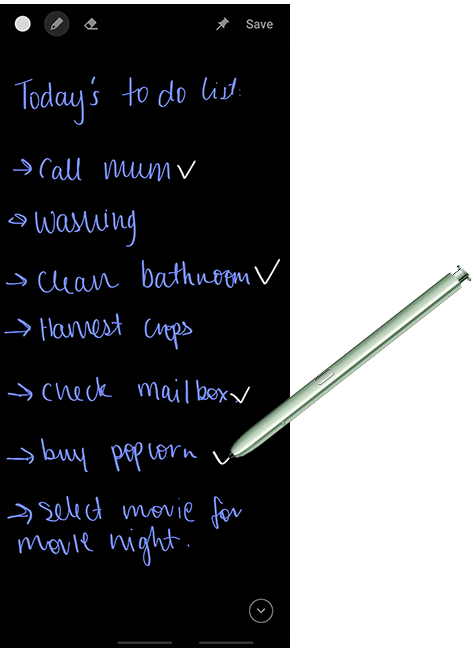 We would love to know your feedback to help us improve. Please click submit to tell us what you think.
Please answer all questions.