Sending SOS messages from my Samsung Phone
Last modified :
May 08. 2019
When in an emergency you may not have time to locate a contact, type out a text message explaining the situation or even the battery power to send photos of your location. This is where Sending SOS Messages will come into play. By quickly pressing the power key button 3 times, you are able to send a quick alert to your emergency contacts. Not only that, but you are also able to attach a 5 second audio recording and pictures from both the front and rear cameras. 

Once the SOS message is sent, your emergency contacts will be able to locate your exact location and view your photos and audio files via MMS messages.
1
Launch your Settings > Advanced Settings
2
Scroll down the page and tap on Send SOS message
3
Toggle on Send SOS message and tap OK on the pop up message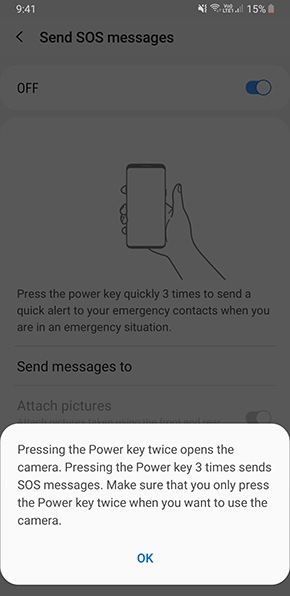 4
Read through the Terms and Conditions and tap the Agree button to proceed to the next step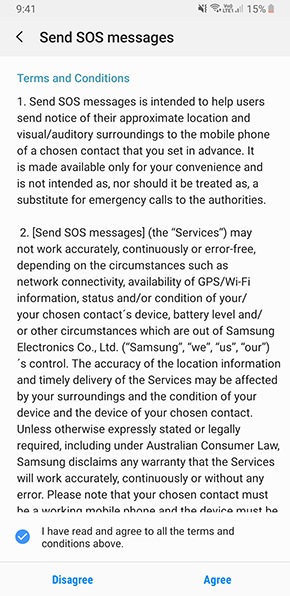 5
Tap Add to create an emergency contact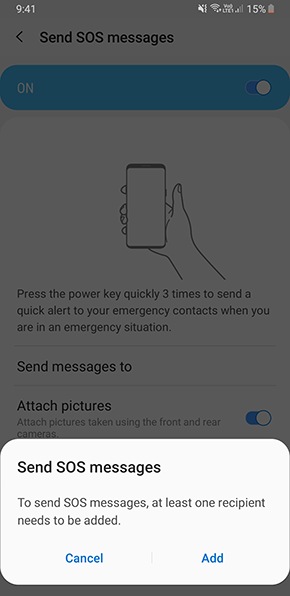 6
Tap on Add and proceed to create an emergency contact, once complete tap the back arrow button to apply changes.
7
Toggle on or off Attach pictures or Attach audio recording. If you decide to add more emergency contacts in the future, tap Send messages to and add your preferred emergency contact.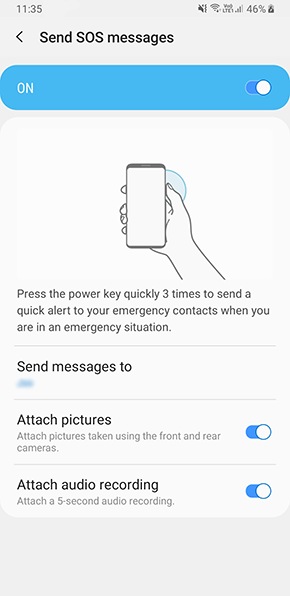 8
When sending SOS messages to your emergency contacts, quickly press the power button 3 times. Depending on the SOS message options you have enabled, pictures and audio messages will also be included in the text. If you swipe down to access your notification panel, you will be able to view the status of the SOS Message.
9
Once the SOS message has been sent the receiving emergency contact will be provided with a link straight to Google Maps to locate your exact location. They will also able to view the pictures and audio files sent via MMS.
Did not find what you're looking for? We're here to help.
Call
For all Mobile device enquiries
1300 425 299
1300 GALAXY

24 hours / 7 days a week
Toll Free in Australia
For all other product enquiries
1300 362 603

24 hours / 7 days a week
Toll Free in Australia
From overseas
+612 8293 5712

24 hours / 7 days a week
Face-to-Face Support

In-Store Support
Create a booking to see one of our friendly Samsung staff members at one of our Samsung Retail Stores.
Contact Us