The Frame Art Store Subscription Trial
When you aren't watching your favourite TV show on The Frame, you can transform it into your very own personal Art Gallery. The Frame comes with preloaded art pieces from around the world and from different times. Even if you're a budding artist yourself, you can upload your very own art pieces to display on The Frame. Follow the below guide to learn how to subscribe for the 1-month or 3-month free trial on your Frame TV.
If you would like to learn more on Using Complimentary Artworks on Samsung Frame TV instead, head to the page linked.
Please Note: This guide is designed for Australian models only. If you have an international product and require further support, please click here to get in touch with your Samsung subsidiary. Different offers may also be available on your Frame TV, please refer to the Offers Terms & Conditions and Promotional period details for more information.
Activating the 1 Month free trial Art Store Subscription
1
Press the

Home button on your Samsung remote control to bring up the Smart Hub/Eden Menu, scroll across and select
Art.
2
Once you have selected Art and taken to another screen, scroll across and select Promotion.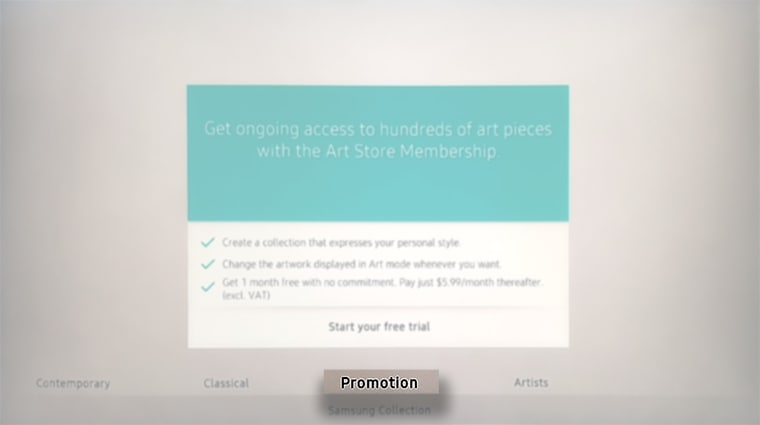 3
Press the Up directional button on your remote control and press on Start your free trial.
4
On the next page, you will need to enter your PayPal or Credit/Debit Card details and follow the instructions to activate your free trial subscription.
Activating the 3 Month free trial Art Store Subscription
1
Download and open the Samsung Promotion app from the app store. Click on the link for instructions on how to install apps on a SamsungTV.
2
On the Samsung Promotion app, press on the Get It Now button
3
Confirm which Samsung Account the offer will be linked to, then click on Open App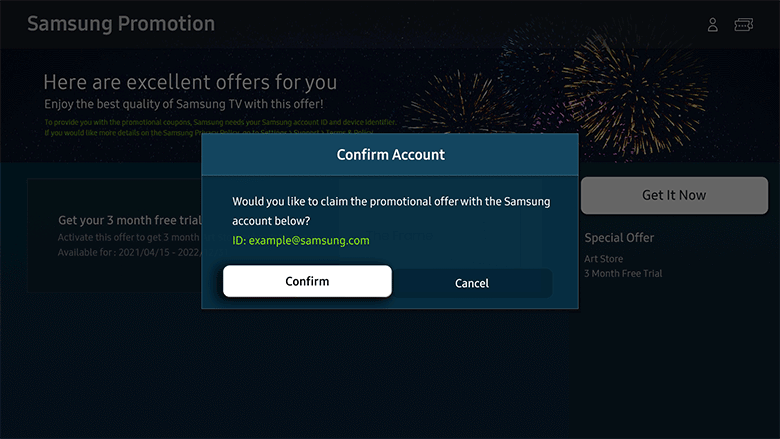 4
Click on the SPECIAL OFFER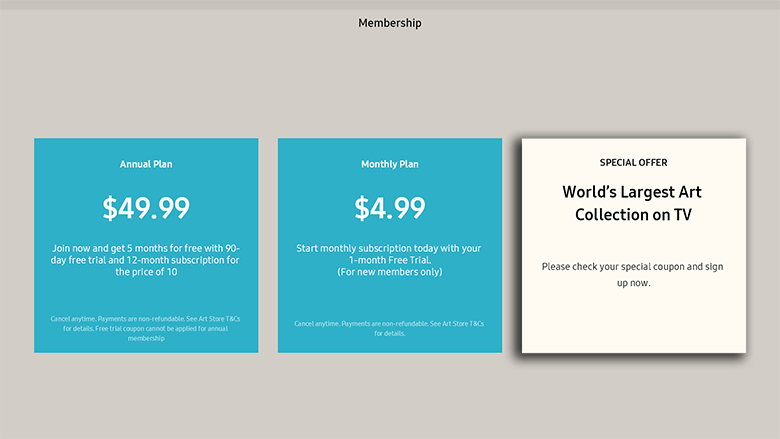 5
Choose your preferred payment methods
6
Enter your Payment details then click on Add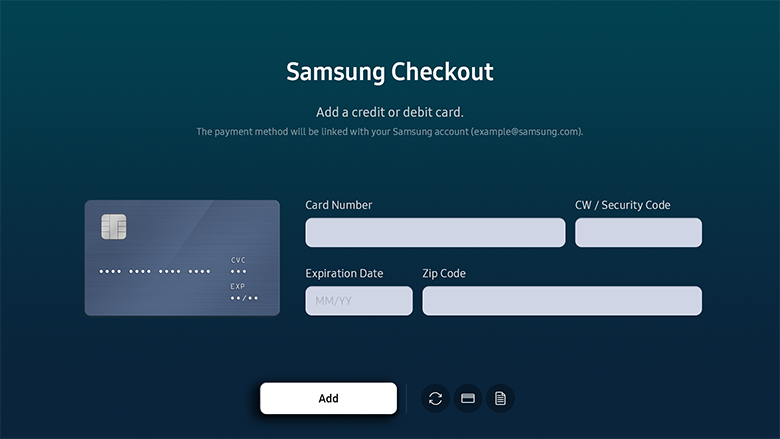 7
Click on Agree and Pay
8
Once the coupon has been applied, you will be able to view and download a wide range of Art pieces from your Frame TV
*Disclaimer: From 15/04/2021 to 31/12/2022 customers who purchased a new 2021 model Frame TV can receive a complimentary 3-month subscription to the Samsung Frame TV Art Store. Complimentary subscription must be redeemed by 31/12/2022. Customers will be asked to provide their valid payment details upon registering for the 3-month subscription and will be charged a $59.90 annual subscription fee at the conclusion of the 3-month trial unless the subscription is cancelled earlier. Subscription and other fees are subject to change. An internet connection and Samsung Account required.
 This product should be mounted to a wall or other suitable surface to avoid serious injury. Find out more here.