Why isn't the Netflix app working on my TV?
Last modified :
Sep 26. 2018
If Netflix isn't working, you may be experiencing a network connectivity issue, an issue with your TV, or an issue with your Netflix app or account.
If your Netflix app is not starting - Please see below for troubleshooting steps
If your issue has a code or message, enter that code or message into the search bar on help.netflix.com. From there, you'll be given steps tailored to the issue you're seeing.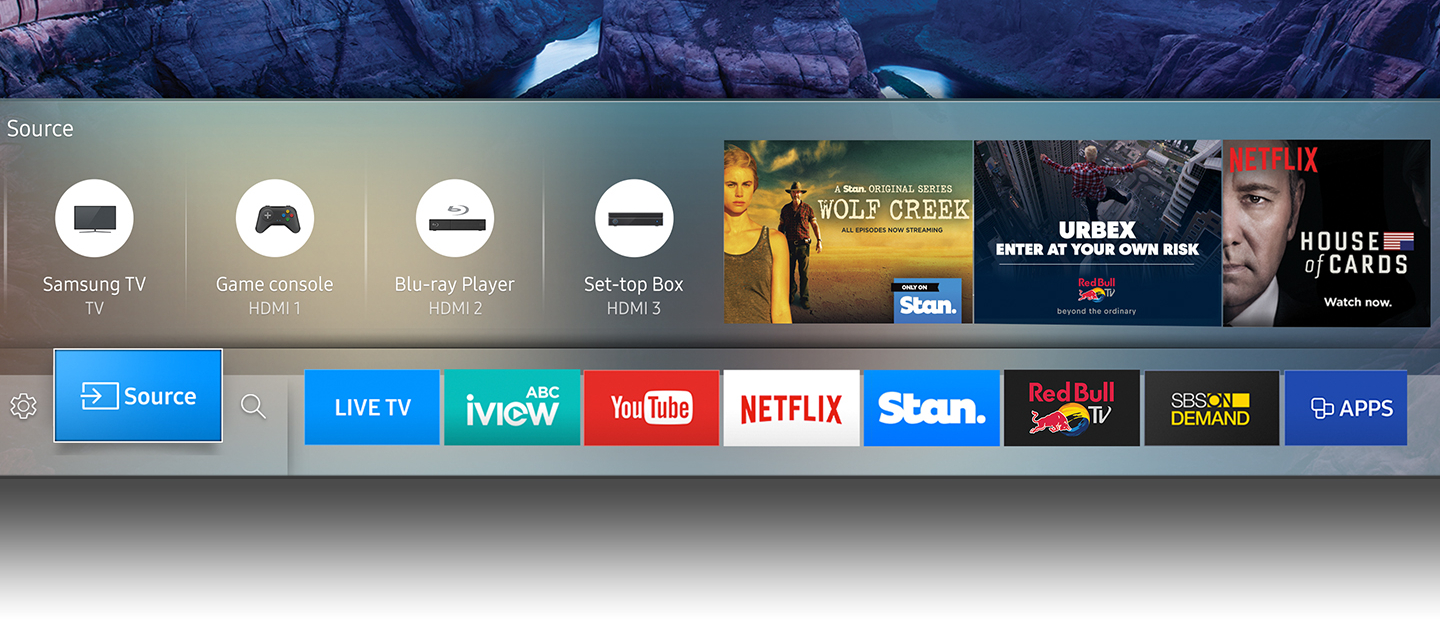 To get Netflix working again, you can start with the following:

Check if the TV model is compatible with the app (List at the bottom of this article). 

Change the DNS address to 8.8.8.8 (Settings > General > Network > Network Status > IP Settings > DNS Setting > Enter manually)

Check Internet, Firewall and other network settings. Make sure that the strength of the signal is over 4Mbps for a smooth bufferless viewing.

Check to see if Netflix is having connection issues. Click here to check the Netflix server status.

Uninstall and re-install the app. Note only pre-downloaded apps can be deleted and re-installed again.
Steps to reinstall the Netflix App
2
Navigate to the Apps panel
3
Select Samsung Apps → Menu → Purchased
4
Select the app to be reinstalled, then select Accept and download to download and reinstall the app
Steps to perform a SmartHub reset
1
Go to Menu → Smart Features → Smart Hub Reset then enter the 4-digit PIN
2
Open Smart Hub. Select Set-up Smart Hub → Start → Confirm Network Settings → Next
3
The TV will show the Network Status. The TV should be connected to the network. Click Next to proceed.
4
Read and agree to the Smart Hub Terms & Conditions, Privacy Policy to proceed.
5
You can choose to read or skip the Supplemental Privacy Notices (optional)
6
Confirm TV Configuration Information
7
You will be asked to enter your post code
8
Select the service provider from the list.
9
Complete the Set-top box Control Test. Wait for the confirmation message Complete setup!
10
If there are missing applications after the reset, download the apps again from Samsung Apps.
Note: TV/BD-players 2011 models and below are not compatible with Netflix app. TV models 2016 and above are compatible with Netflix app.
Netflix Compatibility

| | | |
| --- | --- | --- |
| 2015  | TV  | JU6400, JU6600, JU7000, JU7500, JS8000, JS9000, JS9500 |
| 2014  | TV | HU7000, HU6000, HU7500, HU8500, H6500, H7000, H6400, H6500, H7000, H5500, H6300, HU9000, HU8500, H8000 |
| | AV  | BD-H8500, BD-H8900, HT-H6500WM, HT-H6550WM, HT-H7750WM, BD-H6500 |
| 2013  | TV  | F7000, UF7500, F8000, F8500, F9000, F7200, F7120, F7100, F6800, F6700, F6600, F6500, F6400, F6300, F6200, F5700, F5500, F5400 |
| | AV  | BD-F8900, BD-F8500, BD-F6900, BD-F6500, HT-F5500, HT-F5500W, HT-F6500W, HT-F6550W, HT-F9750W |
| 2012  | TV  | ES8000, ES7500, ES7000, PE8000, E6700, E6600,E6500, E6400, E6300, E6200, E6100, PE7000, PE6500, PE570, PE550, PE540, E6100, E5700, E5500, E4500, PE550 |
| | AV  | BD Player with HDD(Only with Smart Hub feature), BD Player (Only with Smart Hub feature, BRCM), BD Player (Only with Smart Hub feature), BD Home Theatre |
Did not find what you're looking for? We're here to help.
Online
Chat with us
Live Chat Support with a Samsung product expert.

We'll respond within 24 hours of your request.

Face-to-Face Support

In-Store Support
Create a booking to see one of our friendly Samsung staff members at one of our Samsung Retail Stores.
Contact Us