Why is my TV buffering when watching videos or browsing online?
Last modified :
Aug 20. 2019
Buffering when playing videos online is related to your internet speed. Buffering may occur in your Samsung Smart TV while streaming any 3D or video contents. 
Buffering is the amount of pre-loaded data on your Television (and other devices), which loads ahead of a video playback during an online streaming. The extra amount of data that keeps loading at any point when watching an online video stream ensures that the playback does not suffer from either stopping or pausing momentarily. If this data is not available then video will show signs of starting and stopping intermittently. 
Buffering usually occurs when the rate of data downloaded from your internet connection is lesser than the rate of video data viewed on your television sets. Also if you are watching HD quality videos on your television with a suffering internet speed then the video will lag. Therefore buffering is an issue related to your internet speed and not your television.  
Few more steps to diagnose the issue related to a lagging video: 
If the location of the modem/router is located close to your TV, prefer a wired connection over a wireless connection. Check if this makes any difference, if so then it is an issue related to your wireless connection.

 

Use a Wi-Fi range extender if you are unable to have your modem/router close to your TV.

 

Verify if the issue occurs on two or more online media streaming platforms (example YouTube, STAN, Netflix....). If the issue is related to only one streaming platform then it is the transmission issue related to that online streaming platform and not with your television. 

 

During high peak periods or when using a shared connection, internet speeds may be reduced.

 

If using a wireless connection and there is an option between 2.4GHz or 5GHz, ensure to use 5GHz as this is a stronger wireless connection.

 

Having your TV in a room seperate to the modem will cause a weak signal due to the walls.


If the above has not provided you with a resolution then follow the troubleshooting steps to check the speed of your internet connection below. 
To check the speed of your internet connection, please follow the instruction below:
1
Go to the Internet Browser in the Smart Hub and type Speed Test in search tab.
2
Go to Begin test and start the test by pressing the enter key on the remote.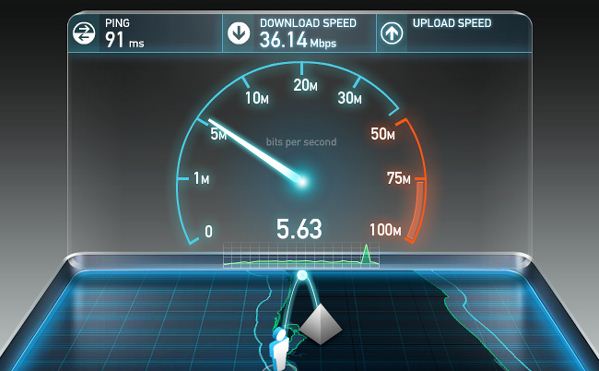 3
Perform Download & Upload Test.
4
Verify Ping, Download & Upload, compared with the table.
Download and Upload speeds

| No.  | Ping (milliseconds)  | Upload (Mbps)  | Download (Mbps)  | Remarks  |
| --- | --- | --- | --- | --- |
| 1  | 50 ~ 120 | 2.5  | 20  | Very Fast  |
| 2  | 100 ~ 125 | 1.5 ~ 1.7  | 15  | Fast  |
| 3  | 125 ~ 130 | 1.0 ~ 1.5  | 10  | Moderate  |
| 4  | 130 ~ 150  | 0.5 ~ 1.0  | 5  | Slow  |
| 5  | <  150  | Lower  | Lower  | Weak  |
Please note: The above chart data is a general guideline to measure internet speed connection. For more accurate results please visit website of your internet service provider. 
If the internet speed is moderate to slow then please contact your internet service provider for a resolution. 
As a quick resolution please check to see if you are watching 4K/HD quality videos with a moderate/slow internet speed. If you can reduce the quality of a video stream then you can overcome the issue of a lagging video. 
Also check to make sure the latest version of software is downloaded on your TV.
If you require more information, please consult the user manual from our Manuals & Downloads page. Otherwise, please get in touch with our Samsung Care Australia experts on 1300 362 603 (Toll Free in Australia) or contact our Live Chat Australia team.
Did not find what you're looking for? We're here to help.
Call
For all Mobile device enquiries
1300 425 299
1300 GALAXY

24 hours / 7 days a week
Toll Free in Australia
For all other product enquiries
1300 362 603

24 hours / 7 days a week
Toll Free in Australia
From overseas
+612 8293 5712

24 hours / 7 days a week
Face-to-Face Support

In-Store Support
Create a booking to see one of our friendly Samsung staff members at one of our Samsung Retail Stores.
Contact Us