What is AllShare Play function on BD-E8500 Blu-ray player?
Last modified :
Apr 04. 2018
AllShare Play is now Samsung Link. Once AllShare Play is updated the logo and service name will change to Samsung Link. Continue to log-in with your Samsung Account to access your pictures, videos, and documents previously stored on AllShare Play. Samsung Link enables users to access & play content saved on other devices over a wireless access point as well as over the internet.
AllShare Play is one of the added new features in BD-E8500. This is an evolution of the network streaming function from previous Samsung models. It is not just about streaming content over a network from DLNA-certified devices; this added feature consolidates all of your content into one place, including recorded TV programmes, files stored on USB devices or the hard disk and social networking services like Facebook. This is divided into Videos, Photos, Music, Recorded TV and My List, which shows recently played files, new items and playlists.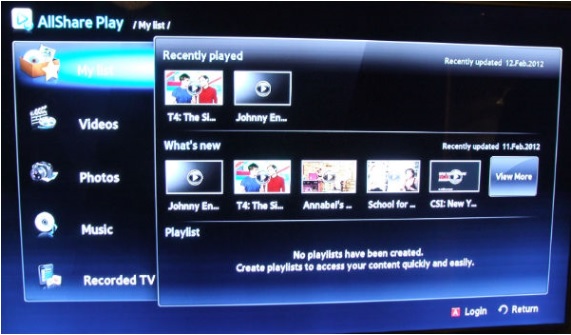 With the addition of cloud storage, you can share some of your favourite media on the move with Allshare Play. You can access a BD-E8500A Blu-ray player with compatible devices.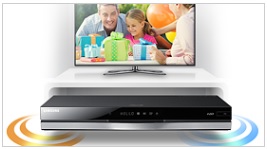 To use AllShare Play, cloud storage requires separate registration with a third-party storage provider. Usage is subject to service provider agreements. AllShare Play cloud storage is accessible via compatible Windows based PC's , Samsung mobile android devices and compatible Blu-ray players. (Note: Internet connection required; Data download and subscription charges may apply).
AllShare Play is compatible across DLNA products. Some devices may require DLNA software to be installed.
Important:
Samsung takes copyright seriously. Samsung's AllShare Play application is intended solely for private and domestic use. Any other use may be contrary to the law, including copyright law. It is a breach of copyright to record any broadcast other than solely for private and domestic use by watching or listening to the material broadcast at a more convenient time. Samsung does not authorise, sanction, approve or countenance any use of its AllShare Play application that infringe copyright or are otherwise contrary to law.
AllShare Play allows you to stream videos, photos, or music located in your PC or any other AllShare devices via the network. To use AllShare with your PC you must install AllShare software on your PC. Software is available for free download in our website (visit this link http://www.samsung.com/au/support/model/BD-D8500A/XY) . Click here to directly download AllShare Play software.
Did not find what you're looking for? We're here to help.
Call
1300 362 603
Currently experiencing high volume- expect delays.
For general enquires and technical support relating to all Samsung products : CLICK HERE
For all Printer related inquiries, please
click here
or visit
https://www.support.hp.com
Please
click here
to view the latest news regarding the Samsung sale of Printer business to HP.
Contact Us