Galaxy Note8 - Presentation of the USB-C cable (SM-N950W)
Last Update date :
Oct 06. 2020
USB C
Meet the new USB-C. The days of accidentally connecting the charger incorrectly into your charging port are a thing of the past. The new USB-C cable can be inserted either way, so it's a win-win.
Note: Screens and settings available may vary depending on your Canadian wireless service provider and your software version.
Connect the USB-C Cable to an External Device
Let's say you want to back up videos you made for your YouTube account to your computer. Here's how to connect: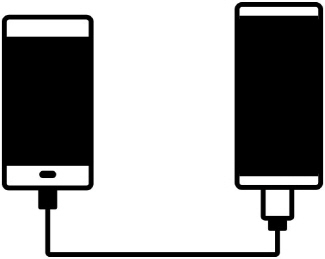 1.
To connect your phone to an external device, insert the USB C cable into the USB C port on your phone.
2.
Connect the other end of the cable into the USB port on the external device.
Using the Adapters and Connectors
Need to transfer photos from your old phone? That's no trouble at all. Just use one of the adapters that comes with your phone. Explore the various usages of the adapters below.
•
Adaptive Fast Charging Travel Adapter:
For fast charging your phone.
•
USB-A to USB-C Cable:
For connecting to a computer, or a travel adapter.
•
Micro-USB Connector:
For connecting to your old device, charging head, or a computer.
•
USB Connector:
For connecting to your old device, USB flash drives, or a computer.
Note: The Micro-USB connector does not support On-the-Go (OTG) devices such as memory sticks, external hard drives, or keyboard and mouse accessories.