Samsung Neo QLED 8K delivers the most complete TV experience yet, from its screen to every detail within. Hear about the thoughtful considerations and innovations behind the design, straight from the creators themselves.
"Samsung Neo QLED 8K removes the physical barriers
between the product and the person."
Seung Ho Lee, Creative Director
Stripped of barriers
The viewing and listening experiences are the cornerstones of our TV design. By stripping away distractions, the Samsung Neo QLED 8K becomes a deeply immersive display in any space where entertainment is the focus.
An impossibly thin 0.8mm bezel keeps the Samsung Neo QLED 8K screen clear and virtually untouched by boundaries. The display seems to levitate in space, turning stunning pictures into captivating sights.
In complete harmony
A good building is one that enhances the beauty of its landscape. This same principle applies to our product design.
Though our TV is beautiful in and of itself, its design is versatile so it looks at home wherever it's placed.
"The TV design minimizes its own presence and puts the focus
on the lives of users."
Jang Ho Kim, Sang Young Lee, Designer
A slim One Connect Box can be attached to the Samsung Neo QLED 8K, keeping messy cables and wires out of sight. This sensible installment method allows the TV to blend well in the interior of any space.
Deeply engaging
Dynamic and detailed soundtracks transform beautiful scenes into deeply engaging stories.
Samsung Neo QLED 8K's advanced technologies produce immersive sounds that speak to the soul.
"Users can experience dynamic emotions and passions
beyond the everyday with Neo QLED 8K."
A robust woofer system and precision cut speakers keep viewers immersed in rich surround sound. Every journey and plot twist springs to life in breathtaking realism, so users enjoy each moment to the fullest.
At Samsung, we hope that Neo QLED 8K enriches the lives of our users with deeply immersive and liberating viewing experiences every day.
Experience brilliant colors come to life

Get a billion shades of accurate color and see even the brightest scenes at 100% color volume with the new Samsung Neo QLED 8K.

Discover new depths of immersion with Samsung Neo QLED

Get ready to dive deep into your favorite content.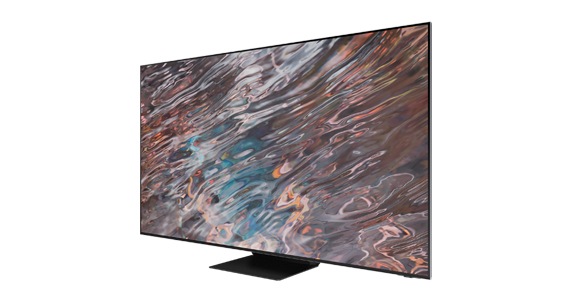 Samsung Neo QLED 8K
QN800A