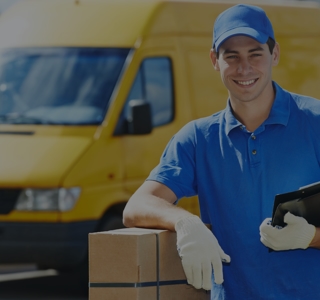 Samsung Shipping and Store Pickup
Shipping Methods
Standard - Transit time is 1-5 business days - Free
Expedited – Transit time is two (2) business days - $7.00
Express – Transit time is one (1) business day - $14.00
Above transit time and cost excludes home appliances and television models over 65 inches.
Your order can take up to 24 hours to be processed and ships within one business day from confirmation. We ship Samsung products that are eligible for Standard Ground Shipping to all 50 states of the United States. Samsung products that require Standard Freight Delivery are eligible for shipment to the 48 contiguous states of the United States.
Please note that delivery for televisions larger than 55" require an appointment with our freight carrier. The delivery date will vary depending on the schedule of the carrier and the individual receiving the order.
Restrictions: We do not currently ship to Postal Box or Freight Forwarding addresses.
Orders may be placed from outside the United States for shipment to addresses within the 48 or 50 U.S. States (dependent on the product or products being ordered).
Home Appliance Delivery
While purchasing your large home appliance (refrigerator, range, over range microwave, dishwasher, washer, or dryer) you will be shown the earliest available delivery date.
You can schedule your delivery in as little as 3 days depending on your location. For complex installation services such as gas range installation, delivery windows may be further out.
Please be sure to measure and confirm product dimensions will fit in your entrance to your home or location as well as the space you plan to put them inside your home. You will be called 24 hours in advance to confirm your delivery appointment window, please be sure to be available on the day of delivery. 
TV models larger than 65"
TV's that are 65" and larger require a scheduled delivery appointment window and will be delivered to your door. For in stock items, you will be able to schedule delivery after you checkout on the thank you page.
Please be sure to schedule your delivery and be available during the delivery window you select. You will be notified 24 hours in advance as well as 30 minutes prior to the delivery.
TV Delivery is a "threshold delivery" service that will bring the TV to your door and ask you to sign for it. For an additional $50, you can also select White Glove service during checkout. This service will remove the TV from its packaging, install the table top stand, plug the TV in, and remove the packaging. Please note this does not include wall mounting or plugging in any peripheral devices such as your cable box
Samsung Experience Store Pickup
Free, in-store pick up is available at Samsung Experience Stores. When the order is ready, we'll notify you and hold it at the store you allocated during checkout for 5 calendar days.
To collect your order in-store, you or the designated pickup individual will need to present the order number along with a valid government-issued photo ID.
Typical processing time is around 3-4 hours from order confirmation. Regular orders placed before 1pm EST will be available for pickup the same day before store closing. Regular orders placed after 1pm EST and orders with carrier financing will be available for pickup next-day. Please note that orders not picked up within 5 days will be cancelled.