GPS isn't working properly on the Galaxy Watch Active2
Last Update date :
Oct 20. 2020
Your Samsung Galaxy Watch Active2 has a GPS antenna so that you can monitor your real-time location information without connecting to a mobile device. However, GPS on your watch may not be accurate or take 2 to 3 minutes longer than usual to obtain your location if the watch is disconnected from your phone for more than a day. Here's how to help out your watch's GPS accuracy below.
Before you try out below recommendations as to your solution, be sure to check if your watch's software and related apps are updated with latest version.
Prior to following the below guide ensure that you have successfully paired your Galaxy Watch to your Samsung Phone, check out our guide Pair a device with the Galaxy Wearable app for more information.
Please Note: This guide is designed for Australian variant Galaxy devices, if you have an international device and require further support click here to get in touch with your Samsung subsidiary.
Step outside, and then reboot the watch
If you are indoors, move outdoors to restart the watch. Avoiding obstacles like standing in between walls or in poor weather conditions can be helpful to receive GPS signals. 
1
Press and hold the Home button for 7-10 seconds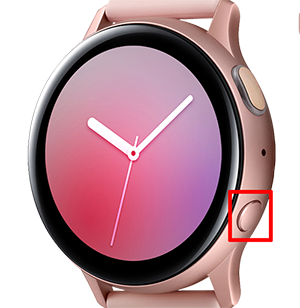 2
Your Samsung watch should start rebooting
3
Once the Reboot is complete, your Samsung watch should start up as normal
Although GPS will work inside a building or a house, it works best outdoors with an open view of the sky so signals can be received and communicate with satellites. So, adjust your settings on your watch first before checking your location with a GPS app while outdoors.

Step 1. On the Apps screen, tap on Settings > Connections.
Step 2. Swipe to and tap Location and tap the switch to activate it. 
The following can result in lost connection of GPS signals: 
Your watch and phone have been disconnected for more than a day.
The location services have been deactivated on the watch or your phone, if not both. 
If the problem persists, we recommend you try below options to customize your settings. 
Note: 

Make sure your location method on your phone is set to High accuracy.
When GPS antenna in your Galaxy Watch Active2 will be used when using the Samsung Health feature, even though your Galaxy Watch Active2 is connected to your mobile device. 
GPS signal strength may decrease in locations where the signal is obstructed, such as between buildings or in low-lying areas, or in poor weather conditions. 
Verify your phone is connected to a mobile network
When your watch is connected with a phone, the watch will obtain its GPS location from the phone to help improve the location accuracy. If your phone is experiencing issues with no mobile data or a low signal, contact your carrier for network support. 
Step 1. From your phone, navigate to and tap Settings > About phone.
Step 3. Tap on SIM card status.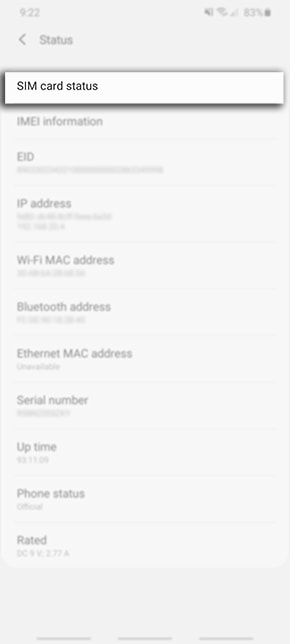 Step 4. Check to see the Mobile network state displays "Connected".
Please Note: If this setting is displaying as Disconnected ensure that you are not connected to a Wi-Fi network. Alternatively, you can try resetting your network settings. Head into your Settings > General Management > Reset > Reset Network Settings. This will reset all network settings including previously stored Wi-Fi, Mobile data and Bluetooth connections.
Make sure the watch and your phone are connected via Bluetooth
If your devices are connected through Bluetooth, "Connected using Bluetooth" will display at the bottom of your Quick Settings on your Samsung Watch. You can also check the connectivity on the Home screen of the Galaxy Wearable app. 
If the devices are not connected:

The Galaxy Wearable app will display "Disconnected from watch".
Tap on Connect to reconnect the devices.
When connected via Wi-Fi:

The Galaxy Wearable app will display "Connected remotely". You can also swipe down on your Galaxy Watch screen to view your Quick Settings to view the  connection type. If you are not connected to your Galaxy phone, the watch will display Standalone.
Step 1. Navigate to the Settings > Connections.
Step 2. Toggle on Bluetooth.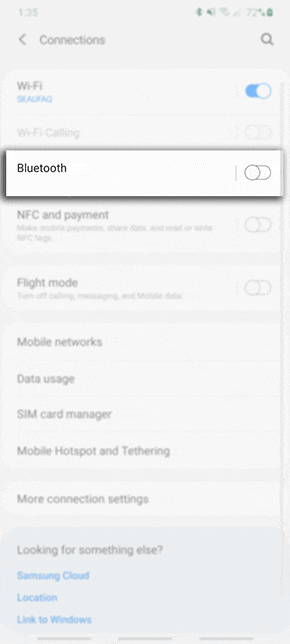 If the problem persists, reset the watch using the Galaxy Wearable app. After the reset is complete, reconnect the watch to your phone again.
Note:
Be sure to regularly check for software updates using the Galaxy Wearable app on your phone.  

Device screenshots and menu may vary depending on the device model and software version.