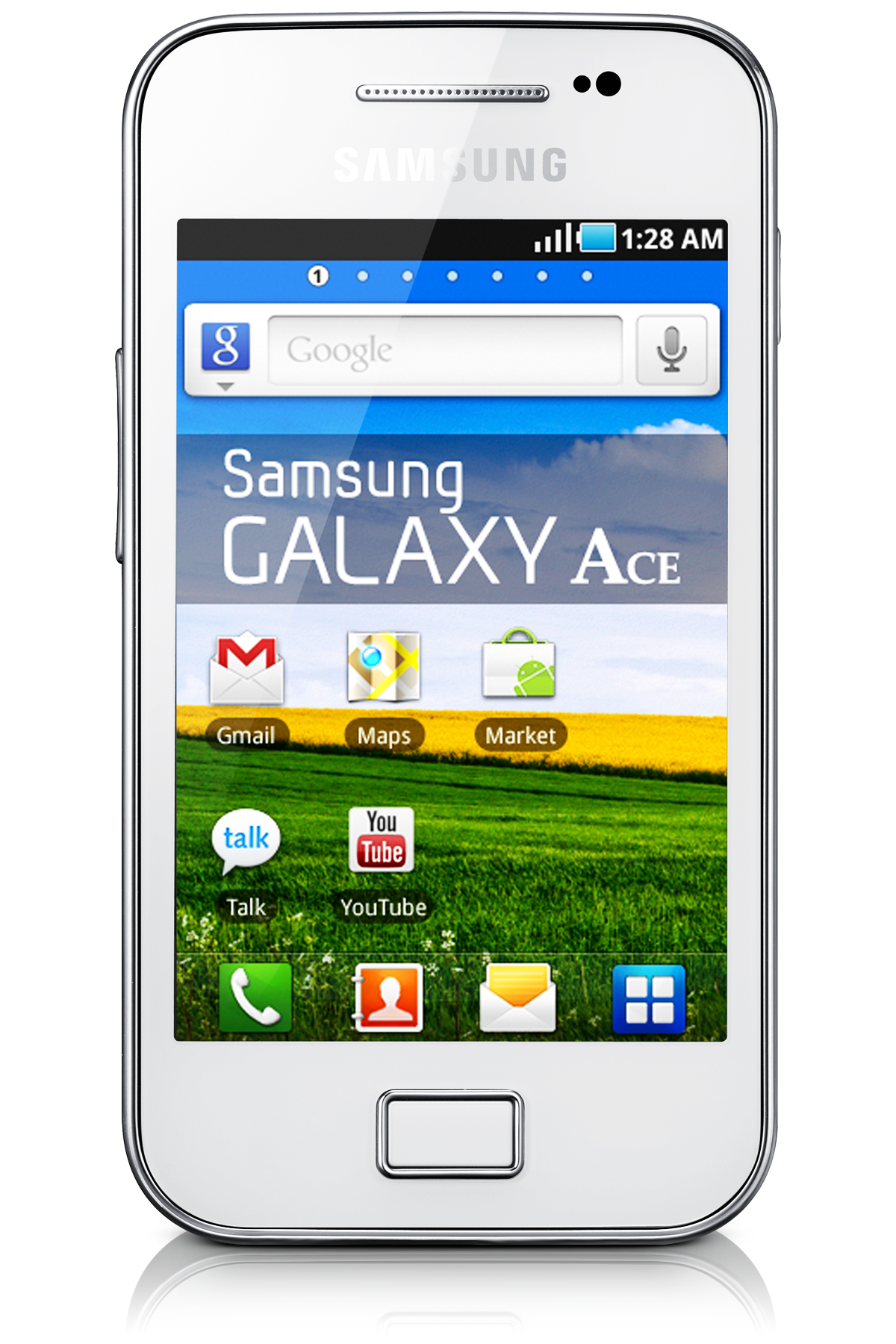 Galaxy Ace
GT-S5830OKAXEU
Galaxy Ace
is rated out of
5
by
1225
.
Sorry! This product is no longer available
Minimal Yet Sophisticated Design
GALAXY Ace takes a minimal approach in its design, resulting in a sophisticated mobile that will allure. The smooth rounded edges and slim, compact size are a pleasure to wrap your fingers around, just as the large 3.5" HVGA screen is a delight to watch.
A Market with Limitless Fun
With approximately 100000 apps available on the Android Market, there's no end to what your mobile can do. Enjoy countless games, utilities, news, health and finance applications with more being added each day. The scope of what GALAXY Ace can do is virtually unlimited!
Perfect Social Hub
GALAXY Ace offers a fully integrated one-page layout of your phone book, IM, email, and SNS. You can also organise and view your contacts according to four separate formats—Info, History, Activity and Media-so you can customise your layout just the way you want it.
Great Hardware for Great Performance
GALAXY Ace comes fully loaded with all I need for smooth web browsing, downloading and more. Equipped with a strong 800MHz processor and Wi-Fi, I can surf the web, download apps quickly, and share content with friends. Multitasking is a breeze, so we can have fun in all sorts of ways.
Speedy Quicktype
GALAXY Ace features Quicktype by SWYPE, an intelligent interface that connects the dots made by your finger to figure out what you are trying to write. By moving your finger across the keypad from letter to letter in one fluid motion, the mobile senses exactly what you want to say!
ThinkFree
View, edit, and create Microsoft Word / Excel / Powerpoint documents with ThinkFree.
Voice Search
Voice Search allows you to speak your search queries instead of typing.
Rated

5

out of

5
by
untouchablevol33
from
Value is 5 stars
Great smartphone thats worth the price of a $high value$smartphone. The Samsung Galaxy Ace is a great product. I would advise a Consumer to purchase an SD card. I recommend this product as of March 2015
Date published: 2015-03-13
Rated

5

out of

5
by
junkcatcher
from
Rock solid, quality product but camera isn't great
We have an Ace 1 and an Ace 2 both have been excellent through 2 years use. Only two gripes the GPS receiver isn't as good as as even on cheap phones such as ZTE and the camera isn't great.
Date published: 2014-12-03
Rated

5

out of

5
by
steph2983
from
easy to use
I brought this phone 6 months ago, very simple to use and has everything I need
Date published: 2014-11-28
Rated

5

out of

5
by
emk59
from
Bought for my 80 year old mum who found it easy to use. Would recommend for any one who has never used an android phone . Very easy to teach her to use.
Date published: 2014-11-11
Rated

5

out of

5
by
Sirmoosealot
from
Easy to use
Bought this for my mum who thinks that a light switch is complicated! Really easy for her to get to grips with and now she's surfing the net and face booking like a pro
Date published: 2014-10-26
Rated

5

out of

5
by
Ellie o3o
from
This product is good quality (Idk)
Can be slow at times but thats probably because my mum had it before I did. Excellent quality camera and screen, swype (I think its called) is very useful and its just fabulous :o
Date published: 2014-10-20
Rated

5

out of

5
by
youngmum
from
Gr8 wee smartphone
I have used it before but had lost the handset and in between bought 2-3 other android smartphones but then have bought this again. This is a nice wee handset which does all that I need .My apps , specially fb, whatsapp,twitter , mail all work smooth . I would definitely recommend it. Definitely a value for money. I specially love it as it's an android phone. Having used apple products, i am a definite convert to android.
Date published: 2014-09-23
Rated

5

out of

5
by
mike13
from
magic
Great simple little phone , great cost for a sim free / no contract option
Date published: 2014-09-23
User manual & Downloads
Live Chat
How It Stacks Up
Battery time is based on our own laboratory measurements, and may vary depending on factors such as device settings, usage patterns and operating conditions.
* User memory is less than the total memory due to storage of the operating system and software used to operate the phones features. Actual user memory will vary depending on the mobile phone operator and may change after software upgrades are performed.

** External Memory may be used to store media (photos, video, and music files) but not applications.

Notice to our customers - safe battery use

If your mobile phone battery is damaged, for example if it is dented, we recommend that you stop using it immediately and replace it with a Samsung genuine battery. If a damaged battery is used, this may affect performance of the battery and in some cases cause damage or injury through overheating, fire or explosion. Examples of situations in which a battery may become damaged are: use in an excessively hot environment, dropping the battery, external pressure on the battery, pet-biting, etc. We recommend that spare batteries are kept in a hard-shell case when not in use.

You should use only Samsung genuine or approved batteries that have been specifically designed for use in Samsung products. The use of incompatible batteries, cables and chargers may not be safe to use and could cause damage to the device or external damage. Please purchase Samsung-branded batteries from reputable and approved sellers to ensure the batteries are not counterfeit.

Battery time is based on our own laboratory measurements, and may vary depending on factors such as device settings, usage patterns and operating conditions.