Key Feature Highlights
You hope to maintain a sleek, sophisticated desk that reflects your neat and modern lifestyle, but your desktop is constantly cluttered. What if you could have a monitor, taking up almost no space, with no messy cables?
Space Innovation
Space Style
Space Technology
Space Innovation
Space Maximising Solution
Now, Samsung introduces a new innovative monitor called Space Monitor that enhances work efficiency by providing more desk space. When you are not using Samsung Space Monitor on the desk, revert to store flat against the wall to boost productivity and reclaim your desktop. Minimalised stand design reduces dead space occupied by existing monitors by 93% and increases desk space by 40%.
* Tested via side-by-side comparison on a 47.2-inch x 19.7-inch (120cm x 50cm) desk
* Comparison to Samsung SD850 (a conventional monitor of equivalent size)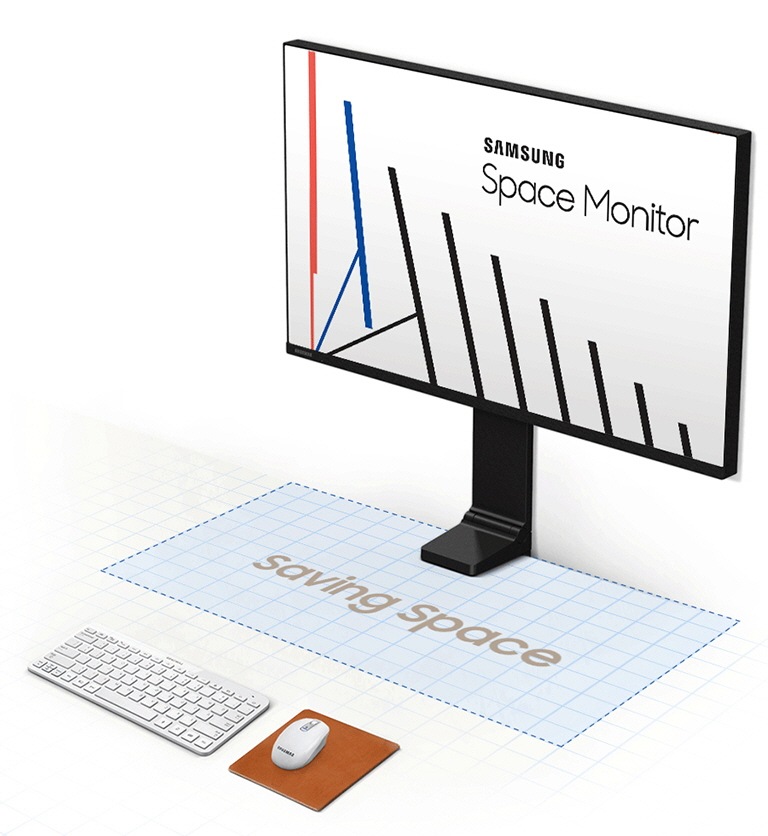 Space Style
Stylish Yet Practical Design
With a slim panel featuring a 3-sided bezel-less screen, the Samsung Space Monitor offers an understated stylish solution for any workplace or home interior. This solution is realised thanks to an integrated clamp-based stand, allowing for a quick and easy installation, adjustable up to 3.54 inches (90 mm), while the clamp ensures that Space Monitor can be securely attached to desks and tables with a wide range of thickness. As a result, Samsung Space Monitor stand neatly conceals its power/HDMI Y–cable in recessed grooves to prevent tangling and keep your work space clear and free from clutter.
Space Technology
Robust Hinge to Ensure Integrity Over Time
Samsung Space Monitor's stand employs a robust hinge that ensures consistent and reliable performance. Developed using Samsung technology and tested internally to withstand over 5,000 movements, the durable hinge ensures smooth and precise screen positioning time after time.
Discover the 360º Splendour
Rotate Samsung Space Monitor and lose yourself in its 360-degree beauty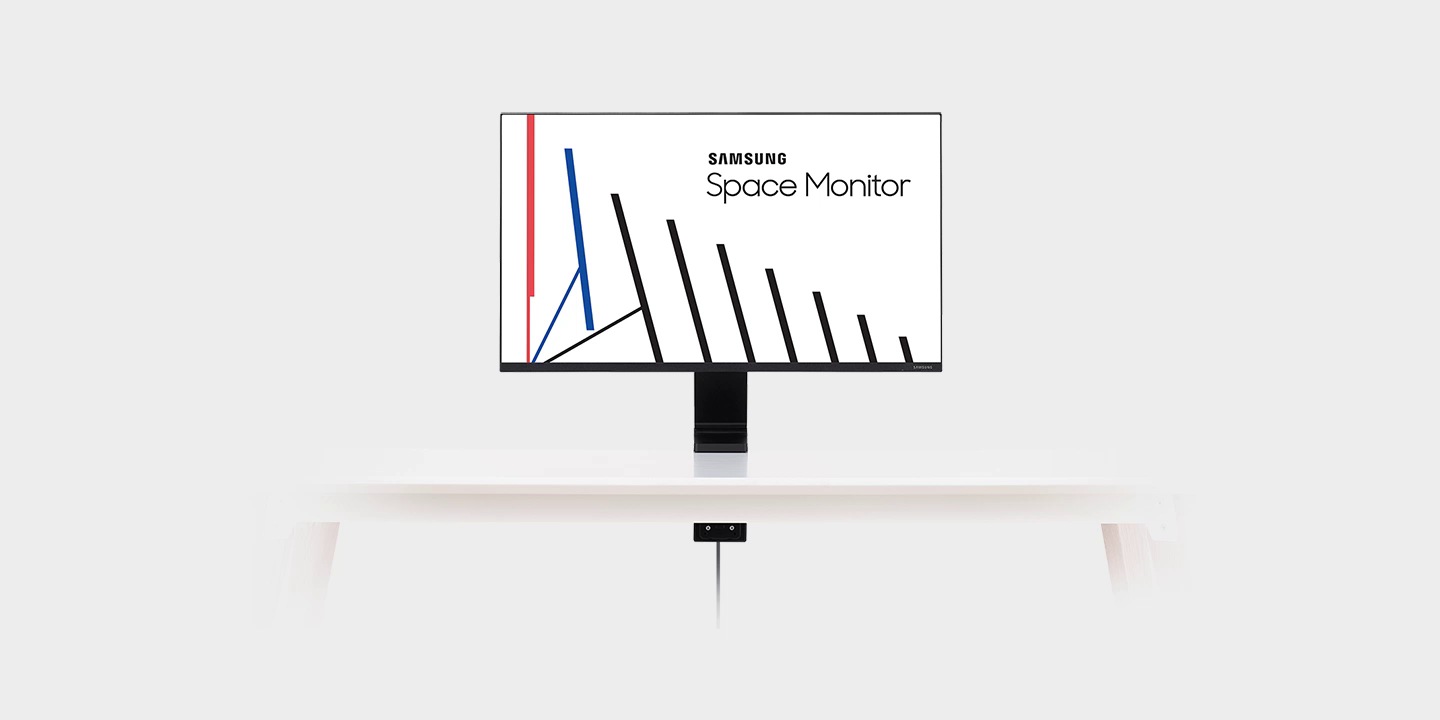 Beautiful From All Angles
Samsung Space Monitor is a new form of design in the monitor market. This new monitor's unique design enhances work efficiency by rediscovering and utilising misused space of a desk for consumers. Its frame design blends well with its surroundings thereby capably meeting your aesthetic interior needs.
Clamp-type Stand
Samsung Space Monitor's stand features an integrated clamp for quick and easy installation. Adjustable up to 3.54 inches (90 mm), the clamp allows the Space monitor to be securely attached to desks and tables with a wide range of thicknesses.
No gap Design
Space Monitor's screen can be simply stored flat against the wall and is able to increase desk space dramatically. Space Monitor is designed and crafted like a beautiful piece of furniture thanks to careful selection of materials and great attention to detail. No matter where you choose to place Space Monitor, it is assured to look just right. Space Monitor is optimised to meet and exceed the needs of those who want a stylish, modern, and tidy environment.
Zero-Level HAS
Zero level HAS (Height Adjustable Stand) can be quickly and easily raised or lowered to the optimum viewing height for any user and any purpose. It also allows easy positioning of the screen for the very best comfort and convenience possible. You can also use Samsung Space Monitor as a second screen at the same eye level as your laptop screen.
Space Monitor for a Brighter Life
Feel the inspiration to use Space Monitor everywhere in your life and watch how it can make your life feel more glamorous.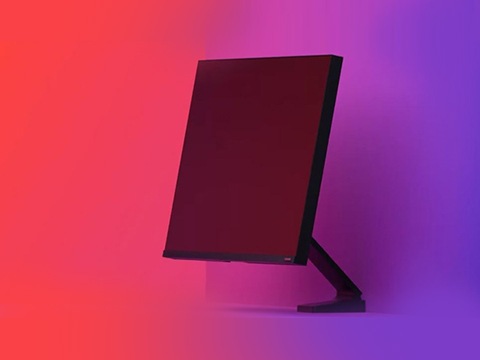 Campaign Video
Product Feature Video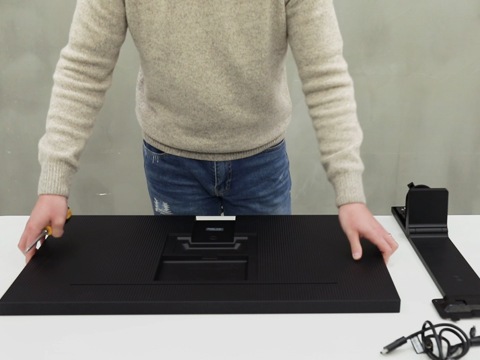 How-to Video
Product Line Up
27R750Q
27" WQHD Monitor with 144hz refresh rate and clamp-type stand for more usable desk space
S32R750U
32"UHD Monitor with clamp-type stand for more usable desk space