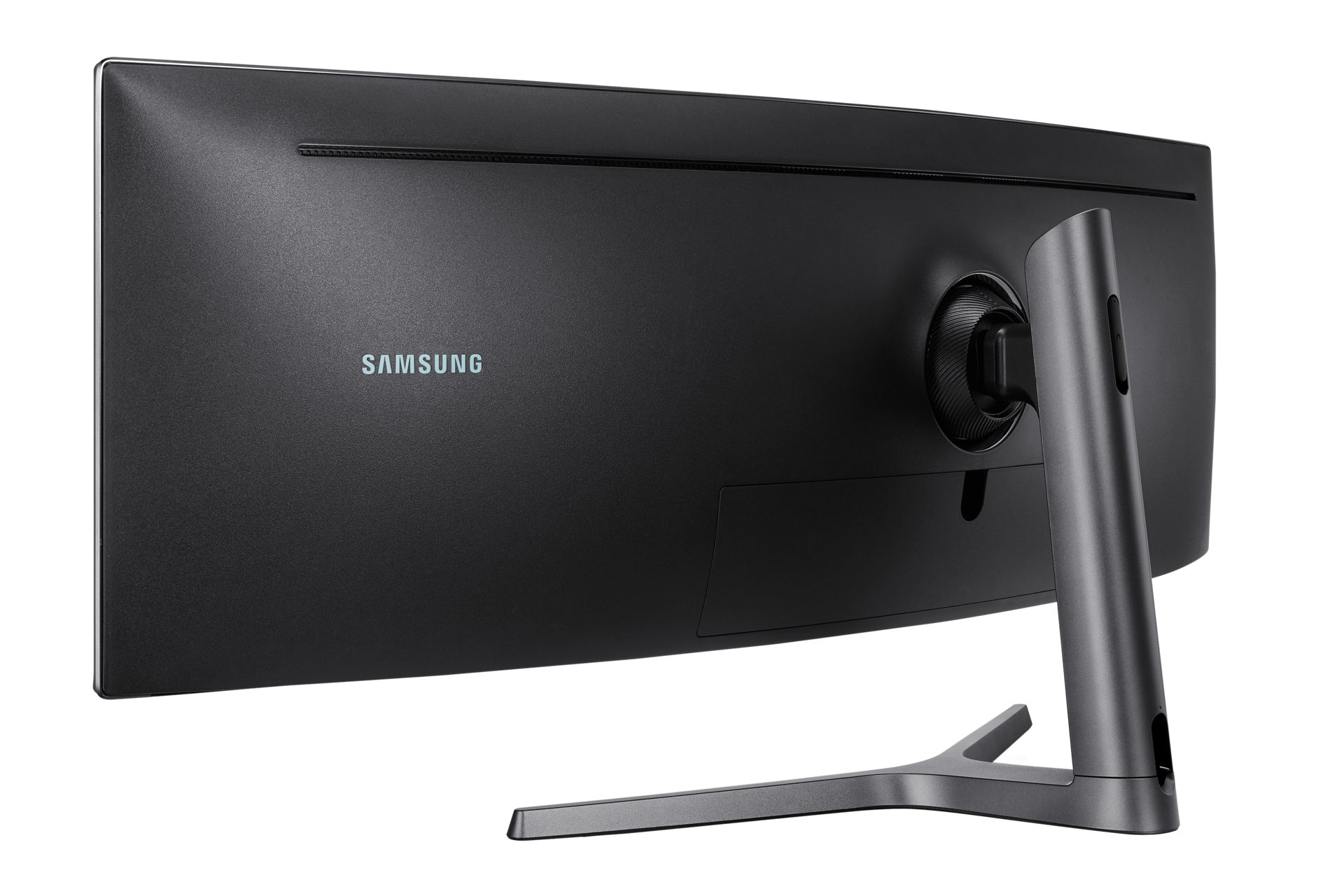 49" High Resolution Curved Gaming Monitor with 120Hz Refresh Rate
LC49RG90SSUXEN
49" High Resolution Curved Gaming Monitor with 120Hz Refresh Rate
is rated out of
5
by
24
.
Dual QHD
Curved Screen
HDR
AMD Freesync
Dual QHD Display
The CRG9's 5120 x 1440 Dual QHD resolution provides a super ultra-wide aspect ratio that lets you view more content in superfine detail. With screen space equivalent to two 27-inch QHD displays side by side, the 49-inch curved monitor delivers a wider view for winning play.
Super Ultra-Wide Curve
With a Super Ultra-Wide 32:9 ratio, the CRG9 curves around your field of view to immerse you in all the onscreen gaming action.
HDR1000 and QLED
HDR1000 supports a peak brightness rating of 1,000 nits for true high dynamic range (HDR content). And with Samsung QLED technology delivering DCI-P3 95%‡, colours are purer, brighter and truer to life than ever.
AMD Radeon FreeSync™ 2
Based on the adaptive sync technology of the original AMD Radeon FreeSync™ 2 HDR Technology to reduce stutter and screen tearing, premium features in FreeSync 2 include support for HDR content display, reduced input latency, and Low Framerate Compensation (LFC) for effortlessly smooth gameplay.
120 Hz Refresh Rate
The rapid 120 Hz screen refresh rate minimises image lag and motion blur for smoother gaming. The user-friendly 60 Hz settings let you quickly optimise performance via the on-screen display without having to access the display setting menu.
Play to Win
The game-optimised monitor is designed to let you play to win. Turn on Game Mode to instantly adjust contrast and colour settings for any game genre, switch to Low Input Lag Mode for even faster response times, and target your enemies more accurately with Virtual Aim Point onscreen crosshairs.
Picture-by-Picture
With Picture-by-Picture you can connect and view input sources without degrading the original image quality. Picture-by-Picture offers convenience for PC games. For example, you can watch a movie and do a web search whilst playing your favourite game.
Eye Comfort
Eye Saver Mode reduces fatigue-inducing blue light emissions and Flicker Free technology suppresses distracting screen flicker, letting you play for longer with less eye strain.
Optimized Viewing
The swivel/tilt and height-adjustable stand offers all the flexibility you need to position the screen for maximum comfort. The panel's VESA Standard mount also offers the option of mounting on VESA-compatible arms.
1800R

Screen Curvature

32:9

Aspect Ratio

600cd/m2

Brightness (Typical)

3,000:1(Typ)

Contrast Ratio Static

5,120 x 1,440

Resolution

4(GTG)

Response Time

178°(H)/178°(V)

Viewing Angle (H/V)

120Hz

Refresh Rate
Rated

5

out of

5
by
Raptorpg
from
CRG9 great for Work and Play.
Wow, just wow, that is most probably going to be your first reaction when you see it for the first time. For gaming the 120hz 5120*1440 is like no other available on the market, the super ultrawide ratio is immersive increasing dramatically your horizontal field of view and the 120hz refresh rate gives an amazing connected feel. The monitor is using a VA panel that gives a good contrast ratio but usually at the expense of the response time of the pixel. The good news here is that the panel is responsive at all frequencies and the smearing and shadow effect. The monitor also supports FreeSync 2 HDR for owner of a Radeon graphic card over the 48-120hz range. It also supports LFC in case you get out of the range without flickering. The HDR implementation is pretty good with great colour reproduction and a good contrast ratio and an impressive 1000nits peak brightness. The monitor has 10 vertical dimming zones which is a bit on the low side, I wish Samsung had used an array local dimming solution instead but this is on the best HDR implementation I have seen on a monitor and at this price range it doesn't have any competition. In order to use HDR you will need to make a small sacrifice though as the display port 1.4 interface can't support this resolution at 120hz with a 10-bit colour depth. I personally restrict the refresh rate at 100hz, but you can also lower the resolution of use Chroma subsampling. I also use this monitor for work and the real estate that this monitor provides is a real luxury. As a software engineer, I always have a lot of windows open going from my main code editor to documentation, emails, slack, and the application I am working on. The CRG9 gives you a lot of flexibility. My favourite set up is to have a 16:9 windows right in the centre which host Visual Studio or my main work item and two half screens on each side of it for the rest of the info I need. But you can experiment and create a many configuration as you want. And finally you can use the monitor with two sources at the same time, like 2 PCs or a game console and a laptop. Just keep in mind that HDR, FreeSync, and a few other features are disabled in this mode, your refresh rate will also be capped at 100HZ. Overall, I love this monitor, it is a delight to work and play with. Samsung has fixed the issues if the previous generation, the HDR performance is enjoyable and within this price range you would be hard pressed to find a more impressive monitor.
Date published: 2019-10-23
Rated

5

out of

5
by
Imzee
from
No More Dual-Monitor Gaming/Multi-tasking
I give this monitor 5 stars because it accomplishes what it set out to do perfectly. But beware, you need to know what you're getting with this beast. I can now comfortably put three windows side by side to do my work and that alone is worth the price of admission. Gaming wise this thing is fantastic. I have paired it with a RTX 2080 Ti and all games run beautifully. Everything looks nice and crisp on the high resolution 5120×1440 screen and HDR1000 makes the colours and brightness pop. Freesync works from 48hz up to 120hz and you can also simultaneously use FreeSync/G-SYNC and HDR. The view is so immersive, it's just fantastic. This monitor has a DPI of about 80. This monitor has no speakers at all. I have it mounted on my monitor arm with no problems. The monitor weighs 33lbs which many will find heavy. Getting it mounted was quite the chore and nearly led to my wife divorcing me, but we did it. I have to say overall I love it. I can fit everything I need comfortably onto the screen. No more switching desktops. It's been a great productivity and "staying in the zone" boost. My only complaint is how it changes sources, it's a bit tedious. My productivity, focus and happiness while working has increased so much with this monitor, and gaming is fantastic. I use Linux with a tiling window manager. To be honest when I'm in Windows or OSX then this monitor isn't quite as godly. The automatic tiling really helps squeeze out the full worth of this giant beast. I've had zero issues with it. No matter what machine, OS or whatever, it has worked 100% perfectly, it's simply stellar.
Date published: 2019-10-23
Rated

5

out of

5
by
Mossom
from
It's incredible!!
It's incredible!! Every game I have run on it looks crazy! Doom at 5120x1440@120 will make your eyes pop out!! The combination of the 32:9 aspect ratio, high frame rate and HDR makes playing on this thing like nothing else I have seen. I can see enemies on screen that other people can't. The curve is 1800R, more curved than a TV. You sit so much closer to it that it has to be more aggressive. Once you are sat in front of it you don't really notice the curve but you do notice how much more comfortable it is on your eyes. I have an RTX 2080ti in my PC. I think if you want to game on one of these an RTX 2080 is the minimum. It being so large and sitting so close to it means that any drop in settings you do, to get framerate up, ends up looking muddy, you're kind of defeating the point of having it. If you get one, be prepared to have an irresistible urge to buy a stupidly expensive video card. With nVidia enabling G-Sync on Freesync monitor you get full VBR on AMD and nVidia cards. It works great. I use multi-monitor setups so this monitor has meant that I can now run my desktop on one monitor yet have more screen estate than before. It's amazing how more productive you can be with a 5120 x 1440 desktop. Games in HDR look great but the real star is Netflix. I found that Netflix didn't show me HDR content until I installed "HEVC Video Extensions from Device Manufacturer" from the Windows store. I'm blown away by this monitor, if your on the fence about getting one and have the room, buy it.
Date published: 2019-10-23
Rated

5

out of

5
by
dyslexicmagic
from
Perfect Monitor for both Gaming and Productivity
The first thing I noticed when I collected this monitor was just how huge the box was, and upon opening it I was completely taken back by the size of it, it is huge, however this is not a bad thing. Once it's all plugged in and powered on it really does strike you just how amazing this monitor is. When it comes to gaming, it means that you have the most immersive experience possible, with the 1,800R screen curvature most of your field of view is taken up by the screen. With the 5120x1440 resolution the 4ms response time the 120hz refresh rate the 1,000 nits peak brightness and HDR it truly is a no compromises monitor. I can't imagine any game looking any better on any other monitor. When it comes to productivity you can have at least 5 tabs open at once and still be able to read everything clearly without having to zoom in, which makes writing papers or programming a dream. When first ordering this monitor I was worried the size of it would mean that it wouldn't be as sturdy or well-made as some smaller monitors, but the build quality of this monitor is incredible from the very sturdy metal stand to the rigid plastic surrounding the screen. There isn't a single part of this monitor that feels cheap or flimsy. The only negative things I could find to say about this monitor is the HDR being a bit hit or miss depending on the game, due to the limited lighting regions, and blue light on the back on the monitor being redundant most of the time and annoying when watching a movie in the dark, however as a whole this monitor is incredible so 5 stars.
Date published: 2019-10-23
Rated

5

out of

5
by
Anonymous
from
Its fantastic, could not fit in all i had to say.
Hi everybody I would like to start this review on the Samsung CRG9 super ultra-wide screen monitor with the box, because when you see it for the first time and absorb in the size of this beast you know you have something that is that bit more special hidden away inside. I was like a kid who just had the best Christmas ever just looking at this thing before me. After cutting through the tape and opening the box lid you are greeted with printed instructions on both sides for fixing the leg to the monitor and for getting the monitor out of the box. What did I tell you, what an amazing box with its useful build instructions. Now we get to the admire the contents, parts to be added or used with the monitor. They are all laid out on the top half of the polystyrene encasement. Ok that was for dramatic effect it's all wrapped in polythene to protect it. I have added a photo of the contents unwrapped of cause so I don't have to list them here. If your one of those people that don't read the manual, you're in luck you don't get any. Well not the paper type anyway, the manual comes on a mini CD. Remember you do get the instructions on the box lid and a brief open out sheet with some on too. Ok now we have unboxed everything we need to stop ourselves from grabbing the screen and pulling it out like we did with our new television when we got it, It's a big no no due to the curve in the screen. Simply put it will not lay down flat so don't do it. You first need to build the leg then fit the leg while the monitor is still in the box. The leg of the monitor is a heavy and well-built bit of kit that you know is going to hold the monitors weight well. The leg is built from metal then a plastic shroud is fixed over this, Solid bit of kit indeed. Building the leg is so easy, you simply put the two parts together then using the two wing nuts on the bottom to tighten them up by hand, you can then use a screwdriver to just give them a nip. A lot of force is not required. Once you have the two bits together you fit the leg with the four screws which are pre fitted to the body of the monitor. Having fitted the leg to the monitor you now get the disk in two halves. These get cupped around the neck of the leg and then pressed into the monitor. The role of this is to defuse the blue LEDs that encircle the top of the leg support. So far I have managed to complete the tasks myself but now I need to call on the good wife. I will link the rest of this review to my video.
Date published: 2019-10-23
Rated

5

out of

5
by
mypetfrog
from
Are you a creative? BUY THIS MONITOR NOW!
For years I've worked with photo and video, using two 27" monitors side by side, with 2 separate screen set up on the computer. Frustrated by the massive bezel gap in between them I was keen to try this monitor out. That keeness has transformed into absolute delight and I'll be an ultrawide 32:9 evangelist for life! This monitor is astonishing, super sharp, great at 120Hz (flicker free and easy on the eyes). Picture quality and colour accuracy was amazing, and I'm sure it's an epic gaming monitor but it's the sheer joy of the working experience while editing video that has me absolutely hooked. Having an editing timeline that stretches 2/3 of the width of my screen, having tabs and windows open just as I need them, the 3 window wide split screen for apps all superb. The picture in picture mode is also amazing as I can plug in my macbook pro into one input and my PC into the other and have both on screen at the same time. The ultimate in productivity! Honestly I could go on and on. I don't think I'll ever go back to a boring 16:9 monitor again. As I said in the title, if you are a photographer or filmmaker... then what are you waiting for? Buy this monitor, you will NOT regret it.
Date published: 2019-10-23
Rated

5

out of

5
by
kwevans
from
Wow - Just Wow!
This is a big monitor, but boy does it spoil you. Gaming is immersive and the extra resolution makes it great for creative work. Top PC games come alive on a display that fills your senses. Hooked up to my gaming Pc, it runs at full 5120 x 1440 and the 120 hz refresh rate makes the whole game silky smooth and responsive. While in theory, you're looking at the space that two 27" monitors would give you, the single unified pane of glass makes it feel like so much more space. Switch to your 'business mode' and you have a huge canvas to arrange your work on. For video work, the width makes editing a joy, for development work boy will you love the ability to see entire projects on one screen. Hooking up a laptop made it wonderful work experience. The Picture-in-picture mode even allows you to hook up two machines and split the display between them. Just remember not to get too distracted by gaming! In Summary, this is an amazing display that will completely spoil you from ever going back to something smaller. Predictably wonderful for gaming, but also great to creative work. Recommended.
Date published: 2019-10-23
Rated

5

out of

5
by
Anonymous
from
Incredible Monitor!
Bought through Ebuyer - the (rather large) box was received without fuss and packaged really well. The monitor comes with all the accessories you would need: Choice of HDMI and Display Port, stand and back plate (for wall mounting). Very easy to set up if you follow their instructions. It sounds silly to say since you're probably reading it going "how hard can it be".. but Samsung have made it amazingly easy to build the monitor while still sat in its protective casing. The monitor takes up a lot of real estate on your desk - more so than you realise. This is especially true in terms of the depth of the stand as it sits on your desk. So unless you plan to wall mount the monitor, this is something you should be aware of. Initial impression of the monitor is WOW - incredible. No dead pixels. Astonishing brightness and vivid colours. I've only had it for a couple of days mind you, but boy am i excited to waste some more time in front of it. I will need a new graphics card though.. my aging GTX 970 just won't cut it anymore for gaming on this beast. UPDATE: Bought an Nvidia RTX 2080 gpu. The nvidia control panel recognises the monitor as Freesync, and so far absolutely no problems with regards to gaming (Gaming - WOW!) Work 10/10 : The monitor is truly useful having multiple documents / Web pages / spreadsheets and emails open side by side. And 1440p over 1080p is qlvery noticeable when working with words and numbers in smaller fonts, as the pixel density comes into its own when viewing anything in its native resolution. I do a lot of writing as well (admittedly mostly on a laptop) but on the two occasions I've used this monitor, having your thesaurus AND source material open alongside a double-paged word document is annoyingly useful. And I say annoyingly, because it now makes the laptop feel frustratingly small and awkward to use in comparison. Gaming 10/10 : The resultion is shy of a full 4k pixel count, so my RTX 2080 is able to power through max settings at its native resolution without much effort. And boy do games look gorgeous in super widescreen format (for those games that support the resolution). Even 'dumbing down' to 2560 x 1440 games look stunning and run smoothly @ 120hz with freesync enabled. I have to say that I prefer it at this resolution on some games, as it allows me to have the gpu and cpu info along with game leaderboards and stats up alongside the game. Very useful! All in all - what an incredible monitor. Very happy
Date published: 2019-10-23
User manual & Downloads
Live Chat
Free delivery

Get free delivery on all orders with no minimum spend


Free returns

Free, easy and convenient returns.

28 days to return

Change your mind? Just let us know and return your order within 28 days.

24/7 parcel tracking

Once you've place your order with us, you can track when it's coming.
Create your wishlist
Don't miss out on the products you love.
Sign in/Sign up now to access your wishlist on all your devices and get updates on great promotions.
Add to wishlist
Do you want to add this product to your wishlist?
Wishlist
This product has been added to your wishlist.
Sorry, the product you added to wishlist is not available anymore.
Request stock alerts
Opt into email alerts to find out when this item is back in stock and available to buy. Simply provide your email address and agree to the terms below.
We will email you when inventory is added.
Thank you.
Estimate your installment plan
Remove item?
Are you sure you want to delete this option?
Option will be reset if you select Samsung care+.
Add to basket?
Samsung Care+
Dropped your phone and smashed it? Keep your smartphone protected from accidental damage.



Included

Accidental damage (incl. liquid damage) for mobile phone and accessories that come in the box.
Worldwide cover (up to 60 days international trips)
Maximum of 2 claims for the 2 years insurance period
An excess per claim of £52 for Galaxy S and Note series; £35 for A90 5G, A80, A71 and A51 or £29 for A40, A20e and A10
Repairs completed by Samsung using genuine Samsung parts



Not included

Loss of the phone
Deliberate damage or not adequately protecting the phone
Cosmetic damage
Theft
Any repairs carried out without Samsung approval

Samsung Care + Insurance is underwritten by AWP P&C S.A. - Dutch Branch, trading as Allianz Global Assistance Europe, with corporate identification No 33094603, registered office at Poeldijkstraat 4, 1059 VM Amsterdam, the Netherlands, registered at the Dutch Authority for the Financial Markets (AFM) No 12000535 and authorised by L'Autorité de contrôle prudentiel et de resolution (ACPR) in France. For more information on Samsung's privacy policy please click here.
Samsung Care+ Terms and Conditions
Protect your smartphone with insurance
An insurance that protects your smartphone anywhere and at any time to bring you greater peace of mind.
Coverage against breakage

Physical damage such as cracks or breakage of the screen or the rear window, which is detrimental to the functioning of the mobile phone.*

Cover against other damage

Damage caused by liquid or any physical damage, other than damage to the screen, affecting the use of the software or the charging of the mobile.*

Repair by official teams

Your smartphone will only be repaired by Samsung authorized service providers and Samsung genuine parts.
SAMSUNG CARE +
SAMSUNG CARE+ COVERS :
24 months cover for £139 (upfront payment only)
All accidental damage resulting from handling
2 claims over 2 years
£69 excess per claim
DO NOT COVERS :
Loss of the product
Deliberate damage
Cosmetic damage
Theft of any kind
Lack of reasonable care
Normal wear and tear
Option will be reset if you select Extended Warranty.
Add to basket?
Extended warranty
This is an extra 4 years on top of the standard 1 year warranty for parts and labour. It's another great reason to choose Samsung

During the Extended Warranty Period Samsung continues to warrant that the Samsung product shall be free from defects in materials and workmanship in accordance with the original warranty statement provided with the product.
In the event that Samsung is unable to repair your product, Samsung may at, its discretion, either exchange your existing product with a replacement product or provide you with a refund.
When warranty service involves the exchange of a product or part, subject to applicable law, the item replaced becomes the property of Samsung. The replacement may be a new or repaired item. The replacement item assumes the remaining warranty period of the original product.
Remote technical support may also be provided for the product(s).
If you select both exchange and bundle option, an additional exchange discount of the exchange option will not be applied. Add to basket?
This product qualifies for a special bundle deal.
If you select both exchange and bundle option, an additional exchange discount of the exchange option will not be applied. Add to basket?
Installment Calculate
Installments are provided by Santander Consumer Bank S.A.
How does it work?
Pay for your new Galaxy phone in monthly instalments and be invited to upgrade to the new Galaxy as soon as it launches.
01 Choose your device

Choose from the new Galaxy series.

02 Spread the cost

Pay a 10% deposit and then monthly instalments over 24 months. (0% finance available)

03 Yearly upgrades

Be invited to upgrade to the latest Galaxy phone after 12 months.
Upgrade Program
Upgrade your handset every 12 months.
SAMSUNG GALAXY S10 UPGRADE PROGRAMME TERMS AND CONDITIONS
1. THESE TERMS
1.1 What these terms cover. These are the terms and conditions on which you may take part in our Samsung Upgrade Programme (Upgrade Programme"), which provides you with the ability to purchase an eligible Samsung Galaxy S10 handset and the option to upgrade to the latest Samsung Galaxy S handset every 12 months.
1.2 Why you should read them. Please read these terms carefully if you would like to take part in the Upgrad Programme. These terms tell you who we are, the conditions of the Upgrade Programme and other important information.
2. INFORMATION ABOUT US AND HOW TO CONTACT US
2.1 Who we are. We are Samsung Electronics (UK) Limited, a company registered in England and Wales. Our company registration number is 3086621 and our registered office is at 1000 Hillswood Drive, Chertsey, Surrey KT16 0PS. We are authorised by the Financial Conduct Auth ority ("FCA") as a credit broker under reference number 727333.
2.2 How to contact us. You can contact us by calling our customer service team at 0330 SAMSHOP (726 7467) or by writing to us at support@samsunguk.zendesk.com
2.3 How we may contact you. If we have to contact you we will do so by telephone or by writing to you at the email address or postal address you provided to us in your order.
2.4 "Writing" includes emails. When we use the words "writing" or "written" in these terms, this includes emails.
3. THE UPGRADE PROGRAMME - OVERVIEW
3.1 How to take part in the Upgrade Programme. On placing your order for a new Galaxy S10 handset, you may, by selecting the relevant option on our website, and if you are successful in applying for a new 24-month credit agreement (including passing any relevant credit checks) with our chosen credit provider (for further details see below), be able to take part in the Upgrade Programme.
3.2 The ability to purchase a Galaxy S10 handset through finance, and to take part in the Upgrade Program me is available to consumers only; it is not available to business customers.2.4 "Writing" includes emails. When we use the words "writing" or "written" in these terms, this includes emails.
3. THE UPGRADE PROGRAMME - OVERVIEW
3.1 How to take part in the Upgrade Programme. On placing your order for a new Galaxy S10 handset, you may, by selecting the relevant option on our website, and if you are successful in applying for a new 24-month credit agreement (including passing any relevant credit checks) with our chosen credit provider (for further details see below), be able to take part in the Upgrade Programme.
3.2 The ability to purchase a Galaxy S10 handset through finance, and to take part in the Upgrade Program me is available to consumers only; it is not available to business customers.
Check Terms and Conditions
How trade–in works
01

Tell us about your current phone. We'll let you know how much it's worth

02

Get an immediate discount on the Samsung device you want

03

We'll send you a recycling package to return your current phone to us
Customize your watch
Inclusive monthly plans
Choose from a range of networks and inclusive monthly plans below and get started with your new Galaxy phone straight away.
Check the Terms and Conditions
Phone powers on & holds charge

Functioning display & no cracked screen

Factory reset & no software locks
La liberté ne s'achète pas, elle se loue
Liberté

Possibilité de changer votre smartphone tous les 4 mois.

Sérénité

La garantie incluse et des assurances optionnelles.

Exclusivité

Le meilleur de la technologie à prix très attractifs.