Which oven is best for me?
Knowing where to start isn't always easy when you're looking to buy a new oven. With so many types of ovens on the market, finding the best oven for you can depend on numerous factors. Read our oven buying guide for help on how to choose the best oven for your kitchen.
What should I consider when buying an oven?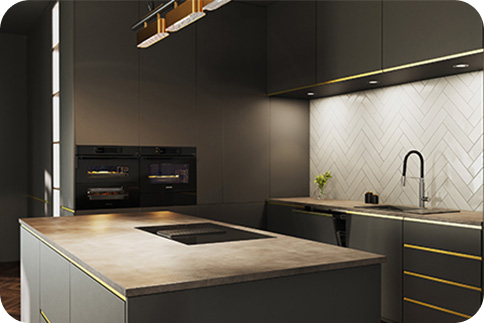 What type of oven is best?
Looking for a new oven can be a tough task, mainly because there are several different types, and not all of them will be suitable for your needs. Read on to learn about the differences between oven types to find the best for you.

What is a single oven?
A single oven is one that contains both the grill and the main oven cavity within one unit, unlike a double oven. They're quite versatile in terms of where you can place them - for example, they can be built-in (into your kitchen unit at eye level) or built-under (for example, under a counter). 

Single ovens are a great choice if you have less space in the kitchen or restrictions on where you can place one. In fact, Samsung's range of single ovens have very generous proportions: 

• Samsung's range of single ovens have a defined cut out of 595mm x 595mm x 560-600mm.
• The average capacity of a single oven is around 64 litres , though the majority of Samsung models come with a capacity of up to 75 litres.

Click to see our top pick for best single oven.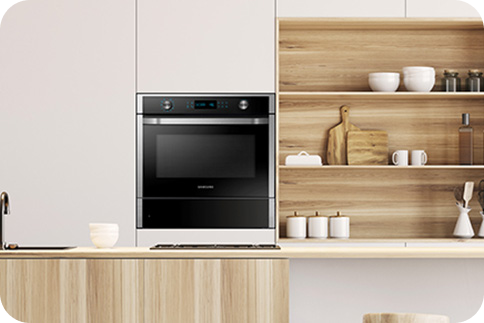 What is a double oven?
A double oven is one that has a separate oven cavity and grill. The added bonus with a double oven is that due to the separate cooking compartments, you'll be able to cook multiple foods at once whilst using different techniques (eg. broiling, grilling, roasting).

The Samsung range of Dual Cook Ovens work the same way as double ovens. You can roast, steam and more at the same time. Plus, you can control and apply different temperature setting to different parts of the oven.

Double ovens are a great choice if you often cook dinners with multiple components, like a roast, have a large household, or like to frequently host dinner parties.

Click to see our top pick for best double oven.
What is a compact oven?
Compact ovens, as the name suggests, are generally smaller and great at slotting into very small spaces - but that doesn't mean you have to compromise on the capabilities Samsung's compact ovens a capacity of up to 50 litres, so they can easily service couples or small families. The smallest oven is only 45cm – perfect for fitting into tight, awkward spaces or smaller kitchens.

Click to see our top pick for best compact oven.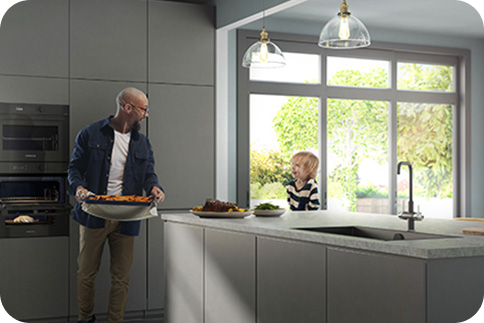 What is a smart oven?
Smart ovens are ones that either use Bluetooth or Wi-Fi so that you can instruct your oven to do something without having to touch any of the dials at all. You can turn the oven on and off, change the heat or switch the cooking method by simply making the adjustment on an app on your smart device.

Click to see our top pick for best smart oven.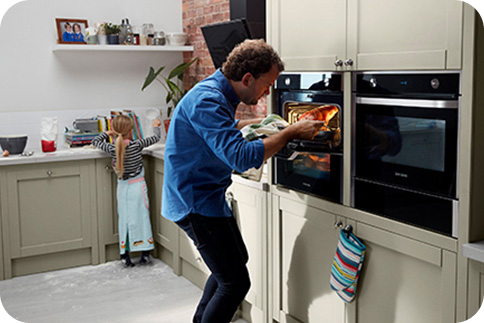 What size oven should I buy?
The size of the oven that you'll need for your kitchen will depend on the space you have available to fit one into. First things first - oven sizes refer to their capacity, which is measured in litres. The greater the capacity, the more food an oven can cook at any one time.  
 
Secondly, you'll need to measure the width, depth and height of the available space, and compare this to your chosen model. Generally speaking, most ovens only really vary by height, and have approximately these measurements:

* Please note that these measurements will vary depending on the manufacturer that you buy your oven from.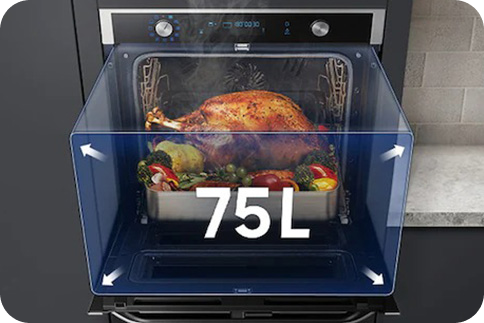 Table

| Oven type | Height | Width | Depth |
| --- | --- | --- | --- |
| Single oven | 60cm | 60cm | 56cm |
| Double oven (built-in) | 90cm | 60cm | 56cm |
| Double oven (built-under) | 70cm | 60cm | 56cm |
| Compact oven | 45cm | 60cm | 56cm |
Oven cleaning and maintenance
Did you know that cleaning your oven needn't be a manual job anymore? Great news, right! Many of Samsung's ovens have some form of self-cleaning technology built into them, meaning you can spend less time with a scouring pad and detergents, and more time doing things you actually enjoy. Samsung's self-cleaning tech comes in two forms:

What is a catalytic cleaning oven?

A catalytic oven is one that is fitted with a special liner inside the main part of the oven that absorbs grease so that it doesn't settle at the bottom of the oven itself. All it takes is a simple monthly cycle of the cleaning function to burn off the excess grease to leave your oven sparkly clean. 

What is a pyrolytic cleaning oven?

Pyrolytic ovens work by running a cleaning cycle that increases the temperature inside the oven as high as 500 degrees, which turns any leftover residue in the oven to ash. This is easily scraped or brushed away, leaving a lovely clean interior that's ready for you to cook your next favourite dish.


How to clean a Samsung oven
Samsung ovens have something to offer everyone - from the self-cleaning technology to wifi-connectivity. Understanding the benefits of these optional extras will ensure you get the best appliance for your needs: 

Use less energy - Samsung Dual Cook Flex™ ovens save energy when you only use the top half. Eco Convection mode (which is available on Dual Cook models) uses an optimised heating system to save energy too.

Easy cleaning - not only are some Samsung ovens available with either catalytic or pyrolytic technology, but they feature antibacterial ceramic enamel interiors too. They're easy to clean, and are rust and scratch resistant. 

Dual cooking spaces - Samsung Dual Cook™ and Samsung Dual Cook Flex™ ovens allow you to cook at two different temperatures - for example, you can grill in the top half, whilst roasting in the lower half. 

Steam cooking - Samsung ovens feature a steam cooking option, which is the healthier way to cook. The vapours are diffused, meaning your food is less likely to dry out and will retain its rich flavour. 

Enhanced usability - take advantage of the ability to open the hinged door to one half of the oven with Samsung Dual Cook Flex™, saving energy and preventing heat escaping from the other half. Telescopic runners ensure that extendable shelves support dishes being put in or taken out of the oven, keeping spillages to a minimum.

Browse our full range of energy efficient ovens.
Flexible Door

Dual Cook (Efficiency)

Dual Cook Steam

Dual Cook Flex

SmartThings Cooking

Air Fry
Flexible Door :

Yes

Dual Cook (Efficiency) :

Yes

Dual Cook Steam :

-

Dual Cook Flex :

-

SmartThings Cooking :

-

Air Fry :

-
Flexible Door :

Yes

Dual Cook (Efficiency) :

-

Dual Cook Steam :

Yes

Dual Cook Flex :

Yes

SmartThings Cooking :

Yes

Air Fry :

Yes
Flexible Door :

Yes

Dual Cook (Efficiency) :

-

Dual Cook Steam :

-

Dual Cook Flex :

Yes

SmartThings Cooking :

Yes

Air Fry :

-