Oven buying guide
Knowing where to start isn't always easy, when you're looking to buy a new oven. Think about how you use your oven on a daily basis; consider size, features and energy efficiency, as well as maintenance and installation.
Types of oven: single and compact
Single Ovens
Single ovens can be fitted either underneath the counter or at eye level. This flexibility makes them one of the most popular oven types on the market. They can be installed in kitchens of any size, making them a sound investment for most households.
Compact Ovens
Compact ovens are a smart choice for smaller kitchens, or for those who make large meals regularly and could use an additional cooking appliance. Compact ovens have grill and microwave functions too, so they're a flexible option, however (and whatever) you cook.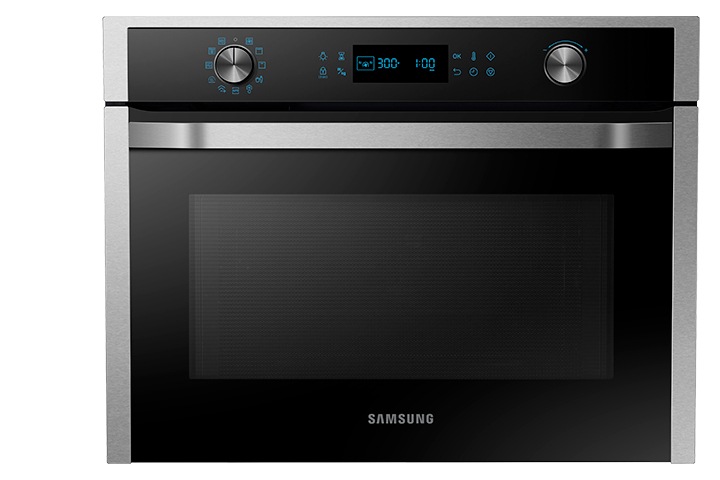 Features to look out for
Ovens offer a wide array of features, from making them easy to clean or offering a wide range of cooking options, understanding the benefits of these optional extras will ensure you get the best appliance for your needs.
Self-Cleaning Modes: Catalytic vs Pyrolytic Oven Cleaning
Both catalytic and pyrolytic functions are designed to make cleaning easier but work very differently.

Catalytic
Some ovens feature catalytic liners, which attract and absorb grease. A self-cleaning program softens any residue, so you can then easily wipe it away.

Pyrolytic
With pyrolytic cleaning programs, the oven reaches temperatures of up to 500°C – turning any food residue into ash, which you can remove with ease afterwards.
Ceramic interiors
Anti-bacterial ceramic enamel interiors are also easy to wipe clean, and they don't rust or scratch easily.
Dual cooking spaces
Samsung's Dual Cook and Dual Cook Flex™ ranges offer greater flexibility when cooking, by allowing you to cook at two different temperatures simultaneously, saving you time.
Samsung Dual Cook
Grill in the top half of the oven and bake in the lower section, without needing to worry about smells transferring between foods.
Samsung Dual Cook Flex™
Enjoy the same flexibility but with a hinged door, so you can open the top half of the oven without losing heat from the bottom half. Plus, only using the top half can save up to 20% on energy.*
*Upper vs. whole compartment on small cake setting at convection 155℃ (IEC-60350).
Dual fan technology
Delivering consistent cooking throughout, Samsung's Dual Fan ovens feature two fans, so heat is evenly distributed for better results.
Touch controls
Touch control displays are simple to read and easier to clean, making them an ideal choice.
Steam cooking
Steam cook settings carefully diffuse vapour, preventing dishes from drying out. Steam cooking also helps to retain natural textures, colours and flavours in food, and it's a healthier way to cook too.
Telescopic runners
Pull out large casserole dishes or delicate muffin trays with telescopic runners. Extendable shelves glide out smoothly, resulting in fewer accidents and spillages.
Wi-Fi connectivity
Wi-Fi cooking controls allow you to remotely switch on your oven, so your dinner can be ready, when you get home. You can even save recipe ideas on the SmartThings app, and sync them to your oven to ensure every dish is perfectly cooked.*
*Requires SmartThings App, available on Android and iOS. An internet connection is required.
Oven sizes and measuring advice
Oven sizes refer to their capacity, which is measured in litres. The greater the capacity, the more food an oven can cook at any one time.

Average oven capacity
The average capacity of a single oven is around 64 litres , though the majority of Samsung models come with a capacity of up to 75 litres.

Compact oven capacity
Compact ovens, as the name suggests, are generally smaller. Samsung's compact ovens have a capacity of up to 50 litres, so they can easily service couples or small families.

Single oven cut out measurements
Samsung's range of single ovens have a defined cut out of 595mm x 595mm x 560-600mm.

Always measure first
Before purchasing a new oven, you'll need to measure the width, depth and height of the available space, and compare this to your chosen model.
Energy efficiency and running costs
Ovens are graded according to their energy efficiency, with the most efficient models having an A+ or A rating. Whilst electric ovens usually consume less energy than other large kitchen appliances , you can still use them more efficiently.

How Samsung Dual Cook ovens use less energy
As already mentioned, Samsung Dual Cook Flex™ ovens save energy when you only use the top half. Eco Convection mode (which is available on Dual Cook models) uses an optimised heating system to save energy too.

Installing an oven
When fitting a built-in oven, you need to hire an accredited professional. Electric ovens should only be installed by a qualified electrician.
Oven maintenance
Knowing how to clean an oven properly will ensure it continues to cook food evenly and efficiently, and you will get many more years of use by keeping it clean.
Cleaning an Oven
Once your oven is cool enough to clean, give the interior and exterior a wipe down with a cloth soaked in hot water and mild detergent

Alternatively, use a dedicated oven cleaning product

Avoid using any abrasive tools that could damage the surface

If your oven features a self-cleaning mode, like pyrolytic cleaning, you should use this function regularly to prevent the build-up of tough stains

To clean the outside of your oven, simply wipe it down with a cloth and a mild detergent or soapy water, and pat dry with a towel

Grease can accumulate around the handle, due to the hot air being released from inside, so take extra care to keep it clean

Remove and soak your oven accessories – like the wire rack – in warm soapy water for up to 30 minutes before washing