Water Resistant
Bluetooth v4.2
Bluetooth Version
1.5" (38.6mm)
Size (Main Display)
Take the plunge
Go from swimming laps to jumping in the shower. Gear Fit2 Pro is water resistant up to 5 ATM*. And if you choose the pool, the Speedo** app developed for Gear Fit2 Pro tracks your stats and presents them in easy-to-read summaries.
*Gear Fit2 Pro has a water resistance rating of 50 meters under the ISO standard 22810:2010. If the device or your hands are wet, they must be dried thoroughly prior to handling. ** Availability of the Speedo On app for Gear Fit2 Pro varies by country and region. The Speedo app for Gear Fit2 Pro is not available on iOS smartphone.
Motivation in 4 ways with in built apps
UA RECORD
See your activity, sleep, and workout stats in one dashboard and get insight into your health and fitness levels.
MapMyRun
Plan and track your routes with real-time maps and capture every run, ride, and walk.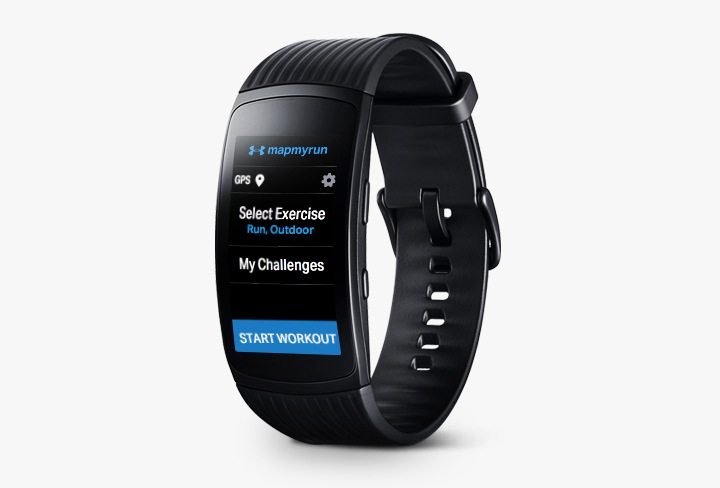 MyFitnessPal
Eat smarter and achieve your health goals by keeping track of the calories you consume and burn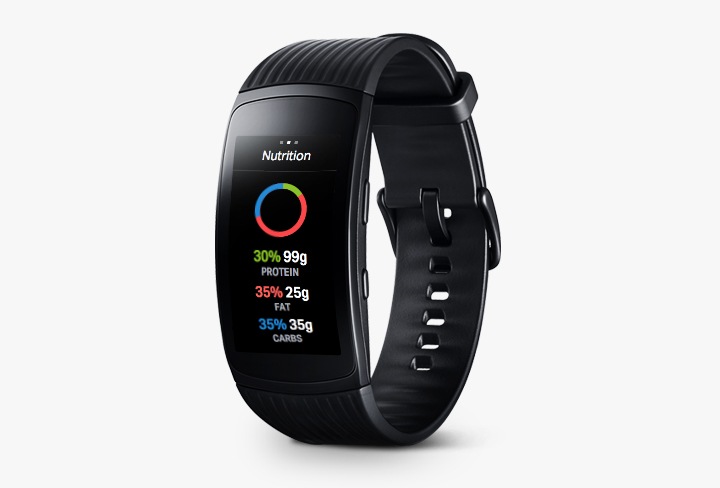 Endomondo
Join a global community of fitness enthusiasts as you reach your running goals with personal training plans.
*Availability of UA Record, MapMyRun, MyFitnessPal, and Endomondo for Gear Fit2 Pro may vary by country, region, and OS.
*Availability of UA Record, MapMyRun, MyFitnessPal, and Endomondo for Gear Fit2 Pro may vary by country, region, and OS.
*Availability of UA Record, MapMyRun, MyFitnessPal, and Endomondo for Gear Fit2 Pro may vary by country, region, and OS.
*Availability of UA Record, MapMyRun, MyFitnessPal, and Endomondo for Gear Fit2 Pro may vary by country, region, and OS.
Make your moves count
Whether they're tennis, basketball, or even dance moves, Gear Fit2 Pro automatically detects and logs the activity. It also measures your heart rate continuously throughout the day, indicating heart rate zones, to help you make better fitness decisions.
Lighten your load
Track your location and listen to music - even without your phone. Gear Fit2 Pro has built-in GPS to keep a record of where you work out. And the Spotify app lets you listen to music via Wi-Fi or play playlists on the go in Offline mode.
* Availability of apps for Gear Fit2 Pro may vary by country, region, and OS. * Gear IconX sold separately.
Choose your style
Go all black for a sleek, understated look at the gym or at work. Or kick things up a notch with a splash of red. Whichever colour you choose, both styles are made to fit comfortably with a clasp that ensures the Gear Fit2 Pro stays securely on, whether it's swim or gym.
Get apps and watch faces
With more than 3,000 apps and watch faces to choose from, including Spotify, you can customise your Gear Fit2 Pro to make it work for you. Go to the Galaxy App store to find the one you need and more.
* Availability of apps for Gear Fit2 Pro may vary by country, region, and OS.
Bluetooth v4.2

Bluetooth Version

1.5" (38.6mm)

Size (Main Display)

4.0 GB

ROM Size (GB)

200mAh

Standard Battery Capacity
Rated

5

out of

5
by
adge
from
best thing ever
i have it for 6 years and its like new it also is very surprising it still works
Date published: 2019-01-07
Rated

5

out of

5
by
RobOnline
from
Nice addtion to my S3
I already have an s3 and I'm a massive fan of it. The only drawback for me was you couldn't use it for swimming, which is my main form of exercise. So on the days I exercise I where this, on the others I wear the S3.
Date published: 2018-01-18
Rated

5

out of

5
by
Ridge
from
Great Product
Fantastic design, comfortable fit and super easy interface. Paired up with my S7 edge easily am super pleased would highly recommend. Would like charging plug to be included as you only get USB charging lead
Date published: 2017-11-22
Rated

5

out of

5
by
Mo Hdn
from
Love at first wear...
I've had it on for 5 minutes and already feel like it was a match for the best. It fits comfortably, has a lovely ergonomic shape and design, the screen is magnificently crisp and vibrant, the UI was mastered in 45 seconds and the raise to wake functionality is more accurate than past models and competitors. Great Buy!!!
Date published: 2017-10-27
Rated

5

out of

5
by
Caggie
from
Love it!
Bought this a couple of weeks ago and I love it! Very clever little watch. Connected 1st time to my S6 Edge + with no problems what so ever. So easy to navigate around. Love the water lock feature as I can now wear it for work. Haven't found anything I don't like about it. Looking forward to upgrading my phone in a few weeks so hopefully connect just as easy.
Date published: 2017-10-07
Rated

5

out of

5
by
Chalky
from
The best one on the market.
I was working in Korea and bought mine, red strap for slightly cheaper. It is a dream. I have swam every day since I came back and it's awesome. It has a swimming water lock and works a great. Watch faces, calorie count, connected to my new Samsung S8 plus with ease. I had the S7 and the gear fit 2 before this, this one seriously is a massive step up. Beats any other on the market. PS I am a normal retired person and love walking and swimming.
Date published: 2017-10-04
Rated

4

out of

5
by
greg23
from
Good piece of kit all-round
Good things: It has a nice design - not too bulky, most of the time I can't feel it on my wrist. The curved screen fits nicely with the curve of the wrist, giving it a more natural feel when in use. I like the shortcut function - double clicking the on/home button will take you to the assigned app (I chose settings as I turn WiFi and GPS on and off quite regularly). The Spotify app is great for me, as that's the streaming service I use. It's easy to just connect to my Bluetooth speaker and access my library, especially if my phone is not in reach. I like how this watch can perform on its own in general - I can check the weather, listen to music or check my schedule all without connecting the watch to my phone. Not being connected all the time also saves a lot of battery. The 5ATM waterproofing is excellent. I'm not huge on swimming, but I do sail quite regularly and so I am often completely submerged in the water. It is a world away from the non-pro version, as I do not have to worry about going below the 1.5 meter mark. It is a huge advantage over the IP68 rating of other Gear devices. I have also worn the watch in the sea numerous times and it has been fine. I think the water lock feature is a nice touch. My favourite feature is the ability to change watch faces, as I can find pretty much anything I want, like the Darth Vader face I downloaded. Bad things: The pre-typed responses for texts is a good idea, however I think it would be much easier to use a keyboard on the watch. It does have a keyboard feature (to type in WiFi passwords and Spotify account details), however as the screen is small it is rather hard to input letter and numbers. Maybe a scribble pad on the screen would would be a good idea, but if not I'd be happy with the keyboard. As easy as it is to connect the watch to a Bluetooth speaker, I cannot connect it to my Bluetooth headphones. I use Skullcandy Hesh 3 over-ears, and when I turn on Bluetooth, it tells me it is searching for them, but then says it cannot find any headsets. I looked into this and it turns out it other users have the same problem. It is rather annoying as I cannot leave my phone in my bag when I go to the gym. I did have a bit of trouble recently whilst on holiday. I would flick my wrist, the screen would light up and show colored bars all over the display for around 30 seconds before resuming as normal. After a few days, the bars wouldn't go away and rendered the watch completely unusable. I thought it may be something to do with the heat, or the pressure on the plane, as that is where I first noticed it. Another few days went by and it fixed itself. I have had no further problems, however I have email Samsung support and I am going to take it into my local support center to get it checked. Overall, I can definitely recommend this watch to anyone with an active lifestyle, especially if you spend a lot of time in the water. It is quite pricey, but you get the solidity and refinement of a Samsung device that you will not find with cheaper smartwatches and wristbands.
Date published: 2018-08-10
Rated

4

out of

5
by
misterlambe
from
Great Watch and Features
I use this primarily for swimming with the Speedo On app. It syncs seamlessly with my S8 and I can track my swimming progress on the app and website. The watch records lengths and strokes accurately, less so stroke type but not that fussed there. I've had it about 9 months with no issues, also used it for hiking and cycling. Works really well and looks good.
Date published: 2018-07-27
User manual & Downloads
Live Chat
How It Stacks Up
Memory size : User memory is less than the total memory due to storage of the operating system and software used to operate the phones features.
Actual user memory will vary depending on the mobile phone operator and may change after software upgrades are performed.
Battery Usage Time : GPS Battery time is based on our own laboratory measurements, and may vary depending on factors such as device settings, usage patterns and operating conditions.