34" Wide ScreenThunderbolt 3 Curved Monitor
LC34J791WTUXEN
34" Wide ScreenThunderbolt 3 Curved Monitor
is rated out of
5
by
16
.
Thunderbolt 3
Curved Screen
21:9 Ultrawide Screen
Quantum Dot Technology
Connect to Infinite Possibilities
Thunderbolt™ 3
World's First Thunderbolt 3 Curved Monitor
The CJ79 features two Thunderbolt 3 ports to connect compatible Macs and PCs. Thunderbolt 3 transmits video and data at speeds of up to 40Gbps — 8 times faster than USB 3.0 — and simultaneously charges devices (up to 85W), all over a single cable.
Curved for Comfort
The curved screen is engineered to follow the natural curve of your eyes for a more immersive and comfortable viewing experience. Studies by Harvard Medical School and Seoul National University Hospital found the screen reduced eyestrain in users compared to flat screens and less curved monitors.
34" Ultra-Wide Screen
The 34'' ultra-wide curved display with its 21:9 aspect ratio provides all the workspace you need to multi-task efficiently and in comfort. Forget about inconvenient dual monitor set ups and experience truly seamless multitasking on a single screen.
Multiple Inputs
Two Thunderbolt 3 ports as well as, DP, HDMI and USB inputs, the CJ79 provide multiple connection options for PCs, consoles and external devices. And the built-in 7-watt stereo speakers offer an enhanced entertainment experience when viewing videos and playing games.
PBP and PIP
Picture-by-Picture (PBP) lets you display to two sources onscreen at their native resolution. And for optimal multi-tasking, with Picture-in-Picture (PIP) you can resize the second source to up to 25% of the screen and position it anywhere.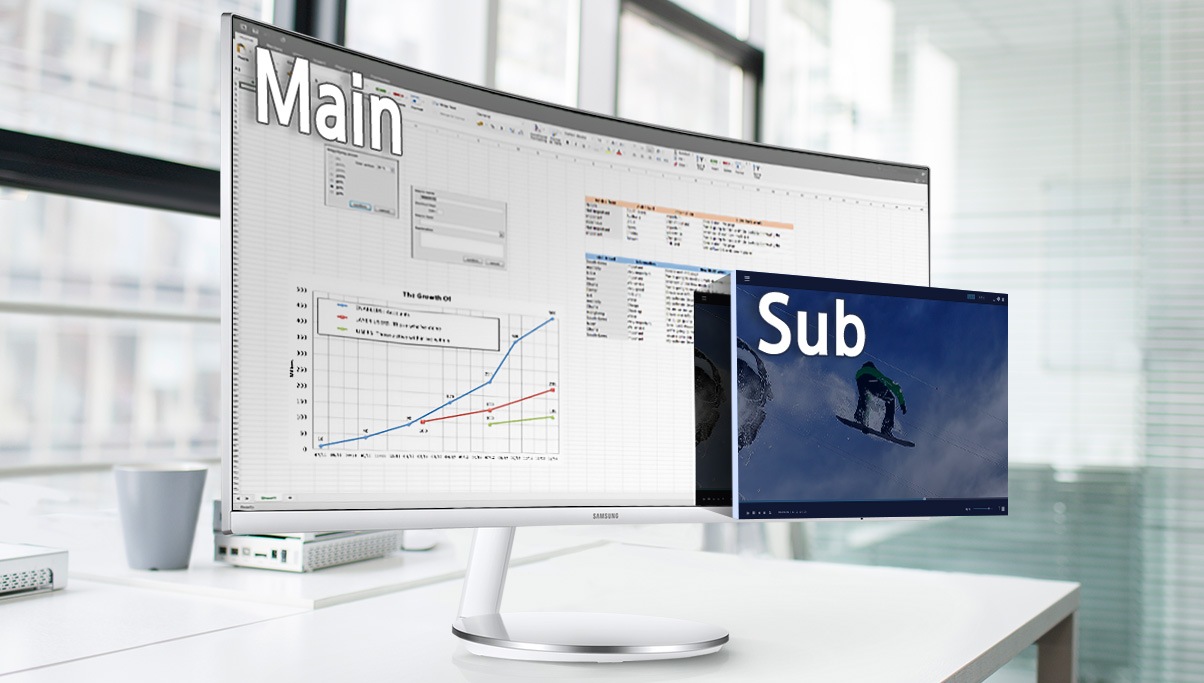 Quantum Dot Colour
Supporting up to 125% sRGB colour space, Quantum Dot technology delivers not only more hues than conventional monitors but also colours that are brighter, crisper and more natural — especially reds and greens. And every monitor is factory calibrated to ensure the most accurate and life-like images.
3000:1 Contrast Ratio
Samsung's VA panel technology provides a 3000:1 contrast ratio that delivers deeper blacks, brilliant whites, and richer colours for clearer, more vibrant movie and game scenes.
AMD FreeSync
AMD FreeSync synchronizes the refresh rates of your graphics card and the CJ79 to minimise image tearing and stutter. The smoother transition between image frames provides seamless gameplay and video playback for uninterrupted viewing.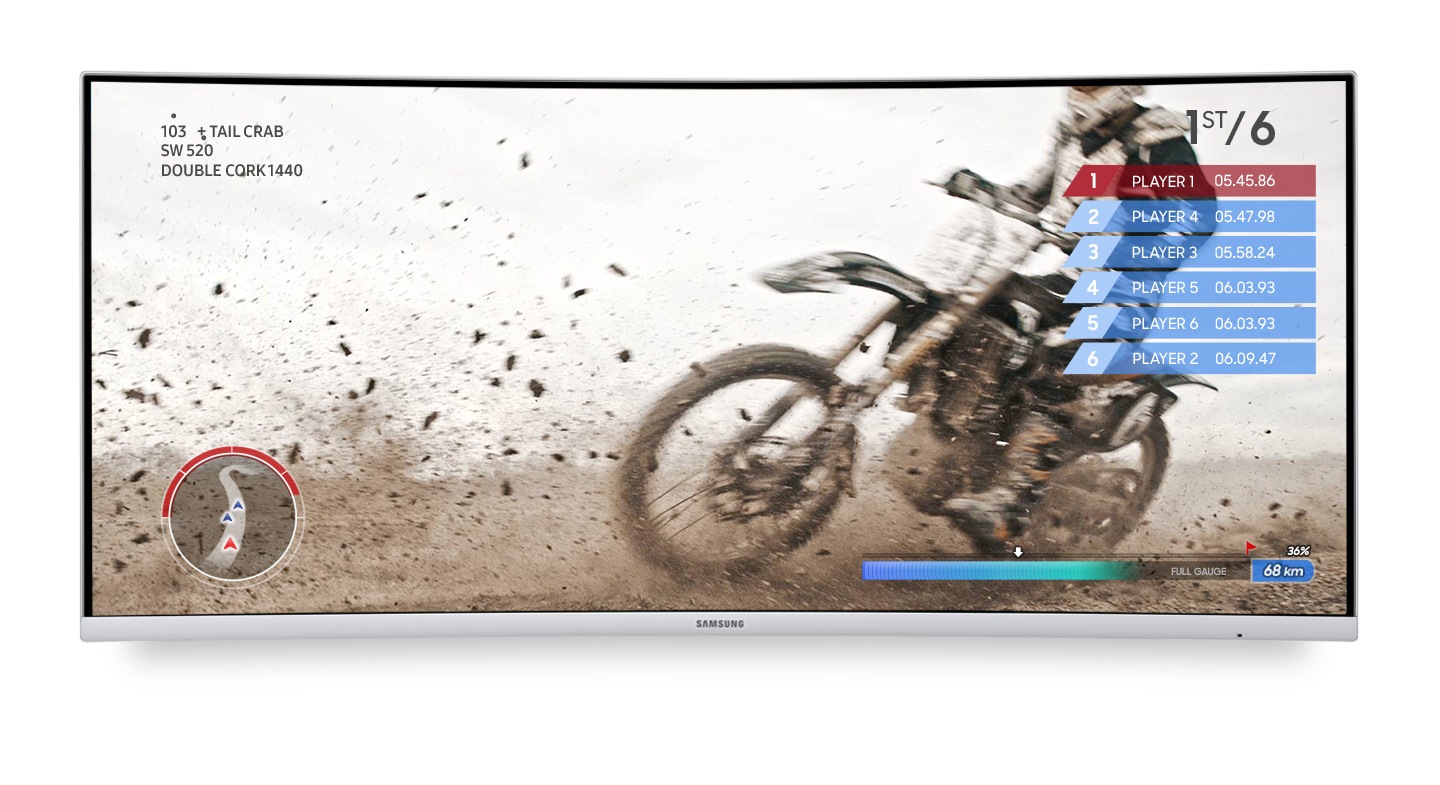 7W Stereo Speakers
The built-in 7W stereo speakers provide a powerful soundstage for you to enjoy all your music, movies and games in rich, clear sound while also saving space on your desk.
Smoother Gameplay
The fast 100 Hz screen refresh rate provides smoother, silkier mouse sensitivity for enhanced productivity in any application. It also reduces screen stutter in fast-moving action scenes for a flawless gaming experience.
Stylish Design
With its curved screen bezeless on three sides for enhanced viewing and its rear panel — finished in glossy white and curving horizontally and vertically — neatly concealing cables, the CJ79's slim and striking profile is the perfect complement to any Thunderbolt 3 Mac or PC.
Stylish Design
With its curved screen bezeless on three sides for enhanced viewing and its rear panel — finished in glossy white and curving horizontally and vertically — neatly concealing cables, the CJ79's slim and striking profile is the perfect complement to any Thunderbolt 3 Mac or PC.
3,440 x 1,440

Resolution

1500R

Screen Curvature

21:9

Aspect Ratio

300cd/m2

Brightness (Typical)

3000:1(Typ),2400:1(Min)

Contrast Ratio Static

4(GTG)

Response Time

178/178

Viewing Angle (Horizontal/Vertical)

100Hz

Refresh Rate
Rated

5

out of

5
by
Redwards
from
Stunning widescreen views
I've been using this for 4 weeks now as my main monitor at home, using it for 3 primary reasons: gaming, work and photo editing. It replaces 2 1080p monitors. I now have one of those as my second monitor with this Samsung as my main monitor. Gaming: wow, what a difference! With the monitor sitting a short distance from me, games feel like they are wrapping around me. Due to my slightly ageing PC, I can only run the latest games at 2K rather than the close to 4K the monitor is designed for but this is still a substantial upgrade from my old 1080P monitors. So much more detail and the colours are vivid. No visible blurring or slow down either and response time seems to be excellent. Work: so using apps like PowerPoint, I can place two apps side by side, essentially giving me 3 monitors with my existing second monitor. Some handy included software allows you to split the screen in two (or more if required) and 'snap' apps into various configurations. Working on multiple documents is a breeze on this monitor! The PBP (Picture-by-Picture) mode of the monitor gives you the ability to connect two sources to the monitor which appear side-by-side which is great for plugging in my work laptop along with my home PC. I assume this would also work for game consoles, but I've not yet tried this. Some apps don't play nicely with the massive wide nature of the monitor and seem a little lost when not splitting the screen, but I guess apps will get updated over time to use the increased resolution and screen real-estate. Photo editing: Increased detail and accurate colours really help when editing my photos! The difference in colour reproduction is night and day compared to my old monitors. Other points to note are that the built in speakers function OK, but aren't as good as my £90 desk speakers so don't expect amazing quality/loudness for gaming or music playing. The monitor looks stunning. Nice simple sleek design with a beautiful curved screen. Cable management is good with enough ports to connect anything you can think of. Setup was very easy and I had no issues getting it setup. Would I recommend it? Yes, if price is no issue. But, its an expensive beast and I think if I were to do buy again, I'd have gone for the larger version, especially if you are trying to replace 2-3 monitors for work apps. The 34" size split into two is just OK but two large single monitors may be better. But, for me as a single app/gaming monitor, I love it!
Date published: 2018-11-26
Rated

5

out of

5
by
rizwankh
from
Samsung CJ791 - Awesome Monitor for Multi-tasking
he Samsung CJ791 is an amazing monitor with a stunning display. I have used it for over a week now and I am super impressed with it so far. Its an ultrawide display which feels a bit awkward at the start but you get used to it pretty quickly. The curved screen with vibrant colours gives a highly immersive experience with watching videos or carrying out graphics or design activities. I have used dual screens along with my laptop screen for many years but ever since I have started using Samsung CJ971, this is the only screen I use now for my work. Some further thoughts -Aesthetics The monitor has a thin brushed aluminium bezel and base with glossy white body at the back. The monitor looks quite elegant in the room. -Setup The setup of the monitor was quite straight forward. There are multiple connectivity options including HDMI ports, mini Display Port or Thunderbolt 3.0 / USB C. The Thunderbolt 3.0 provides the added benefit of charging the MacBook Pro through the single cable thus reducing the desk clutter. The screen height is adjustable and it comes with a wall mountable bracket as well. -Colors & Features This is where the monitor stand out. The screen produces very sharp and bright images. I was hardly able to see any difference in the color tones, image sharpness and quality between Samsung CJ971 and my 2018 MacBook Pro. The PBP (Picture-by-Picture) mode of the monitor gives you the ability to connect two sources to the monitor which appear side-by-side. This allows you to have the same traditional "dual screen experience" through a single monitor. I have tried using the Applications/Videos in full screen mode but the sheer size of the screen doesn't give a great experience. Also in full screen video mode, you see "black bars" on the sides and bottom due to 21:9 unusual aspect ratio. It's a great monitor for gaming and multi-tasking but not a substitute for a TV (in my opinion). The 7W built-in speakers in the monitor are of decent quality but don't expect a Sonos / Bose quality sound. With all these great features, the only downside I feel is the need to upgrade my desk which was presiously OK for a 21" screen but cannot accomdate this beast. Overall, it's a fantastic monitor with great picture quality and value for money. I highly recommend it for all gamers and multi-taskers out there.
Date published: 2018-11-06
Rated

5

out of

5
by
kdtreen7
from
Awesome monitor
Well I can truly say this monitor is amazing. I have used this mainly for work as I love having one screen that splits into two to display two large screens or split further into 4 quarter displays. I have also used it for gaming. The screen is colour rich and sharp. This makes watching videos a pleasure to watch and online gaming experience far better than on a large LED TV. The response time of the screen is also very impressive. The curved screen is great as you feel closer to the screen. The built-in speaks produce a high-quality sound. This reducing the need for additional speakers and frees up plug sockets. I have certainly enjoyed using this Samsung CJ79 curved monitor. This has drawn plenty of attention from my colleagues at work.
Date published: 2018-10-28
Rated

5

out of

5
by
ditn
from
An awe inspiring monitor
I've been using this monitor for a month now and continue to be blown away by it. At 34" wide, this monitor dominates any workspace and people have tonnes of questions about it. It's a great looking thing. Once powered up, the image quality is extremely impressive. The image is sharp, the contrast is great, and for those gaming the responsiveness is very good too. Personally I mostly use this monitor to code on, and having such a large amount of screen real estate is hugely useful. I can have all of my windows open on the same desktop rather than managing multiple screens or switching workspaces, which I found boosted my productivity a fair bit. Initially I found the slight curvature of the screen took a little getting used to when working on text, but after a while you don't notice it anymore. I'd suggest sitting a little closer if this bothers you. For video however, the display is immediately an incredibly immersive experience. 21:9 content on YouTube such as film trailers look stunning, and it's a big step up from my HD TV. I even found the built-in speakers to be pretty good for a monitor, which was a pleasant surprise. My only suggestion would be to make greater use of the USB-C hub functionality in the monitor - two USB 2.0 ports feels a little old-school; the monitor could have just as easily had several more USB 3.0 ports instead. However the port selection is probably more than adequate for the vast majority of people. The inclusion of an 85W USB-C output is exceptionally useful though when paired with my new laptop. I really appreciate the little features like the built-in cable tidy, which keeps your desk looking neat. Overall this is a very impressive bit of kit that I haven't hesitated to recommend to the other developers in my office. I can see this monitor keeping me blown away for a good few years.
Date published: 2018-10-25
Rated

5

out of

5
by
Hazers
from
Highly Recommended!
I'm the creative type, and my various lines of work present somewhat of a challenge when choosing a computer monitor that suits the types of work I do. 30 years as a software developer, graphics designer, a professional photographer and web developer I find myself having to always reorganise my desktop workspace or move between various devices. I do most of my work using Mac, then Windows 10 and from time to time I have to tinker around with Linux. Using the Samsung CJ791 monitor I can now enjoy the pleasure of never having to move to another machine and various applications organised with ease on my workspace accessible at a glance. I have the CJ791 configured as my main monitor with my 21.5-inch iMac utilised as an extended portion to the right of the main monitor and connected using the DisplayPort "Thunderbolt 2" as my current iMac is not USB-C "Thunderbolt 3". I also have my Windows 10 PC connected to the monitor using the supplied HDMI cable. Both cables fit easily into the CJ791 cable tidy system along the stem of the monitor stand, a very nice feature that is not apparent without reading the manual. The specs of this monitor are very impressive, with an ultra-wide aspect ratio of 21:9 and a generous 34" of screen real estate that is all encompassing. I actually find I have to slightly move my head to look from one end of the screen to the other as moving only the eyes can be a little strenuous. Out of the box the monitor is well calibrated however you will need to create a professional colour profile using a profiling device if you want realistic colours. This however is not fault of this monitor as any photographer or graphics designer will have to perform this task on any monitor. After profiling the colours and Gamma are greatly improved. Gamma is reduced and colours become deeper. I used the ColorMunki Photo and created two profiles, one for the Windows 10 machine and one for the iMac. If you are doing PIP/PBP this is very important. The only issue I have with the monitor, "if I can even call it an issue" is a very faint dulling around the edges of the screen, there seems to be two slim bands approx. 1/2 an inch in width and approx. ¼ a stop of light less than the display, down both sides of the screen. This is barely noticeable and has no impact on the use of the display at all, you basically have to have a good look to even notice this. As a software developer I'm always having to use multiple applications, terminals, IDE's, API reference materials etc. With the ultra-wide 21:9 screen I easily fit all my applications and terminals on the main display with room to spare. I even utilise the iMac extended screen as the main screen for my Linux distro running in VirtualBox. I choose not to use PIP/PBP for Windows and Mac, rather I preferer to utilise the full desktop for the one OS and switch between the two using the menu source selection when required. This is simple as you can have up to three input signals, DisplayPort, HDMI and USB-C and they can be all connected at the same time. Now that I've had time to experience the wonder of this ultra-wide 21:9 display, I have no idea how I could ever go back to using a regular 16:9 widescreen display. Even my 27" iMac seems too little. It's simply a wonderful experience. It makes your workflow a lot smoother and that alone is a winner for me! This is a very impressive monitor, I'd recommend to almost anybody, especially for media production such as video and graphics editing.
Date published: 2018-10-22
Rated

4

out of

5
by
Ezekielo
from
Good Overall Performer
The monitor comes in a much larger package (box) than I expected. Upon arrival The monitor did not come with any instruction manual. So you'll have to download an e-manual from samsung website. which I found a little bit inconveniencing. setting it up was pretty straightforward as its already put together right out of the box. All I needed to do was connect the thunderbolt cable from the monitor to my computer and then the power cable to the monitor and I was good to go. I must point out that the adapter that came with this monitor is the biggest I've ever seen on any gadget. f the styling of the monitor looks gorgeous with a slightly aggressive 1500R curvature for a better immersive experience. While I've been using it for video editing I see a slight bow-tie effect while looking at the monitor. I'm gradually getting used to it. You've only got two adjustments on this monitor. I.e height and tilt. There is no rotation. Really wish it had that. I also wished it could allow a little higher height adjustment as the highest height seems not just enough for me. One thing I have to point out about the display is that its a bit too bright for me even at its lowest settings in a dark room. But all the same "better too bright than not bright enough" Those that use computers with AMD graphics cards will benefit from the Freesync feature. For video editing this does a pretty good job as I noticed that its got pretty accurate colours right out of the box. You can further calibrate it I f you wish. Thunderbolt 3 ports has been an absolute life saver as my desk is now completely free of multiple cables due to the fact that I use a single cable to connect the monitor to my Mac. That single cable carries Audio, video and data at same time while charging my Mac as well. Gaming performance was very smooth and immersive as you would expect from a monitor with a 34" QLED panel at 3440x1440 resolution with 100Hz refresh rate. Contrast level is awesome. Black colours appear very deep. I also have to point out that there is no backlight bleed Which I'm personally happy about as I've had some bad experiences pertaining to that with previous monitors. In terms of overall productivity to media consumption, in my opinion this crushes through everything from video editing to web browsing, to gaming and watching movies. Another thing I have to praise the CJ79 for is its built in cable management system located behind the monitor stand. Good experience overall.
Date published: 2018-11-21
Rated

4

out of

5
by
purejt
from
Impressive..but expensive!
The Skinny - Impressive physical build, excellent picture, great connectivity, makes users very smug, pricey From unboxing this, your know it's special. It's surprisingly lightweight given the size of the screen and the arm is reassuringly sturdy. Connectivity options are impressive and good to see they have tried to hide cables behind a flip out panel - adding to the nice simplistic design and lines. The power brick is huge though - literally the size of a brick. Picture quality is bright, vibrant and sharp - this is dependant on your inputs. The screen doesn't seem that big - aided by the curve and is very pleasing to use. I've had mutiple spreadsheets and browsers option and couldn't help but feel smug with the screen real estate. The in-built speakers are punchy but lacks solid bass. They're good and very usable, reaching very high volumes. Firing up PBP options is where the limitations of this ultra wide format start to show. You will end up with some black bars on each side because the ultra wide format means that standard resolutions don't make use of the full horizontal width. I found this quite a lot with playing movies as you need content in the right resolution to make full use of the width, else you end up stretching to fit. The monitor lifts and rises effortlessly and tilt adjusts well - it doesn't swivel, however I'm just nick picking now. The power button placement on the back is simple, but annoying to use after a while. They could have opted to put this on the side or bottom to make it more accessible. I've loved every second of using this, and it makes you smug to show off to your friends. The thing that lingers is whether or not the price tag is worth it. It's a very expensive purchase if you are simply looking for a bigger monitor to do some multi-tasking. For gaming, it's a very nice setup but you can't help but feel asking if the price justifies this - could you simply buy a LED TV instead and save some money. This needs to be at a price point of £400 to make it a competitive purchase - otherwise it's a very lavish purchase.
Date published: 2018-11-06
Rated

4

out of

5
by
mip01
from
Near perfect experience!
Arrival From the moment the box arrived, you knew you were about to receive an impressive piece of kit. The set-up of the screen was simple and pain free. First impressions Having first turned on the ultra-wide screen on, I was instantly struck by the sleek curved design which sunk perfectly into the shape of my desk, creating an impressive and immersive user experience. One concern I had was that the screen would be 'OTT' and that it'd take a fair bit of getting used to, however, this proved not be a problem… Experience One of the biggest selling features for me is the ability to input through Thunderbolt. This gives you the versatility to switch between applications and portability to transfer hardware (i.e. my MacBook) from place to place. Moving onto the screen quality, I can't say I experienced issues that other Insiders have with regards to fading etc. Rather, I found the QLED quality to be up to scratch with colours holding depth and crisp, clear clarity. As you can see from my pictures, it had no issues oozing the details displayed in the 4K illustrative video. In terms of split screening, I think this will be a point of curiosity for those who are thinking of purchasing this kind of screen for the first time. However, the ultra-wide screen and immersive curved experience really eased and simplified how I work with different tabs and made me fall in love in having one single display! Lastly, the speakers are not something I use frequently. However, these were of a good standard, but I do concur that they lack bass. However, I think for a user who requires a lot from speakers that they would buy standalone speakers over inbuilt in any case. Overall, I think it's an excellent piece of kit which really up's the game in the tech world. However, I would suggest a few 'light' improvements to make the experience even greater: - The ability to move the bezel would be very useful, particularly if you are showing the display to an audience or clients. - For a monitor of this spec and detail, I would expect a non-plastic bezel for not only effect but also rigour. - Quality of speakers are good, but can be made great! Think of going into a restaurant, having a great main course but the dessert letting you down slightly. That's what happened here. - There is a slight bend on HDMI wiring –more give would be helpful in preserving the life span of the lead. - The power supply is quite hefty which might not be ideal if you have a small / limited working area
Date published: 2018-10-29
User manual & Downloads
Live Chat
Free delivery

Get free delivery on all orders with no minimum spend


Free returns

Free, easy and convenient returns.

28 days to return

Change your mind? Just let us know and return your order within 28 days.

24/7 parcel tracking

Once you've place your order with us, you can track when it's coming.
Create your wishlist
Don't miss out on the products you love.
Sign in/Sign up now to access your wishlist on all your devices and get updates on great promotions.
Add to wishlist
Do you want to add this product to your wishlist?
Wishlist
This product has been added to your wishlist.
Sorry, the product you added to wishlist is not available anymore.
Request stock alerts
Opt into email alerts to find out when this item is back in stock and available to buy. Simply provide your email address and agree to the terms below.
We will email you when inventory is added.
Thank you.
Estimate your installment plan
Remove item?
Are you sure you want to delete this option?
Option will be reset if you select Samsung care+.
Add to basket?
Samsung Care+
Dropped your phone and smashed it? Keep your smartphone protected from accidental damage.



Included

Accidental damage (incl. liquid damage) for mobile phone and accessories that come in the box.
Worldwide cover (up to 60 days international trips)
Maximum of 2 claims for the 2 years insurance period
An excess per claim of £52 for Galaxy S and Note series; £35 for A90 5G, A80, A71 and A51 or £29 for A40, A20e and A10
Repairs completed by Samsung using genuine Samsung parts



Not included

Loss of the phone
Deliberate damage or not adequately protecting the phone
Cosmetic damage
Theft
Any repairs carried out without Samsung approval

Samsung Care + Insurance is underwritten by AWP P&C S.A. - Dutch Branch, trading as Allianz Global Assistance Europe, with corporate identification No 33094603, registered office at Poeldijkstraat 4, 1059 VM Amsterdam, the Netherlands, registered at the Dutch Authority for the Financial Markets (AFM) No 12000535 and authorised by L'Autorité de contrôle prudentiel et de resolution (ACPR) in France. For more information on Samsung's privacy policy please click here.
Samsung Care+ Terms and Conditions
Protect your smartphone with insurance
An insurance that protects your smartphone anywhere and at any time to bring you greater peace of mind.
Coverage against breakage

Physical damage such as cracks or breakage of the screen or the rear window, which is detrimental to the functioning of the mobile phone.*

Cover against other damage

Damage caused by liquid or any physical damage, other than damage to the screen, affecting the use of the software or the charging of the mobile.*

Repair by official teams

Your smartphone will only be repaired by Samsung authorized service providers and Samsung genuine parts.
SAMSUNG CARE +
SAMSUNG CARE+ COVERS :
24 months cover for £139 (upfront payment only)
All accidental damage resulting from handling
2 claims over 2 years
£69 excess per claim
DO NOT COVERS :
Loss of the product
Deliberate damage
Cosmetic damage
Theft of any kind
Lack of reasonable care
Normal wear and tear
Option will be reset if you select Extended Warranty.
Add to basket?
Extended warranty
This is an extra 4 years on top of the standard 1 year warranty for parts and labour. It's another great reason to choose Samsung

During the Extended Warranty Period Samsung continues to warrant that the Samsung product shall be free from defects in materials and workmanship in accordance with the original warranty statement provided with the product.
In the event that Samsung is unable to repair your product, Samsung may at, its discretion, either exchange your existing product with a replacement product or provide you with a refund.
When warranty service involves the exchange of a product or part, subject to applicable law, the item replaced becomes the property of Samsung. The replacement may be a new or repaired item. The replacement item assumes the remaining warranty period of the original product.
Remote technical support may also be provided for the product(s).
If you select both exchange and bundle option, an additional exchange discount of the exchange option will not be applied. Add to basket?
This product qualifies for a special bundle deal.
If you select both exchange and bundle option, an additional exchange discount of the exchange option will not be applied. Add to basket?
Installment Calculate
Installments are provided by Santander Consumer Bank S.A.
Choose convenient Instalment plans provided by Inbank
| | |
| --- | --- |
| Product Price | |
| Plan | |
| Months | |
| Interest rate | |
| Monthly payment | |
Installment Plans Disclaimer
Galaxy Assured Program Powered by Cashify
Assured Buyback Program
Galaxy Assured Program is available for a period of 12 months from date of purchase. You can redeem Galaxy Assured Values at any time within the program period. The Galaxy Assured values for different time periods are given below in the table
| Model Name | Purchase Price |
| --- | --- |
| | |
These Galaxy Assured Values are subject to device's condition at the time of return, please check program T&Cs.
Galaxy Assured Program is a non-transferable offer and is available for a period of 12 months from date of purchase.

Galaxy Assured Program will be fulfilled by Cashify. The device can be redeemed at www.cashify.in any time within 12 months. The exchange value would be applicable as per tenure of purchase (table below).

If you opt for Galaxy Assured Program, you will receive a welcome mail from Cashify for program enrollment within 7-10 days from product delivery

You need to enter the device IMEI during the redemption journey to get applicable Galaxy Assured value

Cashify will make arrangements to collect the devices and transfer the Galaxy Assured value directly to the Bank/Wallet or any other payment methods opted during redemption.
Galaxy Assured Program is available in following cities:

Bangalore
Chandigarh
Chennai
Delhi
Mumbai
Hyderabad
Noida
Ghaziabad
Pune
Ahmedabad
Kolkata
Faridabad
Gurgaon
How does it work?
Pay for your new Galaxy phone in monthly instalments and be invited to upgrade to the new Galaxy as soon as it launches.
01 Choose your device

Choose from the new Galaxy series.

02 Spread the cost

Pay a 10% deposit and then monthly instalments over 24 months. (0% finance available)

03 Yearly upgrades

Be invited to upgrade to the latest Galaxy phone after 12 months.
Upgrade Program
Upgrade your handset every 12 months.
SAMSUNG GALAXY S10 UPGRADE PROGRAMME TERMS AND CONDITIONS
1. THESE TERMS
1.1 What these terms cover. These are the terms and conditions on which you may take part in our Samsung Upgrade Programme (Upgrade Programme"), which provides you with the ability to purchase an eligible Samsung Galaxy S10 handset and the option to upgrade to the latest Samsung Galaxy S handset every 12 months.
1.2 Why you should read them. Please read these terms carefully if you would like to take part in the Upgrad Programme. These terms tell you who we are, the conditions of the Upgrade Programme and other important information.
2. INFORMATION ABOUT US AND HOW TO CONTACT US
2.1 Who we are. We are Samsung Electronics (UK) Limited, a company registered in England and Wales. Our company registration number is 3086621 and our registered office is at 1000 Hillswood Drive, Chertsey, Surrey KT16 0PS. We are authorised by the Financial Conduct Auth ority ("FCA") as a credit broker under reference number 727333.
2.2 How to contact us. You can contact us by calling our customer service team at 0330 SAMSHOP (726 7467) or by writing to us at support@samsunguk.zendesk.com
2.3 How we may contact you. If we have to contact you we will do so by telephone or by writing to you at the email address or postal address you provided to us in your order.
2.4 "Writing" includes emails. When we use the words "writing" or "written" in these terms, this includes emails.
3. THE UPGRADE PROGRAMME - OVERVIEW
3.1 How to take part in the Upgrade Programme. On placing your order for a new Galaxy S10 handset, you may, by selecting the relevant option on our website, and if you are successful in applying for a new 24-month credit agreement (including passing any relevant credit checks) with our chosen credit provider (for further details see below), be able to take part in the Upgrade Programme.
3.2 The ability to purchase a Galaxy S10 handset through finance, and to take part in the Upgrade Program me is available to consumers only; it is not available to business customers.2.4 "Writing" includes emails. When we use the words "writing" or "written" in these terms, this includes emails.
3. THE UPGRADE PROGRAMME - OVERVIEW
3.1 How to take part in the Upgrade Programme. On placing your order for a new Galaxy S10 handset, you may, by selecting the relevant option on our website, and if you are successful in applying for a new 24-month credit agreement (including passing any relevant credit checks) with our chosen credit provider (for further details see below), be able to take part in the Upgrade Programme.
3.2 The ability to purchase a Galaxy S10 handset through finance, and to take part in the Upgrade Program me is available to consumers only; it is not available to business customers.
Check Terms and Conditions
How trade–in works
01

Tell us about your current phone. We'll let you know how much it's worth

02

Get an immediate discount on the Samsung device you want

03

We'll send you a recycling package to return your current phone to us
Customize your watch
Inclusive monthly plans
Choose from a range of networks and inclusive monthly plans, and pay for your phone and plan in one monthly payment.
Pay monthly network contracts
Buy your phone along with an inclusive monthly network plan and pay monthly*
Choose your network
Choose from a range of networks and inclusive monthly plans to get started with your new Galaxy phone straight away.
Pay monthly
Pay for your phone and an inclusive bundle of calls, texts and data in one easy-to-manage monthly fee.
Next steps
You will be redirected to our trusted partner, A1 Comms Ltd (trading as Mobileshop), to purchase your phone and setup your monthly plan.
*Please note that monthly nerwork tariff purchases cannot be combines with trade-in, Samsung Upgrade Programme or any other financial products, including Samsung Care+.
Check the Terms and Conditions
Phone powers on & holds charge

Functioning display & no cracked screen

Factory reset & no software locks
La liberté ne s'achète pas, elle se loue
Liberté

Possibilité de changer votre smartphone tous les 4 mois.

Sérénité

La garantie incluse et des assurances optionnelles.

Exclusivité

Le meilleur de la technologie à prix très attractifs.